Welcome to Eden - Season 2 Episode 3 Summary & Recap
Two sisters with different opinions
Nico is now dead, and Bel and Zoa had to dispose of his body by throwing it into the sea. After that, Bel and Zoa met up with Saúl, who actually had been the secret person behind the "Murder Astrid" tech hijack in Season 1. It turns out that Saúl had been trying to avenge his mentor (nickname: Lilith) for a while now. Hearing all this, Bel offered to smuggle a weapon in for him to do the deed.
During lunch, Zoa was quick to notice that Astrid kept looking at and making gestures at Gabi. She approached her little sister about it, but they ended up having an argument. Gabi was now beginning to see Astrid and Erick as parental figures, and this bothered Zoa to the core.
The two sisters reconciled briefly after Zoa stopped her date with Bel in order to attend to Gabi.
On another side of the island, Isaac brought food and water for Eloy. The little boy again proved to be a wonder and learnt sign language within one day. Even to Eloy's surprise, Isaac could communicate well with him. Before Isaac left, Isaac told Eloy that his parents are Astrid and Erick. This however, is after a lot of persuasion and a promise from Eloy that he would keep it a secret.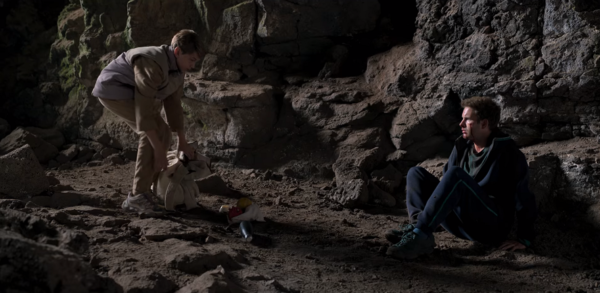 Meanwhile, in Barcelona, Ibón's father called off the private investigation led by Brisa. However, Gabi and Zoa's mother, Roberta, soon called her to help investigate a person who seemed to be tailing her.
Brisa wasted no time and asked Roberta to leave the house pretending to be off for a long flight. Then, soon after, the man tailing her broke into the apartment, presumably to look for the wristband that Brisa still owns. The man ransacked the whole place but did not seem to find what he was looking for. However, he saw a photo of Gabi and Zoa together and took it.
As the man was heading out, he "bumped into" Brisa and spilled her groceries. When he was busy helping the detective, Brisa noticed the X marks on his hand. After that, Brisa began tailing the man's car.
Back on the island, a meeting was held with Eden committee members to decide the fate of África and Charly. Eva snuck a knife into the meeting and handed it to Saúl under the table.
The meeting dove into its agenda immediately with 7 of the committee members voting for or against the execution of África and Charly. In both cases, "for" won against "against" by 4 v 3, and the decision was clear to eliminate both of them.
When her vote could save Charly, Mayka was left with the last resort. She used her control of the system to momentarily turn the electricity in the building off, allowing Charly and África to escape. Right after the electricity came back, Saúl then took the opportunity to go to Astrid and threatened her with a knife to her throat.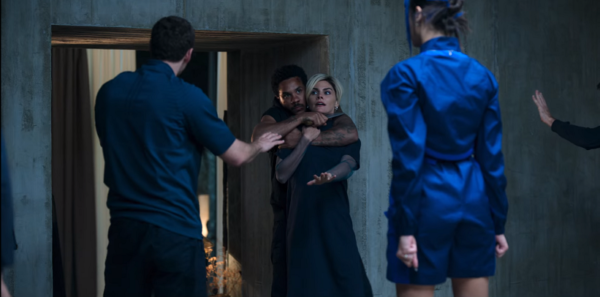 Everyone panicked and Saúl was trying to slowly move Astrid out the building. Joel had a gun but could not shoot as Astrid was in front of Saúl. As they were about to escape, Charly and África heard the screams, and out of the blue, África decided to go back.
Out of nowhere, África emerged from a glass door and hit Saúl in the head with a ceramic vase, sending the medic on a frenzy and releasing Astrid. Joel took this opportunity to shoot Saúl multiple times. The team ensured Astrid was ok before realizing that a very wounded Saúl had escaped.
Additional Observations From Episode 3
Ibón noticed that Orson had been going out at night to look for Eloy. He then approached Orson to volunteer to look for his friend.
Saúl admitted that he was the one behind the first assassination attack against Astrid in Season 1 which wounded Erick.
More recaps from Welcome To Eden Season 2
Welcome To Eden Season 2 follows from the end of the previous season where our main characters, Zoa and Charly tried to escape from the secret island of Eden. Created by Joaquín Górriz and Guillermo López. Starring Amaia Aberasturi, Belinda Peregrín and Diego Garisa.
Streaming on Netflix