Freddy (2022) is a Hindi psychological thriller about a shy and introverted dentist named Dr Freddy Ginwala whose life changed after he fell in love with one of his patients. The film is directed by Shashanka Ghosh and stars Kartik Aaryan and Alaya F.
Read the summary and review below.
Streaming on Disney+ Hotstar
Freddy (2022) - Movie Summary
Dr. Freddy Ginwala (Kartik Aaryan) is a very shy dentist who has trouble finding the love of his life. When he was young, he witnessed his father shooting his mother, and since then, his Persis Aunty looks after him. Now grown up, Freddy lives with his pet turtle, Hardy and spends his free time painting model airplanes. People around him knew of his social awkwardness and made fun of him.
One day, when Freddy attends a wedding, he bumps into a pretty woman named Kainaaz Irani (Alaya F). For Freddy, it is love at first sight. However, Freddy could not hold a proper conversation with her and is punched when Kainaaz's husband, Rustom thought Kainaaz was flirting. The following day, Kainaaz comes over to Freddy's clinic for a wisdom tooth extraction and Freddy falls even more in love. He secretly drives to her apartment and to his suprise, he sees Rustom violently hitting Kainaaz. 
Freddy could not bear to see Kainaaz sufffering alone and keeps trying to ask her out. Kainaaz eventually gives in and the two go on several dates whenever Rustom is not in town. All is well until Rustom starts hitting Kainaaz again. In the end, Freddy suggests that he "takes care" of Rustom and gets Kainaaz's reluctant blessing. After one week of no communication with Kainaaz, Freddy runs over Rustom in a car one night. To avoid suspicion, Freddy immediately drives to his farmhouse in Karjat and stays there for another week. 
When he goes back to Mumbai, he was shocked to find out that Kainaaz is dating Rustom's restaurant's chef, Raymond. Turns out Kainaaz was just using him to get together with Raymond. Freddy is devastated but only demands an apology. Instead, Kainaaz and Raymond laughed at him and threatened to go to the police about Rustom's murder.
Freddy then starts plotting revenge by giving Raymond and Kainaaz some sleeping medicine so that he can break in and delete messages and photos that were evidence of his involvement in Rustom's death. On top of this, Freddy also uses dishwashing liquid to get some allergic reaction from Kainaaz and drains Raymond's car brake oil, almost causing the couple into a car accident. As retaliation, Kainaaz and Raymond wreck Freddy's house and worse of all, they kill Hardy and turn the turtle into soup.
This breaks Freddy as Hardy was his best friend. As a last resort, he then planted evidence that Raymond killed Rustom by using his car. The police called Kainaaz and Raymond into the police station that evening, but they went to meet Freddy in his farmhouse instead. Freddy suggested that they meet there and apologize to him. He even asked them to bring a large suitcase with them, but this made the police think they ran away.
When Kainaaz and Raymond arrives in the Ginwala farmhouse, they try to kill Freddy instead. But Freddy is one step ahead and shocked them with a taser until they pass out. He then strap the couple into a pair of dentist chairs and extracted all their teeth without anesthesia, killing them. Freddy then buries them in his farmhouse yard and lies there with them.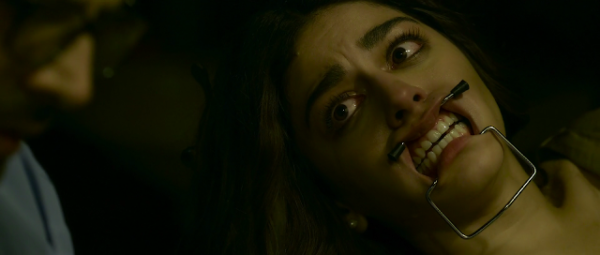 After the success of Bhool Bhulaiyaa 2, people are looking forward to Freddy, as it was the next Kartik Aaryan starrer. The trailer of Freddy was also extremely captivating. However, the entire movie fell short of expectations, especially in the second half. The build up in the first half that led to the plot twist of Kainaaz's character was very well done. Freddy is shown as a socially awkward person who struggles in society's eyes. It doesn't help that he showed some stalker-ish behaviour and had a habit of glancing at women's chest. We get to see the many layers of a complex character that was trying his best to achieve his happy ending, even at the cost of murder.
However, after the main twist, the whole story went downhill. Instead of a psychological thriller, the movie feels like a revenge drama where each side goes back and forth with each other. At one point, it grows tiring. Not to mention, there are several plot holes in the second half when it all these cat-and-mouse take place.
The saving grace is this film is definitely Kartik Aaryan as the lead, as he solidly carries the whole film. His performance as an introvert and a socially awkward man is very convincing and he did not falter in a single frame. Alaya F was also decent in the first half, but due to the nature of the story, she had to play the generic psychotic girl with crazy eyes in the second half. The performances of these actors definitely deserved a film with better plot and writing.