Alice In Borderland is a Japanese series based on the manga of the same name by  Haro Aso. The story follows Arisu, a young man who somehow entered another world where he and others had to play deadly games to survive. The series is directed by  Shinsuke Sato and stars Kento Yamazaki and Tao Tsuchiya as the main leads.
Alice In Borderland - Season 2 Episode 1 Summary & Recap
The series starts of with Arisu running for his life as someone was shooting people in public. He was reminded of the times where he was engrossed playing shooting games, never realizing that reality is far more ugly. Just a few minutes before that, Arisu (Kento Yamazaki), Usagi (Tao Tsuchiya), Kuina (Aya Asahina) and Chishiya (Nijiro Murakami) were waiting over an hour for the game to start at the Shibuya crossroads. Out of nowhere, someone started shooting everyone with rifles, killing the masses. Everyone ran for their lives.
As the whole area goes chaotic with shooting, running and screaming, Arisu noticed a blimp floating around carrying the banner of the King of Spades. Soon, the group noticed that someone wearing a black cloak was behind the shooting and he was deliberately chasing people down to kill. Arisu theorized that he is the King of Spades himself.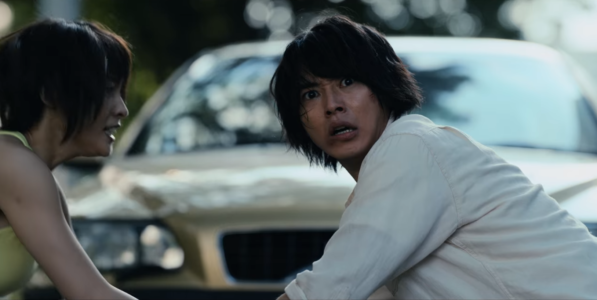 The King of Spades inch nearby and fortunately, Ann (Ayaka Miyoshi) and Tatta (Yutaro Watanabe) from the Beach arrived in a car to save them. However, Chishiya did not manage to get into the car and had to split from the group. The King of Spades did not give up and went into an epic car chase against the group with Ann behind the wheel. When Ann eventually crashed and so did the King of Spades, everyone ran for their lives. Arisu, Usagi, Tatta and Kuina managed to regroup in a building but Ann was separated from the group.
Usagi realized that they still need to survive the night and made sure that the King of Spades did not get to them. Therefore, the group split into two. Kuina and Tatta looked for a new car while Usagi and Arisu looked for food in a convenience store. While packing the food, Arisu and Usagi shared some nostalgic feelings of what the previous world was like before they came here. Then, as Arisu reminisced about his daily interactions with Chota and Karube, he vowed to get back to their original world.
But, to his surprise, Usagi did not feel the same way. Usagi felt like a life before was in complete shambles as his father is believed to have committed suicide. She felt alone and did not think the original world was a much better place. 
In response, Arisu hugged her and told her that he understood her feelings as he once thought the world was a mess too. However, he now wants to make things right in the real world. Arisu even promised Usagito get them out of this world, even at the expense of his life. However, Usagi broke away and told him that he would never be able to fully understand what she's feeling. She felt like she might be better off in this world. The two went back, feeling some added distance between themselves.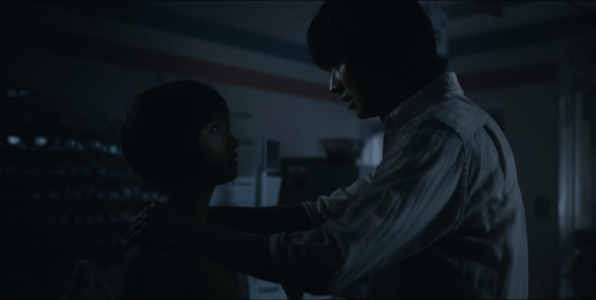 In the morning, Arisu gathered the group and suggested that they enroll to another game. His theory is that participants in one game cannot be interfered by another, and so they could avoid the King of Spades by playing another game. After a majority vote, the group headed over to the entrance of the King of Clubs game. 
There, they found out that they have to be a team of five to play the game and that their nemesis from the beach, Niragi had already took up one slot. With no other choice, the four of them teamed up with Niragi for the game. They were greeted by Kyuma (Yamashita Tomohisa), the King of Clubs and his teammates. Kyuma was naked which caused some discomfort but that soon faded off as Kyuma claimed that they were "citizens" of the country.
Additional Observations From Episode 1
There wasn't any rules spelled out for the King of Spades game.
Chishiya managed to pass Kuina what looked like a bomb for a emergency purposes.
Kuina noticed the awkwardness of Arisu and Usagi after they returned from their convenience store trip.