Oshi no Ko is an anime series based on the manga of the same name written by Aka Akasaka and illustrated by Mengo Yokoyari. The anime is produced by Doga Kobo, the studio behind Plastic Memories. It has 11 episodes and begins airing on April 12th 2023.
Oshi no Ko - Episode 1 Summary & Recap
Gorou Amemiya is a gynecologist who works in a countryside hospital and a fan of the 16-year-old idol singer, Ai Hoshino. Gorou started becoming Ai's fan after one of his patients, Sarina Tendoji passed away. Sarina was a sickly child who really looks up to Ai Hoshino. She loves Ai so much, that she wished she could be reborn as an idol's child one day.
One day, out of a sudden, Ai Hoshino announced her hiatus and showed up in Gorou's hospital, pregnant. At first, Gorou faced an internal debate as he is both her doctor and her fan. But eventually, he got to see a different side to the pop idol. She is calculative, cunning, but absolutely pure at heart and works really hard. He spent a lot of time with her and promised to deliver her healthy twins.
On Ai's 40 weeks of pregnancy, Gorou was murdered by one of Ai's stalkers when he was on the way home. He ended up missing Ai's delivery and something weird happened. Somehow, Gorou was reborn as Ai's son (named Aquamarine, or Aqua for short) with memories of his past. He could not comprehend what actually happened, but was glad that he is now very close to his idol. What's also confusing is that his other patient, Sarina was also reborn as his twin sister named Ruby. However, they both have yet to notice each other's previous identity.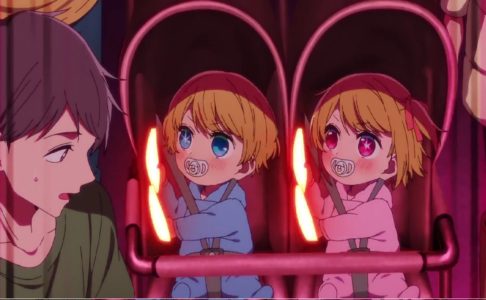 As Ai resumes her job as an idol, her manager, Ichigo Saitō and his wife, Miyako Saitō took care of both Aqua and Ruby. Both these twins were essentially grown adults and so, they attracted attention very quickly. When Aqua was old enough to talk, he got the attention of a director who requested that Aqua play a side character in his TV series.
On set, Aqua (Gorou) met a child actor prodigy named Kana Arima. Kana could act really well, but Aqua outshined her when he could act according to what his director envisioned. The young child prodigy ended up going home crying that day.
As Aqua tried his acting chops, Ai helped Ruby learn how to dance. In her previous life as Sarina, Ruby could not do intense exercises and had never dance. But with this new body, she had shown exceptional talent for dancing. Aqua also noticed that Ruby has quite some acting chops too.
From Ai's perspective, she was trying her best to be a good mother. Although her acting career was rising, she did not once neglect her children. Then, when she heard Aqua and Ruby once discussing their father one day, she tried contacting the man. She persuaded him to visit the children, but the conversation did not seem to conclude anywhere.
After a few years, Ai is now 20 years old and has just moved into a new apartment. Out of nowhere, the house doorbell rang and Ai unassumingly opened the door. The stalker who killed Gorou showed up and stabbed Ai in the abdomen. He thought idols like Ai would not remember who he was, but to his surprise, Ai did. Although Ai could not seem to understand and feel love, she intends to continue lying to her fans that she loves them until it becomes a reality. the killer ran out screaming and committed suicide.
Meanwhile, Ai eventually died from blood loss. Before she breathe her last breath, she managed to tell her children that she loves them, and she truly meant it. After her death, Aqua and Ruby got adopted by Ichigo and Miyako Saitō. Aqua also came to a realization that the stalker wouldn't have known about Ai being pregnant in the hospital and about Ai's new place without internal information. He then realized that his father must have been involved, as he was the only person who knew besides the Saitō family. With that, Aqua swore to seek revenge.
By the end of episode 1, Aqua and Ruby had grown up to be highschoolers and both seemed to be on the path to be idols themselves.
Oshi no Ko - Episode 1 Review
Oshi no Ko is the definition of "don't judge a book by its cover". It looked like a typical cutesy idol anime, but boy, had it brought us for an intense emotional yet psychological thrilling ride.
Episode 1 was really well done in all aspects. The longer run time allowed the characters to be developed more fully, and the audience had a longer time span to fall in love with the characters before the heart-wrenching moments. There was the more comedic elements of the dancing babies to lighten up a big portion of the anime as well.
Oshi no Ko is also unique in the sense of it's portrayal of the idol entertainment industry. Instead of showing us happy idols who love all the glitz and glamor, we got to see Ai Hoshino, an idol who did not fit in, but could tell "pretty lies" convincingly to ultimately sell the audience what they want. From Aqua and Ai's experience in the film industry, we also get to see how politics come into play in the end product. Ai's scenes, for one, were cut short so as not to outshine a young acting talent.
All in all, Episode 1 has set itself up to be a great anime full of mystery, drama, supernatural, and even comedic elements. We can't wait to see what's in store for Episode 2.