Oshi no Ko is an anime series based on the manga of the same name written by Aka Akasaka and illustrated by Mengo Yokoyari. The anime is produced by Doga Kobo, the studio behind Plastic Memories. It has 11 episodes and begins airing on April 12th 2023.
Streaming on Netflix.
Oshi no Ko - Episode 3 Summary & Recap
Kana was disappointed when she hears that Aqua will be joining the general course, and not the entertainment course. After school, she followed Aqua so that she could catch up with him after a long time. Coincidentally, Aqua was heading to the director's place, and so he brought Kana along.
The director was happy to see Kana still doing work in the entertainment industry, but obviously Kana is not as popular as she was back then. Kana too was happy to learn that Aqua was still part of the industry somehow. Even though he was ore focused on back-end work, Aqua seemed content.
Still, Kana tried to persuade Aqua to become an actor again. She even knew of an opening in a drama she is filiming. The drama is based on a renowned shojo manga called Mild Flavor Today. At first, Aqua wasn't interested, but when he heard that the producer is Masaya Kaburagi, Aqua immediately wanted to join the cast.
Turns out, Ai had three cell phones when she passed. In hopes of figuring out her murderer, Aqua tried multiple passwords for 4 years to unlock one of her cell phones. He then found out that one of the people who frequently contacted Ai outside her B Komachi group was Masaya Kaburagi.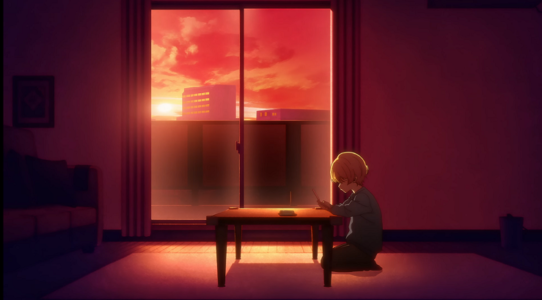 After Kana helped him secure the part, Aqua watched the recent episodes of the drama with Ruby and Miyako. To their surprise, the drama was bad. The actors, including Kana, seemed to act really poorly and the story was over-contrived to fit all manga chapters into few episodes.
Aqua did not hold back when he later met Kana about the drama. To his surprise, Kana was not defensive, and instead explained that the drama was actually used to feature new good-looking male actors to target the female audience. To give the drama some credibility, they hired Kana who is known for her acting. 
However, when they reached the set, Kana realized how bad the new actors are, and if she were to act as well as she normally did, it would highlight the flaws of the other actors. The show would be unwatchable then. Therefore, Kana made the decision to downplay her acting skills. Hearing this, Aqua was proud of how far Kana has grown as a person. After reanalyzing the script and the set, Aqua also realized that the drama might work because they have a good crew.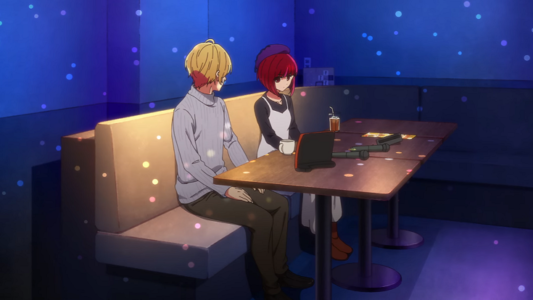 On the first day of set, Aqua met the main actor, Melt Narushima who was quick to ignore him as a side actor. He also casually met Masaya Kaburagi before beginning their shoot.
Then, during the break, he overheard Masaya chatting to his assistant about Kana. He regards Kana as a bargain because she is no longer with an agency who charge fees. However, he does not appreciate that Kana goes on and on about acting skills when the drama is just a promotional material. This angers Aqua as Kana is working hard to be acknowledged as an actor.
Aqua then takes Masaya's leftover cigarette butt so that he can send it for some DNA testing. Since he is already on set, Aqua decided "to have some fun",
Oshi no Ko - Episode 3 Review
With Episode 2 being heavy on the comedy side, we finally get an episode that moves the story along the original plot of Aqua's revenge. Instead of a protective brother, we see Aqua's individualistic side, where he is hellbent on revenge. The determination of going through multiple passcodes for 4 years to crack a phone password is real, and definitely one of the highlights in this episode.
There is also something special in Kana as a character. Having Kana around is not just a comic relief, but also a plot vehicle that brings Aqua back into the limelight and Ai's potential secret lover. 
On top of that, this episode also focuses on dark side of the acting industry. We see Kana who had grown tremendously as an actor and as an individual. However, she is still lonely in her pursuit in the dark entertainment industry. Even someone who works as honestly and as diligently as her, could not break away from the political side of the industry.
Overall, a very engaging episode that sees the plot moving forward. An improvement from the mellowed-down Episode 2, for sure!