The Diplomat (2023) is a web series about Kate Wyler, a US ambassador in the UK. She was caught in the middle of an international crisis while also juggling her marriage to a political figure. Directed by Debora Cahn and starring Keri Russell, Rufus Sewel and David Gyasi.
Streaming on Netflix
The Diplomat (2023) - Episode 1 Summary & Recap
A British ship was bombed in the Persian Gulf, sending it off its course. US Ambassador Katherine (Kate) Wyler (Keri Russell) who was supposed to go to Kabul, now had to be the ambassador in the UK. Kate was actually reluctant as she prefers a more significant contribution to the people. However, President Rayburn (Michael McKean) and his Chief of Staff, Billie Appiah (Nana Mensah) insisted that Kate was redesignated to London. The President in particular, believes that Iran was the culprit behind the bombing because they wanted to send the US a message.
Kate is married to politician, Hal Wyler (Rufus Sewell) who used to be a US ambassador himself. He seemed very keen on propelling Kate to greater heights, although Kate may not necessarily want to. As they are married, Hal tagged along to London with Kate.
In London, Kate met her deputy Chief in Mission, Stuart Heyford (Ato Essandoh). Before Kate arrived. Billie had already called Stuart and informed him that Kate is now being groomed to be the next VP. Stuart was supposed to keep an eye on Kate and give his honest feedback about working with her.
Naturally in her position, Kate gets visibility by getting to be in the phone call with President Rayburn and the British Prime Minister, Nicol Trowbridge (Rory Kinnear). Kate considered the call disastrous as President Rayburn talked about potentially having war with Iran.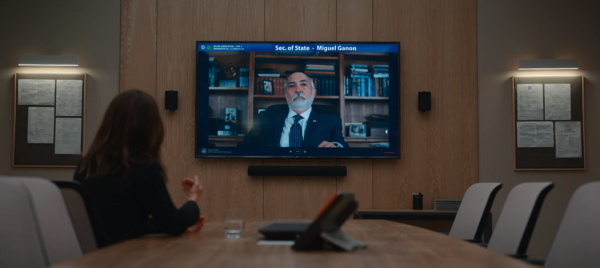 Kate had no choice but to get the Secretary of State, Miguel Ganon (Miguel Sandoval), to warn the President. However, Ganon is displeased by how Kate gets so much face-time with the higher ups. He instead will suggested that he keep the President from the media for a day.
Later that day, Kate attended a memorial for the British sailors who have passed. Hal also sneakily made his way there using a police car. There, he talked to a Tory candidate, and even attempted to introduce the candidate to Kate. However, Heyford considers this an issue and instead got Kate escorted out immediately. unable to see Kate, the press assumed Hal was the "Ambassador Wyler" for the US instead.
It was also revealed that Hal and Kate are in the midst of the divorce. Hal knew that Kate was being groomed to be the next VP, and he is also trying to get Kate there. He also believes that he and Kate will eventually patch things up again. Throughout the episode, it is evident that Hal and Kate are very comfortable around each other and very cordial. The reason for the divorce wasn't mentioned.
At the end of the episode, Heyford found out that Ganon is trying to get Kate out. He revealed this information to Kate and Kate now knew she had to cement her role as the US Ambassador in London. Even though she hated the "Cinderella things", she started to oblige. Kate was doing magazine interviews and photoshoots. 
After a photoshoot accompanied by Hal, Kate and Hal separated momentarily as they both need to fix their outfit. Hal got into a car with a lady, and out of a sudden, the lady injected a potion into Hal's neck. Hal immediately became paralyzed, and the car drove off as the lady assured Hal the he won't be harmed.
Additional Observations From Episode 1
Hal seemed to have offended Ganon and the whole US team back in a mission in Tel Aviv.
Kate seemed to have earned the liking of British PM Trowbridge and British Foreign Secretary, Austin Dennison (David Gyasi).
More recaps from The Diplomat (2023)
The Diplomat- Episode 2 recap
The Diplomat- Episode 3 recap