Under the Banner of Heaven is a crime series based on the nonfiction novel of the same name by Jon Krakauer. The story revolves around Inspector Jeb Pyre (Andrew Garfield), a devout LDS believer as he investigates the murder of a mother, Brenda Lafferty (Daisy Edgar-Jones) and 15-month old daughter from a big, conservative LDS family.  Read the summary of the Episode 1 down below.
Streaming on Hulu
Under the Banner of Heaven- Episode 1 Summary & Recap
The story begins with Inspector Jeb Pyre playing with his two young daughters at home in East Rockwell, Utah. He soon got an urgent phone call about a murder in town. Then, just like any religious member of the LDS church, he gathered his family to have an early prayer and left for work. To his horror, the victims are members from a big, conservative LDS family who was quite well-known. Jeb even knew them casually. A mother, Brenda Lafferty was strangled with a telephone wire and her throat was slashed. Same goes for Brenda's 15-month old daughter Erica. After a sickening look at the murder location, Brenda's husband Allen Lafferty, appeared and surrendered himself to the police.
Jeb and another detective, Bill Taba was in charge of the case. At the police station, Allen claimed that men with beards were the ones who harmed his wife. He also revealed that Brenda was a devout Mormon throughout her life, although he had gone against the Church of LDS. Hearing this, Jeb got angry and condemned Allen for turning his back against God. But, Allen challenged him to think about the history of the LDS and also told him a little bit about the history of his family. Allen also claimed that their faith breeds dangerous men.
Meanwhile, Detective Taba tried to go to Allen's brother, Robin Lafferty's home, but no one was there. Oddly, there's still fire in the backyard and food waste, indicating that the whole family left the house fairly recently that night.
Back then, Brenda was a young girl from Idaho with hopes of moving to a big city with values. She then pursued her studies in the Bringam Young University in Utah, where she met Allen in church. They started dating fairly soon, and the present Allen told that he regretted his part in tying Brenda to the church even more. When Allen first brought Brenda to meet his family, Allen's brothers, Ron and Dan were smitten by Brenda. However, his father Ammon Lafferty, was not that pleased. Although Brenda was a devout member of the LDS, she did not succumb to some conservative values. For instance, she would help the men clean up rocks instead of making tea for them like the womenfolk.
Soon. Ammon and his wife were assigned an LDS mission in Louisiana. Ammon ignored his eldest son, Ron and instead handed his business and house to Dan and Robin. Ron was upset and sought comfort with his mother.
Although Jeb did not give his go-ahead, Detective Taba called Brenda's father to inform him of Brenda's death. He told the detective that Allen used to beat on Brenda. Allen admitted that he had one fight with his father in law but never beat Brenda. When the two police officers are in their private office, Inspector Jeb theorized that the satanic people or "devil worshippers" could be behind the crime because Allen left the church. However, Detective Taba laughed that off as Utah is highly populated with religious people.
The same night, a random stranger saw a bearded figure, and he contacted the police station after Detective Bill Taba issued an APB for "bearded vagrants". After a chase at a motel, Jeb and Bill arrested the bearded man, which happened to Robin Lafferty. Detective Taba offered to take care of Robin as Jeb used to go to church with him, and would not like him to be affected.
At home, Jeb started to doubt what he was being told and started to process Allen's words.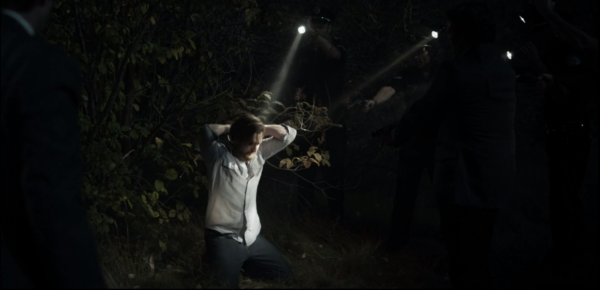 Additional Observations From Episode 1
Dan's wife Matilda joined the LDS church after marrying Dan. She already had a daughter and was a Catholic before her marriage to Dan. Dan was her missionary.
Ron's wife, Dianne also married Ron when Ron was her missionary.
Ron started his own construction company and sat on the city council.
In the police station, Allen also retells the story of Joseph Smith, the founder of Mormonism. 15-year old Joseph set forth to start his church and proposed to Emma Smith.
More recaps from Under the Banner of Heaven