Episode 2 of Under the Banner of Heaven ended with Detective Taba finding a house in the woods after following a little girl. A gun shoves out of the hole on the wall of the house.
Under the Banner of Heaven is a crime series based on the nonfiction novel of the same name by Jon Krakauer. The story revolves around Inspector Jeb Pyre (Andrew Garfield), a devout LDS believer as he investigates the murder of a mother, Brenda Lafferty (Daisy Edgar-Jones) and 15-month old daughter from a big, conservative LDS family.  Read the summary of the Episode 3 down below.
Streaming on Hulu
Under the Banner of Heaven- Episode 3 Summary & Recap
In the woods, Inspector Jeb Pyre found the house and Detective Taba at the side of it with a twisted ankle. Then , Jeb and the other officers managed to catch the little girl who turned out to be Jenny Lafferty, the daughter of Sam and Sara Lafferty. Jenny told Jeb that the house is a fort and people come and go. Before she could divulge more information, Sara Lafferty appeared and called Jenny a liar. The police took Sara Lafferty into their custody and Jeb further questioned her about Brenda. Sara told the inspector that some people like Brenda cannot be forgiven for her sins. The only way to cleanse them is via blood atonement, and their blood must be shed to the ground. This radical Mormon belief shook Jeb a little.
Soon, they started hearing loud prayers coming from the house. Jeb tried to persuade the man inside to allow him to come near but not long after, the police barged in and arrested the people inside, except for one who escaped. The main person inside the house is another bearded man. He is Sam Lafferty. The rest are young children, all sons of Sam and Sara.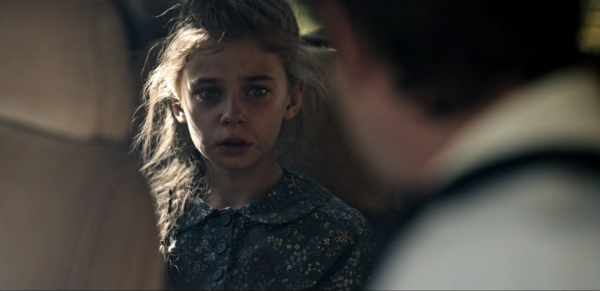 During the police raid in the woods, Josie, Jeb's mother with dementia stepped out from Jeb's daughters' party and got lost. By chance, someone from church spotted her and brought her back home to Jeb's wife, Becca. Becca told Jeb the whole ordeal. 
At night, Jeb and Becca took their daughters to the church for their baptism interview and the two kids passed easily. Jeb stayed to confide with the bishop. He talked about Josie's dementia, but the bishop assured him that antipsychotic drugs are okay with the Mormon doctrines. Then, Jeb asked about the concept of "blood atonement" that Sara Lafferty mentioned and asked if that was part of their past. The bishop advised him to believe in the current prophet and to "leave the questions on the shelf".
When they got back, Jeb told Becca that he wanted to postpone their daughter's baptism until after the case is over. Becca was furious and disagreed because her parents are already coming from Arizona and the neighbours and people are going to assume that their daughters failed the interview. But Jeb did not waiver and used his power as the "priesthood holder" to make a stand. Becca reminded him that she is the one who has the ability to take this power away. Nevertheless, the couple make up before Jeb headed out again.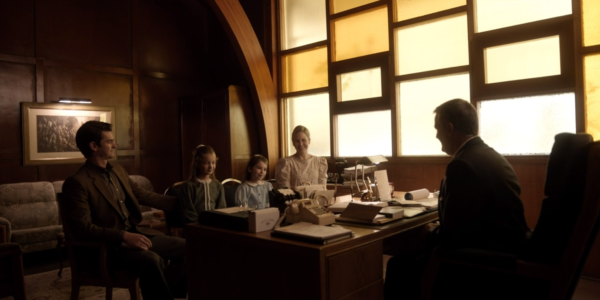 At the station, Jenny Lafferty revealed some information during Allen and Brenda's wedding. Ammon was furious ar Dan for ruining the business and not paying taxes, so he proceeded to whip Dan in front of the family. When Ron tried to shop him, Ammon reminded Ron that there can only be one patriarch in the family and the two got into a fist fight. However, the two let it go before things got too rough. The next morning, Jenny saw Dan praying with his immediate family. During the prayer, Dan seemed to reached a divine state- later revealed that he believed that he was asked to run for sheriff.
On top of this, Allen Lafferty shared that he missed Brenda's BYU graduation because his truck was towed. Brenda then angrily confronted Dan about this because Dan was the one who asked Allen not to pay any traffic fines as it contributes to the state tax. However, Dan spewed some nonsense about them having to break these "unlawful rules" and Brenda could not talk any sense into him. Instead, the brothers were more against Brenda, asked her to honor Allen's decision as priesthood holder, and angrily told her off for being an "idiot" when Brenda questioned Dan wanting to annul the amendments and bringing back laws like slavery. 
Seeing how his brothers and Brenda couldn't get along, Allen struck a deal with Brenda. He promised that they would start a new family away from the Laffertys but Brenda had to focus on having children first before her career. Allen now admitted that he now realized he just built Brenda another cage.
In Sam Lafferty's interrogation, he claimed that he is God's "destroying angels" to remove all those on His list. Brenda and Erica was in there due to "fornication", which in Sam's dictionary meant disobeying her husband. Sam refused to reveal who else is the list. However, soon Robin Lafferty started throwing a fit asking whether the interrogations on Brenda and Erica being killed is true. When Detective Taba showed Robin the photos, Robin broke down and wanted to commit suicide but Jeb and Taba stopped him. Robin then revealed two more families in the list and said one of them was investigating early history of the church. Jeb and Taba then called the police to protect these two people while heading out to these people's residence themselves.
Additional Observations From Episode 3
At the police station, Jenny Lafferty revealed that the last time she saw Brenda, she was in a black robe.
Jeb was the youngest son, but he took Josie in because both he and Becca thought that they weren't having children.
Jeb was concerned that the antipsychotic medicine is taking his mother away from him.
This episode also talks about the Haun's Mill Massacre in Missouri in 1838, where the governor asked for all Mormons be killed. The three children who survived were also killed. Later on, Joseph Smith ran for president.
Allen drew parallel among Brenda and Emma, Joseph Smith's wife. When Brigham Young was trying to convince Joseph to build an army, Emma saw things more clearly and advised Joseph against it. 
More recaps from Under the Banner of Heaven