Things went eerie when Dean realized that John Graff, the previous owner who had murdered his own family, had visited him.
The Watcher (2022) is a series based on a true story about a family who moved into a new house in New Jersey. The series stars Naomi Watts and Bobby Cannavale as the main couple of the Brannock family.
Streaming on Netflix
The Watcher - Episode 4 Summary & Recap
Dean and Nora's relationship got incredibly strained and they ended up arguing about selling the house in front of Theodora. Stuck in the middle, Theodora calmed them down and told them a new theory on how she believes that Dakota is The Watcher. She hired someone to illegally hack into Dakota's gaming account and found out that his gaming username is "The Watcher". After all, he has motive to ensure the Brannock's feel unsafe so that he could sell them a surveillance system.
Aware that Ellie and Dakota might be involved, Dean and Nora planned to look through Ellie's phone. Dean discovered pictures of Ellie in a bra which Ellie had sent to Dakota. Furious, Dean told his daughter off and verbally attacked Dakota the next morning. Neighbours who were around found Dean's behaviour "unneighbourly", especially when Dean asked the police to arrest Dakota. What Dean was not aware of was that the legal age for consent in New Jersey is 16, which meant that Dakota could not be arrested for his relationship with Ellie.
Still, Dakota complied and was willing to let his DNA be taken to match with the DNA on The Watcher's envelope.
Ellie did not take her father's actions well. She ended up going on TikTok live and claimed that Dean would not approve of her relationship with Dakota because Dakota was an African-American. Ellie knew her father is not a racist, but she retaliated anyway. This put Dean's job and their family's social status in jeopardy as everyone began talking about it. Karen, being an actual "Karen", again pushed Nora to sell their house, this time without Dean's consent.
Meanwhile, Dakota took matters into his own hands. He had placed some cameras in Dean's room and he sent an incriminating footage to both Nora and Dean's boss. In the footage, Dean was sleeping and a young lady in a nightgown joined him in the bed. Dean's boss immediately called Dean into his office but Dean realized that the nightgown the girl was wearing is similar to the one Pat Graff was wearing in a photograph. Dean got extremely confused. Dakota revealed to Dean that he set up the cameras because he suspected that Dean was the actual Watcher. 
Then, when Dean got home, Nora had also received the footage. She kicked Dean out of the house.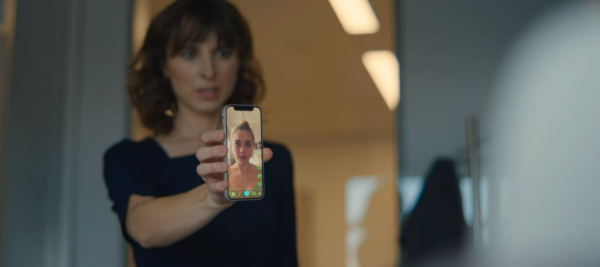 With Dean gone, Nora felt incredibly lonely, hurt and scared for her and her children's safety. Little did he know that Dean is still a faithful husband and drove a distance away from the house to keep watch of any suspicious activity. Initially, Dean noticed that Pearl was watching the house but Pearl shut the curtains when she saw dean. Most shockingly of all, a cab came by to drop off two familiar faces, Mitch and Mo. They were not dead. The old couple smirked as they saw Dean in his car.
Additional Observations From Episode 4
Dean wanted to sue Karen's company for not disclosing the issues surrounding the house. But Karen's boss, Darren is very certain that such efforts would be futile as they themselves were not aware and had no obligation to disclose such information. Plus, the house was sold to Nora and Dean by an LLC company.
Dean noticed that Andrew Pierce was actually a TV commercial actor.