With the success of Bullsh*t The Game Show, Netflix has now invested into another similar gameshow called Cheat. Cheat is a British trivia gameshow where contestants can build up a pool of money by answering the trivia questions correctly or by cheating and getting away. At the same time, the contestants are also rewarded to the next round for being able to accurately detect if other players are cheating. This show is hosted by Danny Dyer and Ellie Taylor
Streaming on Netflix
The first episode's winner is a fashion designer called Yasmina who claimed that she did not have a poker face. Throughout the episode, Yasmina had cheated 83% of the time and has been caught several times. However, she managed to sneakily get through to the final as the strongest cheat detector, Jess eliminated other players to keep more money in the pot. 
Yasmina and Jess were two very different players. Jess was a strong trivia contestant who had broad knowledge from oranges to types of tuna. Fortunately for Yasmina, Jess was very apprehensive to call cheat in the final round, allowing Yasmina to go through 4 rounds of cheating unscathed. True to the name of the game, the first episode's winner is a cheat.
Obi is a young event bartender from Bromley. Throughout Episode 2, Obi had been a formidable contestant as he was able to answer questions correctly, and still gave his fellow contenders some nudge to call cheat. His expressions were typically animated when he answers the questions. In fact, he himself admitted that his strategy was to play mind games with the other contestants.
Episode 2 was truly a showdown of the brainiacs as the final two were Anna and Obi, both incredibly good trivia players who relied very little on cheating to get through. Anna was clearly the most accurate cheat police, as she was deemed the most accurate in both two rounds. However, in the finals, Anna made a wrong call and accused Obi of cheating when he didn't. This made Obi the winner with only 10% of questions cheated.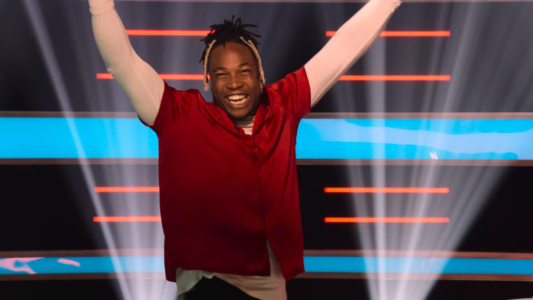 Our third winner was very honest about her tendency to cheat in quizzes. Nicolette, who works in recruitment, is the biggest cheater of her episode. Nevertheless, she seemed to be blessed with the ability to detect cheaters, and was the most accurate cheat hunter for both the two rounds. Therefore, she secured her spot in the finals.
The finals is similar to Episode 1, where we see a showdown between a cheat and a trivia master. Nicolette and Ricky went head to head for a few rounds before Nicolette eventually accurately called bluff. 
Episode 4 was mainly controlled by Dani, a woman who claimed she could read auras. Dani had been an excellent cheat hunter and was safe in both elimination rounds. As she believed that Luis is difficult to read, Dani decided to bring Shakina along with her to the finals. Even before the questions start, Dani was extremely confident, while Shakina seemed more on the nervous side. Unexpectedly, in an anticlimactic finale, Dani got the first question wrong, which automatically made Shakina the winner.
Other Reality TV Series You Might Like