Is It Cake? is Netflix's reality competition show where 9 contestants make hyper realistic-looking cakes for a chance to win $50,000. Hosted by Mikey Day, the show is a fun watch as all contestants are supportive of each other's craft. Is It Cake? premiered on 18 March 2022.
Warning: This article contains spoilers on the winner and contestant's journey on the show.
Easily recognizable through his green hair and gradient green beard, Andrew Fuller is a cake sculptor and owner of Sugar Freakshow, a shop specialized in hyper-realistic cakes in Des Miones, Iowa. Sugar Freakshow's cakes tend to be scary or Halloween-themed, intending to be used to scare a friend or family member. 
Throughout the competition, Andrew has baked all sorts of cakes from a conch shell to plastic cups, and he made the effort to add a lot of details in his work. Hence, he did not just fool the judges every time he was competing. He also impressed the judges as his cakes are very detailed and still look extremely realistic up close. Andrew went home with $80,000 in total.
April Julian is not just a baker, she is the Director of Education for a civil rights organization in Canada. During the show, April is not only a perfectionist at making her cakes look realistic, she also baked one of the most interesting cake, flavor-wise in this competition. She created a mango coulis-filled vanilla bean cake as a nod to her Asian heritage. April was the runner-up of the competition and went home with $15,000.
Ever since her son requested a fire truck cake, Hemu Basu has honed her craft and won several competitions for her realistic cakes. She is the owner of Hemu Sweet Sensations in Texas. Although Hemu's croissant cake was discovered by the judges in the first episode, she did not give up and came back with a hyper-realistic, detailed elephant cake in Episode 6 that not only fooled the judges, but also impressed them so much so that they offered her a ticket to the finale. Hemu was the 2nd runner up of It It Cake? and went home with $10,000.
Hailing from California, Jonny Manganello is a cake sculptor who just started his craft during quarantine. He claimed that being single allowed him to have a lot of time to practice sculpting cakes and he displays his art on TikTok in a comedic and entertaining ways. Throughout Is It Cake?, Jonny participated 3 times and managed to fool the judges every time his cake is on the stage. Although he did not make it to the finale, Jonny managed to bag $5,000 from winning the first round of the competition.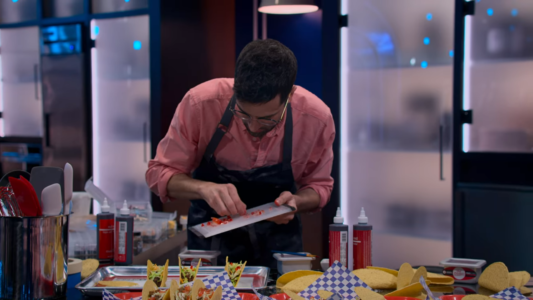 Nina is the owner of Nina Bakes Cakes in Louisiana. She participated in three rounds of Is It Cake? and managed to fool the judges all three times. Throughout the show, she baked a clutch cake, a coconut cake and a bowl of chips cake, impressing the judges every time with her attention to detail. She won the second round of Is It Bake earning $5,000 along the way.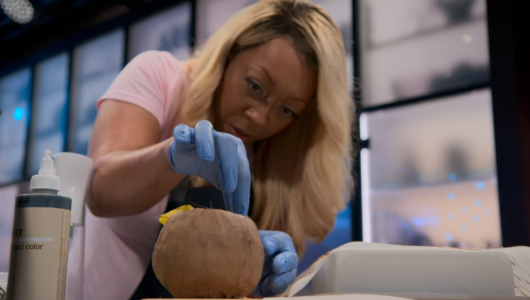 One of the contestants that made it into the first episode itself is Sam Cade. Sam has experience baking atypical cakes such as one that looks like oysters, a Subway sandwich and a cheese board. Her cakes on the show were very realistic and she spent a lot of time getting the colors right. However, sadly, in the first episode, the judges were able to find her cake due to the placement of her cheeseburger ingredients. It's also a shame that Sam never got the chance to play Cake or Cash? as she seemed to be able to spot cakes just based off her intuition.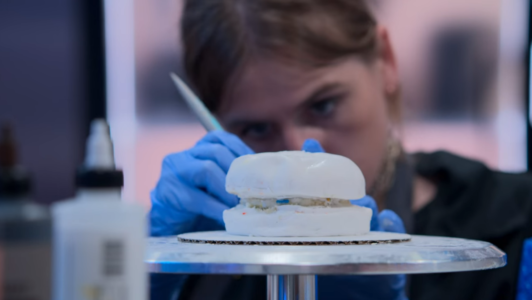 Dessiree, who is originally from Venezuela is the owner of Sugar Dreams in Palm Bay, Florida. She used to be a samba instructor but had to give it up when she injured her knee. She had the chance to bake twice in the competition and she placed a lot of emphasis on getting the texture of her cake to look similar to the actual items. Sadly, despite her best efforts, her cakes were discovered both times in the competition.
Steve is the most experienced baker with over 20 years of experience baking hyper-realistic cakes. He teaches baking at a community college, had won multiple awards and competitions before joining the show, and was dubbed "The Silent Assassin" by host Mikey Day. In Episode 4, Steve chose one of the most difficult items to replicate, a group of produce and managed to fool the judges. Unfortunately, Steve had issues with when he cast the wrong bowling pin into the mold leaving him very little time to spare. He managed to finish his bowling pin cake but the top part was off, and therefore, his cake was found by the judges.
Only 18 years old, Justin is the youngest contestant in the competition. Despite his age, he already owns his own business, Everything Just Baked and makes about 15-20 custom cakes a week. He skipped his own high school graduation to be part of the show and definitely held his own against the other older competitors. Justin's first cake which resembles a wagyu steak fooled the judges, but his tackle box cake failed to do so, therefore eliminating him from the competition.