The Law According to Lidia Poët - Episode 6 Summary & Recap
Marriage proposal amidst chaos
Jacopo had been arrested for the murder of Maya, the prostitute he met briefly in Episode 5. Lidia had no doubt Jacopo would not kill Maya, but evidence pointed towards Jacopo being the killer. This is because Maya was strangled and found dead 15 minutes after Jacopo left her room. When examining Maya's body, Lidia realized Maya had a tattoo of a rose on her wrist, and previous attempts were made to remove it.
With all the ruckus going on, Lorenzo still asked Enrico and Teresa for Marianna's hand in marriage, but given the circumstances, both of them could not think about this matter and had to prioritise Jacopo's case. Meanwhile, Andrea asked Lidia to join him in the US, where Lidia could be free to practice law. He made a selfless proposal that Lidia could join him if she failed to appeal for her bar association licence, and stay in Turin if she succeeded.
One night, Lidia found out that Maya would not offer her services at her brothel on Wednesday nights as she would accompany General Valery (Adele's father in Episode 1). Lidia sneaked into the soldier's camp party to meet the general. To her surprise, General Valery revealed that Maya was actually a spy and she was trying to get information from Jacopo about the anarchist movement.
Lidia and Enrico also visited Jacopo in jail. There, Lidia found out that back then, Nicole was very much into the French anarchist group, so much so that she left Jacopo for the leader of the rebellion, Louis. Jacopo then went back to Turin and low and behold, Nicole and Louis needed to pass by Turin on the way to Uruguay. They got Jacopo to help them with their travel documents and sell their weapons to bribe the train conductor.
.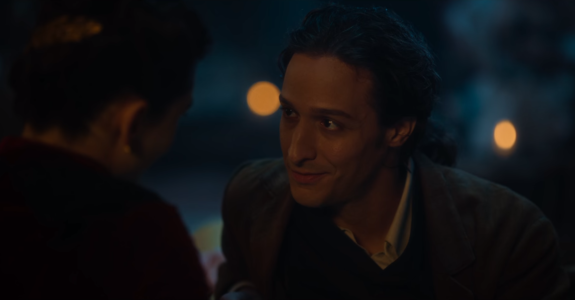 Maya and the anarchist movement
Since Jacopo got caught, Louis and Nicole now couldn't locate the money to bribe the train conductor. Therefore, Lidia decided to step in and help them. When she met them, Lidia quickly noticed that they have the exact same rose tattoo on their wrist.
She then wasted no time and ransacked Maya's room. There, she found photos of Maya with Nicole and Louis in the anarchist movement, and a letter from the French authority asking Maya to leave the country.
Lidia then pieced together the puzzle. Maya was part of the anarchist movement but decided to leave and worked with General Valery instead. Nicole and Louis decided to kill Maya. As Jacopo happened to be in Turin, they got Jacopo's help for their travel works while they searched for Maya.
Right before Louis and Nicole left for Genoa, Lidia managed to convince Enrico to go after them. Enrico fell on the way, and so Lidia had to jump onto the train alone. She found Nicole and Louis in a secret compartment of the train, and sure enough, their reaction was a confession that they killed Maya.
Louis tried to wrestle around with Lidia but Nicole was asking him to stop. Eventually, Louis fell off the train by accident. Lidia then persuaded Nicole to surrender. Jacopo was then released from prison.
Meanwhile, Lorenzo sent a letter to Marianna asking to break up. Few days before, Teresa visited him and offered him money to leave her daughter. At first, Lorenzo was not fazed. However, Teresa soon revealed that Marianna will eventually get sick of Lorenzo as Lorenzo would not be able to provide the life Marianna was used to. This presumably swayed Lorenzo's decision.
Did Lidia choose Jacopo or Andrea?
Lidia's appeal for the bar association was denied. Therefore, one night, she decided to secretly leave the house for New York after writing Enrico's family a letter. To her surprise, when she walked out, many women were outside cheering her on. Throughout this period, Lidia had inspired a lot of women to fight for their rights, and they all had previously gathered in support of Lidia.
Enrico and Jacopo were also there as they already anticipated that Lidia would secretly run away. Lidia hugged and thanked her brother, and then Andrea arrived with his carriage. Lidia walked towards Andrea, but turned her head back at the last moment.
It wasn't revealed if Lidia eventually went to New York with Andrea, but based on history, it is presumed that Lidia eventually stayed with her brother.
More recaps from The Law According to Lidia Poët
The Law According to Lidia Poët, also known as La Legge Di Lidia Poët, is an Italian series inspired by Italy's first female lawyer, Lidia Poët. In this series, we see her navigate the patriarchal society of her times while solving multiple mysteries around Turin. Starring Matilda De Angelis, Eduardo Scarpetta, and Pier Luigi Pasino.
Streaming on Netflix