If Only or Si Lo Hubiera Sabido is a Spanish drama series about a 30-year old woman, Emma who was dissatisfied with her marriage. After watching a lunar eclipse, she was sent back to 10 years ago. The series stars Megan Montaner, Miquel Fernández and Michel Noher. 
Streaming on Netflix
If Only- Episode 1 Summary & Recap
On their proposal anniversary, Emma (Megan Montaner) requested a divorce from her husband, Nando (Miquel Fernández). They had been in an unhappy marriage and were getting on each other's nerves. Both however, do care for their twin children, Mario and Mia. 
That night, Emma recalled the night of the proposal 10 years ago. She arrived at a fancy restaurant with a nosebleed. Nando was her ex at that time and just parted ways with his girlfriend at that time. He arranged for some live music and got down on one knee. Touched, Emma immediately said yes and to her surprise, all her friends and family appeared from the top floor to congratulate them
The next morning, Emma and Nando informed their children on their decision to part ways. Both Mario and Mia were surprisingly cool about because apparently, they were the only ones in school with parents who were still together. But with both the twins asked to stay with Nando, Emma's heart shattered. She started smoking again and confided in her good friend, Isa. Isa is also Nando's coworker and had to listen to Nando's rant on the divorce.
The next night, Emma dressed up to meet her friends Deme and Isa for dinner at the restaurant Nando proposed to her. Deme had news to share and apparently, Nando would also be there. The night was also the night of the "red moon eclipse" where wishes could come true. 
To Emma's surprise, when she got into the restaurant, she was transported to 10 years ago on the day of her proposal. Nando was complimenting her while asking about her nosebleed. In the bathroom, Emma panicked but claimed to everyone that she knew what was going to happen and that she was from the future. However, no one believed her and thought she was just having episodes in her head. 
Nando proceeded with the proposal despite Emma requesting that he didn't. That's when Emma realized that she could prevent this unhappy marriage and said "no" to Nando. She then drove home, but realized that her house and her twins were no longer there. Devastated, she called her mom and found a silver lining in all of this. Her father who had passed away, is now alive.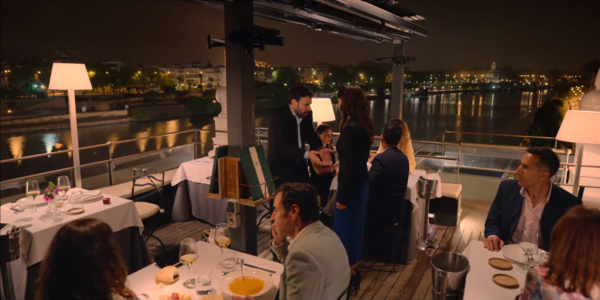 Additional Observations From Episode 1
Tired of dealing with Nando, Emma blurted out her frustrations to their common friend, Deme. Emma also asked why Deme wasn't willing to marry their other common friend, Isa. In response, Deme told Emma that Isa was looking for marriage while he wasn't.