If Only or Si Lo Hubiera Sabido is a Spanish drama series about a 30-year old woman, Emma who was dissatisfied with her marriage. After watching a lunar eclipse, she was sent back to 10 years ago. The series stars Megan Montaner, Miquel Fernández and Michel Noher. 
Streaming on Netflix
If Only- Episode 3 Summary & Recap
As Emma was hospitalized, she had to undergo some psychiatry sessions with Nando. When asked about who Mia and Mario are, Emma who had now accepted her time travel fate, replied that those were names she picked out for her and Nando's future kids. During the session, Nando revealed that he had hooked up with Isa before their first break up, and this information broke Emma into pieces. She recalled how sad Isa was during her wedding to Nando in the original timeline.
Soon after, Emma was discharged but she received a phone call from Rubén Maier, the other guy who time traveled from the blood moon. A hospital staff informed him that Emma was also mumbling the same thing about the blood moon, and so he wanted to get in touch. But Emma ignored him instead.
During Emma's graduation, Nando proposed to Isa using similar words he used to propose to Emma in the original timeline. Although Emma was jealous, she refused to admit it and instead claimed that she was already engaged to Deme. Deme played along but Deme's boyfriend, Andrés was less amused. Later on, both Emma and Deme apologized to Andrés.
Went through the blood moon together
After the graduation, the gang and their families went to a party in a fancy restaurant. There, Emma deliberately made Nando jealous by kissing Deme, and that really got to Nando. Soon after, Emma headed to the female washroom only to be ambushed by a man named Alfredo. Alfredo was the valet who helped parked Emma's car on the night of her proposal and on the night of the blood moon. Needless to say, he was also time travelled and approached Emma to share that information. Happy that she's not alone, Emma kissed Alfredo on the cheek only to be caught in a bad time by Isa. 
Isa went back with news that Emma was kissing Alfredo, the valet guy, shocking both Nando and Deme. Meanwhile, Emma did not think much of it. She was busy talking to Alfredo as Alfredo introduced Rubén Maier in flesh to Emma. Emma apologized for shutting Rubén down during the phone call and the three bonded over their time travels. Before they know it, Emma's parents and friends arrived to understand what had happened. This time Emma decided to hide the events of the blood moon and informed the rest that she was working on a special project with Alfredo and Rubén. When asked about the project, Rubén jumped in and said they were building something called a "social media app".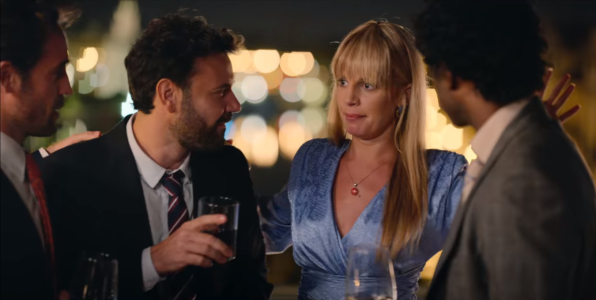 Within less than a year, the trio's company is up and running. The company was called Connect Moon. As a previous valet, Alfredo is less professional in the media events and Emma had to butt in to ensure he doesn't ruin things. However, Emma worked really well with Rubén, and the two flirted a little bit. Isa on the other hand, did not like it when her now-fiancé Nando, talked to Emma one-on-one. Despite this, Emma took it like a champ and even offered them advice to set up their consultancy as she knew that it would boom in the future.
Additional Observations From Episode 3
Emma occasionally remembered the good times with Nando like how they danced and played with their kids.
Rubén Maier's girlfriend passed away in a car accident the day of Emma's proposal.