Obsession (2023) - Episode 1 Details
Run time: 33:27 min
Directed by: Lisa Barros D'sa & Glenn Leyburn
Written by: Morgan Lloyd Malcolm
Release date: 13 April 2023
Obsession (2023) - Episode 1 Summary & Recap
Meeting the son's girlfriend
William Farrow (Richard Armitage) is a reputable surgeon and he just finished a complex surgery involving twins. He has a loving wife and two children, Jay (Rish Shah) and Sally (Sonera Angel). On the way back from work, William found out that his son Jay has a new girlfriend. From William and his wife's conversation, it seems like Jay has had many girlfriends before, but this time, his girlfriend is older.
The next morning, Jay arrived home and Sally immediately teased him about his new girlfriend. Like typical siblings, Sally kept poking at Jay until Jay revealed that his girlfriend's name is Anna Barton. 
That night, William was invited to a political drinks party by his father-in-law, Edward. He did not seem to enjoy himself, until he spotted a woman from across the room. They both locked eyes and the woman later joined William at the bar. The woman later introduced herself as Anna Barton (Charlie Murphy). William knew Anna would be at the party as Jay had already told him prior. However, he did not anticipate the sexual tension between the two of them. 
The two had a brief yet flirtatious conversation, and it was clear that both Anna and William were feeling the tension.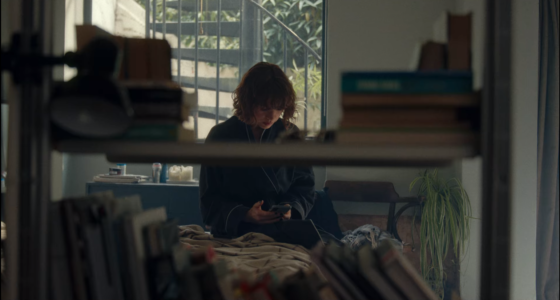 One day, Jay invited Anna to meet his parents, and Anna happily agreed. But when Jay was in the shower, she took the opportunity to get William's number from Jay's phone. She then called William to tell him that she's coming over. At William's house, Anna and William again continued their flirtatious conversations and glances.
Then, the next day, Anna called William asking to meet her at 4.30pm. William asked for her address, and was seen to anticipate the time for the meet. At one point, he had a notification on photos of his family, and it seemed like he was reluctant. Nevertheless, he went over to meet Anna anyway. The two did not exchange much words and just proceeded to have sex. 
The following morning, Jay met up with his father because he was worried that his mom did not like Anna. Here, we see William in a tough spot. He had no choice put to put on his father cap and support Jay when Jay expressed how much he like Anna.
Additional Observations From Episode 1
Anna works in politics.
During dinner, Anna and William pretended to not have bumped in into each other at the drinks party.
 We see Anna and William exhibiting similar behaviour. Anna saved William's phone number as "W" while William saved Anna's phone number as "A". Although they haven't started sleeping together, they have already felt the need to hide their short conversations from one another.
More recaps from Obsession (2023)