Thai Cave Rescue is a Netflix limited series based on the Tham Luang cave rescue in 2018 where 12 members of a football team were trapped inside the cave after heavy rainfall.
Streaming on Netflix
Thai Cave Rescue - Episode 1 Summary & Recap
The series begins with an introduction to the young boys from the Wild Boars football team who were trapped in the cave. Titan, an 11-year old boy dreams of becoming a great soccer player despite his small size. He is quite close to the assistant coach Eak, who does not have a Thai nationality. Dom lives with his aunt and has a father who is really supportive of his football career, but his father just got out of the hospital and could not watch him play. Meanwhile, Phong's grandmother wants to relocate to Chiang Mai, but Phong believes that he and his friend, Biw will be the next team captain. We are also introduced to Adul who plays piano for his church choir and Mark who is well taken care of by his mother. 
As all these boys met more of their members in the field, they made plans to go to Pla Cave. One of the boys named Mix told his friend Boon-Nam that his father's friend was once trapped in Pla Cave for three hours and so he refused to go. But Boon-Nam called Mix a coward and coaxed Mix into joining. The team captain of Wild Boars is Tee, a 16-year old. He has a girlfriend called Mali.
Night is late to the football practice as it is his birthday. He brought along his cousins, Nick and Tle to join their team. Eak and another member, Note welcomed the two new boys and asked them to join their trip to Pla Cave.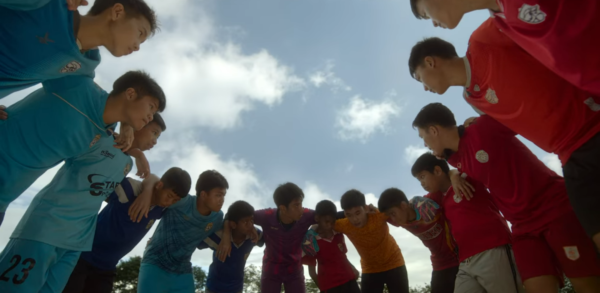 During the football practice, the boys found out that Pla Cave is closed and decided to go to Tham Luang Cave instead. Although Night was celebrating his birthday, his parents encouraged him to spend the day with his friends. Titan's parents also showed up at football practice when they found out from Eak about Titan's whereabouts. But Titan is unhappy as he did not want his quarrelling parents there. As the boys head out to the cave, Boon-Nam decided not to join as his mother wanted him home.
Meanwhile, a meteorological department intern named Noon realized that there is a storm coming their way. After calling up some people, she found out that the border of Myanmar and Thailand collected 30mm of rain. She tried alerting her superiors but they did not take her too seriously. 
At the cave entrance, Titan blamed Eak for his parent's presence. In response, Eak explained his duties to informed parents of their children's whereabouts. Then, he got all the boys to pay their respects to the princess who passed away in the cave. Eak told the boys that myths said that the princess committed suicide in the cave after the king killed her lover, a stable boy. The princess's death served as a reminder to the king that the duty to our family is always to love. This hit Titan and Titan and Eak's relationship got better after Eak gave Titan a torch. The group entered the cave.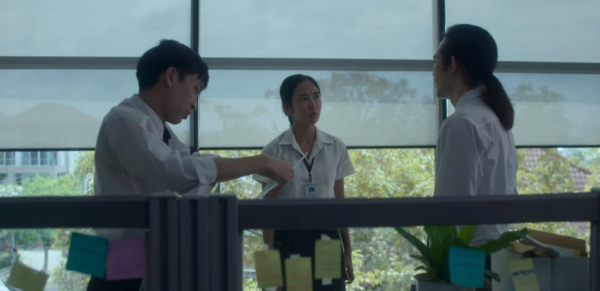 Noon called the National park forest ranger, Pim Jongkait to inform her about the storm. Pim needed Noon to issue a warning so that she could close the park, but Noon was helpless. She was just an intern. Again, Noon tried convincing her supervisor. This time, he agreed to issue alerts but he wanted Noon to take the blame should anything go south.
In the cave, the boys were enjoying the view and works of nature when Eak decided that they should head back. Little did they know that water was already flooding the cave. At night, the children's parents were worried as the children weren't back yet. Boon-Nam revealed to their coach that the boys went to Pham Luang cave and this immediately worried him as he had heard about Night not returning home. The coach alerted all the parents and they went to the National Park.
When the group of parents got there, the cave entrance was already flooded. The forest rangers and the coach had tried to enter but the current pushed them out. The parents blamed Pim for not closing the cave sooner.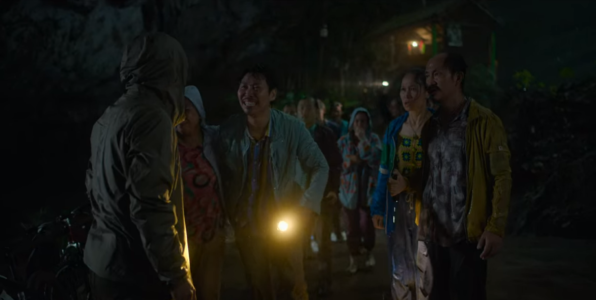 Additional Observations From Episode 1
Local authorities were contacted when the parents arrived at the National Park
More recaps from Thai Cave Rescue