Episode 5 of The 7 Lives of Lea ended with Lea seeing Patricia throwing her gun into the river.
The 7 Lives of Lea or Les 7 Vies De Léa is a series based on the novel of the same name by  Nataël Trapp. The story follows the main character, Léa (Raïka Hazanavicius) swapping bodies seven times with different people from the 1990s in 7 consecutive days to find out the reason behind the death of Ismaël (Khalil Ben Gharbia).
This series is streaming on Netflix.
The 7 Lives Of Lea- Episode 6 Summary & Recap
Romane was late to her date and Léa left her to make things up with Dora in private. On the way home, she saw her dad, drunk and unable to carry himself properly, and so, Léa drove him home. After tugging her dad to bed, Léa picked up a call from her father's phone with Pye on the other line telling Stéphane to stop harassing Karine. Soon after, Dora sent Romane back with a tape player for old VCR tapes. Both Léa and Romane found a tape of the World Music Festival and in it, Stéphane was recording trees and the moon before the a lady (from the voice) knocked him over. Unfortunately, Stéphane entered the room and as they did not want him to notice they are looking at his old tapes, Léa and Romane went to bed.
In the morning, Léa woke up as Stéphane. At band practice, Ismaël was lashing out from their previous argument and wanted to proceed with just himself and Stéphane. But this time, Léa felt like she needed to protect her parents' relationship and therefore made Stéphane take Karine's side. Léa also ensured that she was more romantic with Karine (as Stéphane) and made plans to see Karine that night.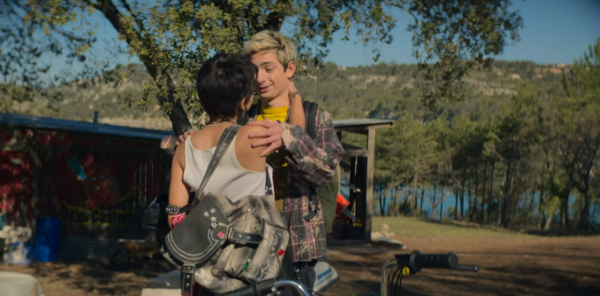 Finding the murder weapon
Without hesitation, after that, Léa made her way to White Rabbit, Patricia's store, to retrieve the gun. She bumped into a bruised Pye inside the shop who was also looking for Patricia. Pye said Ismaël ratted him out and his father got angry. He was initially rough with Léa but eventually left the buiding. Léa then searched through Patricia's place but could not locate the gun. Now, she wasn't sure if Patricia or Pye had taken the gun. 
When Léa got to Stéphane's home, she saw Ismaël there. She tried acting like a guy's best friend and ensured that Ismaël was alright after the morning argument with Karine. As Ismaël was now homeless, he decided to camp out and hearing that, Léa offered to follow him. She tried contacting Karine to cancel their night plans but he couldn't reach her and left a cryptic message for Karine's mom instead.
At night, when Léa was all nervous about sharing a tent with Ismaël, something unexpected happened. She was discussing relationships with Ismaël as Stéphane when Ismaël brought up the topic of him "knowing" and had seen how Stéphane looked at him. Ismaël then kissed "Stéphane" and a shocked Léa couldn't help but ask why. Ismaël replied that he knew that Stéphane has always like guys. Léa was horrified and denied it throughout. She even told  Ismaël that she's from the future and Stéphane is not gay because he fathered her but naturally, Ismaël did not believe her. Unable to wrap this information around her head, Léa ran back to Stéphane's house.
At home, Karine was there waiting for him because she didn't receive their message. She was about to leave in anger when Léa started crying and asked her to stay. She then cried in Karine's lap. That night, after Karine fell asleep, Léa snooped around Stéphane's room and found a letter from Stéphane addressed to Ismaël confessing Stéphane's love for him. At that point, Léa knew for sure- her father is gay.
Léa woke up as herself in 2021 in the middle of the night this time. She walked out and saw Stéphane watching his old VCR tapes of Ismaël. He was visibly upset, especially the following morning at Ismaël's funeral. There, Soufiane gave a speech for his deceased brother, and asked for friends to come up to give a speech too. Stéphane proceeded to give a heartfelt speech Ismaël, telling everyone that he loved Ismaël, and his best friend knew that and tried to help him. Seeing Stéphane sobbing, Karine went up and consoled her husband and also read out some of Ismaël's song lyrics. After that, Sandra too stood up to give a speech. However, she didn't even made it to the stage as she said sorry and quickly turned back. 
After the funeral session, Léa spotted Patricia outside the funeral house. Patricia left and Léa rushed to police officer Miriam to inform her about Patricia being a suspect, but Miriam told Léa of for causing drama on Ismaël's funeral. Sandra was seen leaving with the police officer. 
During Ismaël's burial, Léa vowed to save him, but Romane reminded her that her own life is at stake. If Ismaël survived, Karine would've gone to London and Stéphane would have came out. But this means that Léa wouldn't have existed.
Additional Observations From Episode 6
Conversations between Stéphane and Ismaël revealed that Stéphane has broken up with Karine multiple times before.
More recaps from The 7 Lives of Lea