The previous episode of The 7 Lives of Lea ended with Léa finding out that Dora, Jennifer's daughter no longer existed.
The 7 Lives of Lea or Les 7 Vies De Léa is a series based on the novel of the same name by  Nataël Trapp. The story follows the main character, Léa (Raïka Hazanavicius) swapping bodies seven times with different people from the 1990s in 7 consecutive days to find out the reason behind the death of Ismaël (Khalil Ben Gharbia).
The 7 Lives Of Lea- Episode 4 Summary & Recap
To get more clarification, both Romane and Léa learnt from Jennifer that her high school relationship with Pye was just a fling. Romane theorized that Jennifer and Dora's father was supposed to hook up back in 1991, but Léa made Jennifer get into a relationship with Pye instead. Looking through the photos, Léa noticed that some photos had changed and she found a photo of Pye's friend, Luc, who said he found Jennifer really cute. Hence, Léa deduced that must have been Dora's dad. Eager to bring Dora back, Léa went to sleep that night but woke up as Sandra the next morning.
Sandra's life was not what Léa imagined. She lived in a farmhouse with a crude father that goes hunting for rabbits. Her mother was busy looking after her baby. Léa found Sandra's big breast hurting and she even vomited when Sandra's father asked her to slice the rabbit. However, the bus soon arrived and so Sandra headed to school with a camouflage jacket over her nightdress with vomit stains and half an eye makeup. She got teased about her clothing and Sandra's friends still made fun of Jennifer, but Léa's head is super focused on getting Dora back.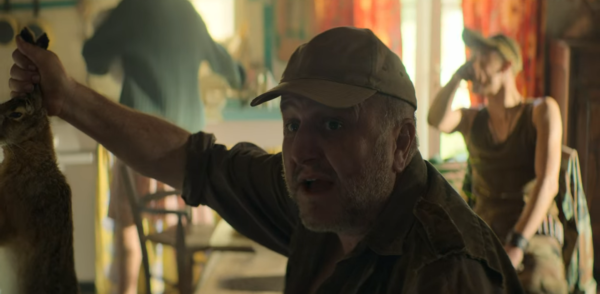 "Sandra" gets things done
When Sandra is in the same class as Pye, Léa tried to talk to him by sending him a note asking to talk. She also drew a heart as suggested by one of Sandra's friends. This enraged Pye who claimed that Sandra broke up with him, ignored him and now is trying to toy with his feelings. Léa was shocked as she was not aware that Pye and Sandra dated. She then seek Luc's help but started vomiting, and Léa found out that Sandra is pregnant. Luc believed it could have been Pye's considering they both broke up three weeks ago. Léa then asked Luc to confessed his feelings to Jennifer as she will make sure Pye break up with Jennifer.
Next, Léa sneaked into Pye's house and told Pye that she (Sandra) wants him back. Pye was delighted and was willing to break up with Jennifer for her. He was also willing to accept any of Sandra's decision regarding the baby. This left Léa slightly shocked as she is used to the violent Pye, but Pye said if anyone is to know he is not violent, it would be Sandra. Unfortunately, they were interrupted by Pye's father and Pye was called to settle an argument with Ismaël and Ismaël's dad. Apparently, Pye's dad saw the weed growing in his orchard and Pye pinned all the blame on Ismaël. In fact, even Ismaël's dad did not believe his own son, and they were kicked out from the orchard. Léa asked Pye to quickly break up with Jennifer while she tailed Ismaël to her parent's place.
Ismaël and Sandra both in a corner
At Karine's place, Ismaël explained that he needs to get to Paris with Karine quickly as he no longer knows where to go now. However, to his disappointment, Karine informed him that she is in the final stage of BRIM application, and would not go to Paris if she got accepted. This angered Ismaël as his friends did not understand his situation, and they hid this information from him. Stéphane got angry as well because Karine and Ismaël initially hid the Paris dream from him. Ismaël left in anger to a cliff and Léa, who was afraid he might jumped, asked him not to. Ismaël found her weird and stormed off. At this point, Léa felt that, after everything that happened, she could understand if Ismaël committed suicide.
Sandra's brother, Jonathan picked her up in the middle of the road and told her she is late to the abortion clinic. However, when they reached there, Léa was reluctant to proceed and thus, Jonathon asked her what she was going to do about the baby. Léa was unable to give an answer and asked Jonathan to ask her the same question the next day, so that the real Sandra could answer. At night, Léa contemplated the similarities between Ismaël and herself, and wondered if this was Ismaël's way of preventing her from going down the same path.
In the morning, Léa immediately rushed to the food truck and was delighted to see Dora alive now. Again, she told the whole story to Romane, but she also tried to locate Sandra this time. Unfortunately, Sandra's Facebook account is private and so Léa headed to Sandra's old home. Sadly, she found an old and dilapidated Jonathon there who told her Sandra had left the house long ago. Léa confirmed that Jonathon drove Sandra to the clinic two days in a row and was satisfied with that information as it meant she did not cause Sandra to miss her abortion.
On the way home, she bumped into police officer Miriam who told her that results found that Ismaël died from a gunshot at point blank range. Léa was curious about whether this was suicide and asked Miriam if there was a gun close by. However, she couldn't get a straight answer out of her.
When she reached home, Lea's parents had found Ismaël's old notebook in Léa's room and started questioning her. In hopes of getting some answers from her parents, Léa informed them about her reincarnating in different bodies the past 4 days, but her parents thought she was high. Angry, Léa blurted out that her mother is cheating on her father. Karine did not deny the accusation and confessed that she was with Pye. Stephane stormed out and soon after, Karine also packed her bags and left the house with Ismael's notebook.
Additional Observations From Episode 4
When Léa saw Ismael hanging out with Karine and Stephane, she felt jealous as she wanted to be having fun with him too.
When Karine admitted to cheating with Pye, she told Stephane that he knew why. 
More recaps from The 7 Lives of Lea