The 7 Lives of Lea (Les 7 Vies De Léa) is a series based on the novel titled Les 7 vies de Léo Belami by Nataël Trapp. The story follows the main character, Léa (Raïka Hazanavicius) swapping bodies seven times with different people from the 1990s in 7 consecutive days to find out the reason behind the death of Ismaël (Khalil Ben Gharbia).
This series is streaming on Netflix.
The 7 Lives Of Lea Review
There is more than meets the eye.
After finishing The 7 Lives of Lea, I would say that this saying encompasses the series in many ways. When I first stumbled across this series on Netflix, I looked through some of the marketing materials like the visuals and trailer; and so, I expected another teen series with teen drama as we often seen in the likes of Riverdale and One of Us Is Lying. However, this series is actually one that is extremely focused on it's core mystery and teen-related problems are used as repercussions and drivers for the main character's actions.
It is also a recurring theme for the series where our main character, Léa was quick to judge and point fingers in the beginning. But as she body swapped with another person, she got to walk a mile in their shoes and realized everything is more than what she deemed. Pye and Sandra were raised in abusive families, Karine was torn about her future and Stéphane was in the closet.
One of the main strengths of The 7 Lives Of Lea lies in it's concept and storyline. The story intricately combined the elements of time travel, body swapping and murder mystery, and managed to do so ever so smoothly without compromising the charm of either elements. The time travel concept of this series allows our main character to change the future every time she travels to the past. This allows for very interesting storylines when it comes to saving Ismaël and finding out consequences for her actions, like causing Dora to not exist.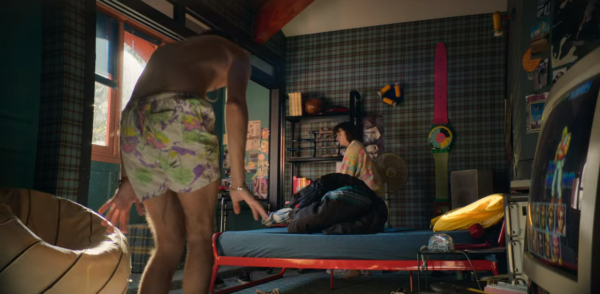 As a mystery series, the pacing of the series is solid. It allows time for the audience to digest the progress of the murder mystery while keeping them at the edge of their seat. Every episode ended with a new development or a new discovery for Léa, which is cliffhanger enough for the audience to want to binge the entire series. Although key information of the mystery were sometimes presented in a disorderly manner, it makes the audience try to process the information as Léa would have while trying to save her parents' best friend.
One small complain about this series though, is that there are often developments that are not extremely necessary to the overall plot, but were time-consuming. An example was the minor fallout between Léa and Romane. Although the intentions was probably to make Léa's "sidekick" more realistic in terms of her frustrations, it came to a point where an audience who is eagerly watching to see the mystery develop can potentially lose interest due to a side plot.
The 7 Lives Of Lea did not give us the easiest time digesting our feelings for the characters. Most of the characters in the series are complex, and props should be given to the writer for managing to handle the level of character complexity and gel it well with the plot's intricacies. As an audience, I have gone through an indecisive wave with characters like Pye and Sandra, who were first presented in a negative light until we saw a glimpse of their lives. 
Another frustrating character was Léa. For most of the film, she appeared inconsiderate, bratty and willing to jump to conclusions despite not knowing the full story. Her only fallback at that time was her rather dysfunctional family, in which she was also rude to her own mother. This made Léa an extremely difficult main character to root for. Nevertheless, Léa eventually showed great character development at the end when she apologized to her parents (in younger version) and when she decided to sacrifice herself for Ismaël and her parent's happiness. Her change turned into a very heartfelt and emotional point in the end of the series that made the whole journey with her seem worthwhile.
The 7 Lives Of Lea Episode Recaps