TRIGGER WARNING: This episode discuss the incidents of rape, sexual assault and substance abuse.
Last episode, Olivia Lytton gave an overview of how her relationship was like with James Whitehouse before the rape incident. She was in love with James Whitehouse and was shattered to learn he wanted to end their affair. 
Anatomy of a Scandal is a British crime series based on the novel of the same name by Sarah Vaughan. The story that follows James Whitehouse (Rupert Friend), the Home Office Minister and his wife Sophie Whitehouse (Sienna Miller) as the news of his affair was brought to light. 
Anatomy of a Scandal: Episode 3 Summary & Recap
Olivia details the assault
At home, James convinced Sophie that although Olivia was in love with him, he did not and does not feel the same. It was a purely physical act for him.
The next day in court, Olivia recounted the day of the rape. James was angry and frustrated due to an article from The Times that accused him of being "breathtakingly arrogant". When he asked Olivia whether he was arrogant, Olivia told him she thinks he can be ruthless, and sometimes cruel. As she wanted to test whether he still have feeling for her, Olivia said, "sometimes arrogance can be terribly attractive".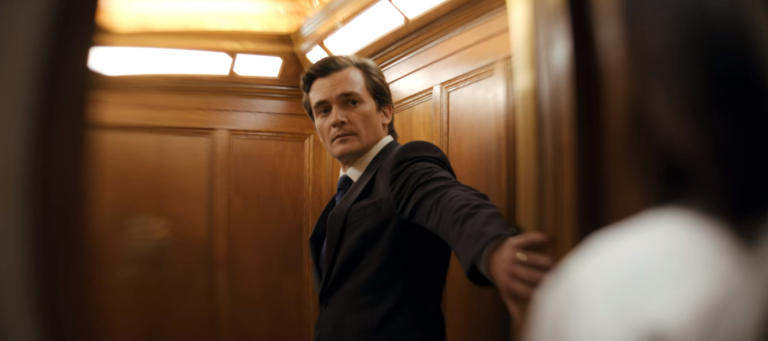 When the lift arrived, James held the door open and therefore, Olivia entered. They the started kissing very passionately and Olivia was happy because she thought the affair would resume. But then, James got more violent. He unbuttoned her short and bit her above her left nipple, where there were photographic evidence. He tore her tights and underwear and lift her against the wall. Olivia told James "not here" because she was scared and she was worried that people would find them in the lift, as it was a public area. However, James ignored her words, told her, "don't be such a prick tease", and shoved it inside her.
The defendant lawyer questions Olivia
Angela Regan QC, James' lawyer asked Olivia a few questions the following day in court. She questioned Olivia's motive for entering the lift, knowing that James is taking them somewhere private. Ms. Regan also clarified the Olivia was consenting when both James and Olivia were sharing a passionate kiss in the lift. Then, Ms. Regan made the case that Olivia did not at anytime said "no" or "stop" when they were in the lift, nor did Olivia's reasoning of "risk being seen by the public" made sense because James and Olivia have had sex multiple times in The House of Commons and a BBC recording studio where they had always risk being seen. 
With increasing pressure from the other members of the Parliament over James' affair, members of the party are plotting to stage a vote of "no confidence" against the Prime Minister. Chris Clarke advised PM Tom Southern to publicly distance himself from James Whitehouse. 
Chris Clarke then went to the Whitehouse home to confront James about new information he received. He learnt that the Oxford University administrator was coming forward with an allegation of rape against James Whitehouse. The administrator found out that James had raped another fellow student, Holly Berry (Sophie's first year tutorial partner) but Holly did not want to pursue the case. Although James could not even remember a woman named Holly, Sophie was shocked by the news.
James then got on a call with Tom about the news and the vote of "no confidence". In the call, Tom expressed his concern that James was the reason behind it and that he might have to do what needs to be done. However, James threatened Tom because he knew what Tom had did long time ago.
Prime Minister Tom Southern had a dark past
Back when they were studying in Oxford University, one night, James found Tom doing drugs with another student, Alec on the rooftop of a building. James immediately dragged Tom away and helped Tom exit the building. Outside, Alec who was high from the drugs went to the edge of the rooftop and hollered at Tom, thinking he could fly. Tom was also still high from the drugs and told Alec that "he could do it". As James helped Tom keep walking, they heard a loud thud behind them and realized that Alec had jumped of the building and was presumably dead.
Both Tom and James ran home terrified to be linked to the incident. At Tom's front door, Tom confessed that he was the one who gave Alec the drugs, and since he was the one who encouraged Alec to jump, he would be in deep trouble if anyone finds out. James disposed of the evidence, kept Tom's secret and ran but bumped into someone.
Additional Observations From Episode 3
When Sophie confronted James about her tutorial partner, Holly, James swore that he does not remember and believed that people are lying.
Holly Berry is now missing.
More recaps from Anatomy of a Scandal