Badhaai Do, directed by Harshavardhan Kulkarni is a comedy drama film that premiered in cinemas in February 2022. The story centres around a gay police officer, Shadhul Thakur (Rajkummar Rao) and a lesbian PE teacher, Suman "Sumi" Singh (Bhumi Pednekar) who entered a lavendar marriage to conceal their sexuality from their family.
One strong aspect of the film is definitely in the performance of the cast. Rajkummar Rao, who is deemed one of the most versatile actors in Bollywood, showed his range in both the comedic and the emotional scenes in this movie. Bhumi Pednekar also brought a solid, believable performance for a lesbian character. Besides our A-lister main cast, newcomer, Chum Darang also stole the spotlight in some of her flirtatious scenes. Having an East Indian representation like Chum Darang in the movie also feels fresh and inclusive, albeit the lack of LGBTQ+ members in the cast.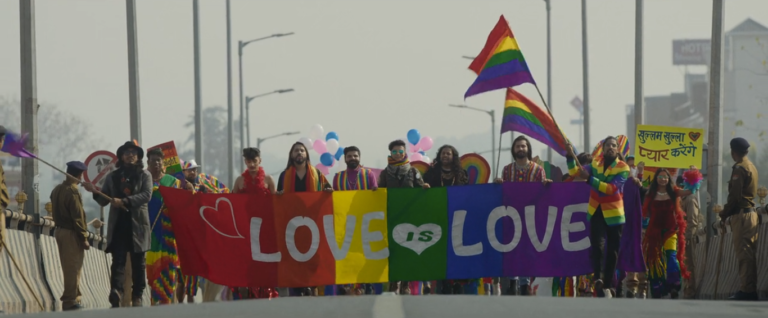 The film is in essence, a film on LGBTQ issues. In this aspect, Badhaai Do brings to light more issues from the LGBTQ community than other previous Bollywood films of the same topic. Besides community acceptance, the movie tackles topics like child adoption and stigma of the community members in the workplace. Scenes such as the pride parade and Shadhul's coming out are extremely impactful and felt as liberating for the audience as they are for the characters.
However, the weight of this issue is only highlighted in the last 30 mins of the film. The first 2 hours were spent on generic comedy to build the issues at an extremely slow pace. The film relies on misunderstood dialogues and tripe sexual jokes for it's comedic element though most of the jokes did not quite land. Several scenes also felt unnecessary and made the story a lot more long-winded than it should be.
Very powerful ending with a great social message, but the weak beginning and build up dampens the experience slightly.
Read other movie summary and reviews here: