In the end of the previous episode, Jimmy came face to face with Larry in Springfield prison. Their cells were opposite one another.
Black Bird (2022) is a crime drama miniseries based on the autobiographical novel In with the Devil: a Fallen Hero, a Serial Killer, and a Dangerous Bargain for Redemption by James Keene. The series spans 6 episodes and tells the story of James "Jimmy" Keene (Taron Egerton) as he helped the authorities find the hidden body of a murder victim of Larry Hall (Paul Walter Hauser) in exchange for his freedom.
Streaming on Apple TV+
Black Bird (2022)- Episode 3 Summary & Recap
To make it easier for Jimmy to befriend Larry, Jimmy is placed in a cell opposite Larry. However, this means that Jimmy will be prescribed to antidepressants as the area of Larry's cell are full of inmates who were medicated. This is to prevent Larry from being suspicious. When Jimmy met with the prison psychiatrist, he admitted that Springfield prison is a lot more violent than the one he was previously in. The psychiatrist made Jimmy memorize his phone number so the Jimmy could call for help whenever.
Jimmy tried starting his mission fast by trying to have casual chats with Larry. Unfortunately, Larry did not seem interested and often ignored Jimmy's attempts. One day, Jimmy followed Larry and a few other inmates into the television room to watch a show. Out of a sudden, another inmate came in and changed the channel and ignored Larry when Larry told him that the rest of them were watching the previous channel. Jimmy took this opportunity to stand up for Larry. He changed the TV channel back and when the inmate confronted Jimmy, Jimmy punched him until guards came in to pull Jimmy away. Jimmy was brought to isolation. However, the tactic worked and Larry started talking to him when he came back.
Jimmy's dad, James tried exercising his rights as an ex-cop to demand a visit with Jimmy outside of visiting hours. However, Jimmy was supposed to be undercover as an inmate without a family, and this visit had blown his cover. James explained to Jimmy that he was renting a hotel nearby and would be around to support his son. Jimmy asked the guard, Carter to keep the visit a secret. Unfortunately, Carter did his digging on Jimmy and found out he was an undercover snitch. He then threatened Jimmy with 10 grand in order for him to keep Jimmy's secret. 
Immediately, Jimmy reached out to his dad to look for the money he had hidden around the house. To Jimmy's shock, James had already found them earlier and used it for various other things. As a last resort, Jimmy asked his dad to locate 1kg of coke he had hidden in an abandoned place. However, once again, James came back, letting Jimmy know that he could not find anything. Jimmy was now stuck.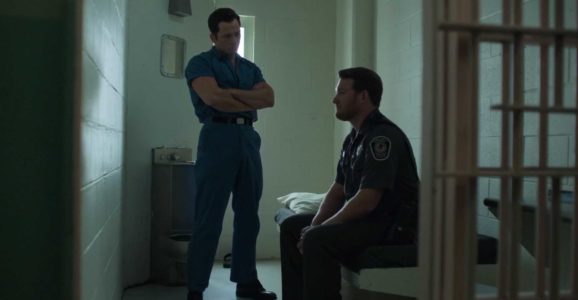 Meanwhile, Lauren and Brian tried relooking into cases Larry could potentially be involved in. In one case of a victim named Rayna Rison, Larry was associated because a bottle of birth control pills under Rayna's name was found in Larry's van. However, diagnosis on Rayna's corpse revealed that she did not take any birth control pills not was Larry in the vicinity of Rayna on the day of the murder. In this case, Larry had planted evidence on himself for a crime he did not commit. Lauren started to doubt her earlier judgement and wondered if Larry was indeed a serial confessor.
In Springfield prison, Jimmy and Larry got closer. Larry started sharing about his family and his love for Civil War reenactments. One day, when they were in the boiler room, Larry admitted that he experienced sex where the vagina of the woman was wet. Jimmy got increasingly wary and realized Larry may have raped some women. Jimmy also told Larry of an instance where he raped another girl. It was not sure if Jimmy was lying to get Larry to open up or he was telling the truth.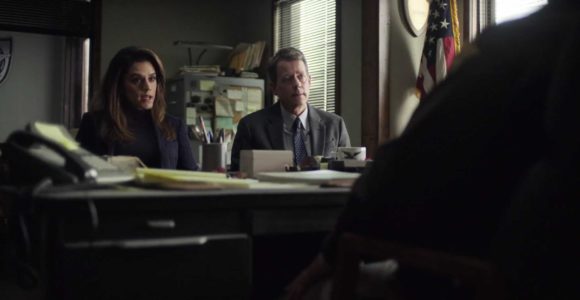 When Lauren visited Jimmy, Jimmy told her about the threat from Carter. Lauren got worried and suggested that Jimmy gets sent into isolation and wait a few weeks till Lauren could transfer Jimmy back. Then, Jimmy asked what would happen to Larry. Now doubtful about Larry's involvement, Lauren expressed her slight doubt without revealing the details. She told Jimmy that Larry would walk free if the court agrees that Larry confessed due to coercion. Jimmy then confidently told Lauren that he believes Larry is their guy and requested to stay in Springfield.

Additional Observations From Episode 3
As advised by Carter, Jimmy befriended an Italian gang leader called Vincent Gigante. 
Larry shared with Jimmy the fact about Gary taking nutrients from him when they were both in the womb. Therefore, Larry believed he had "peaked" when he was in the womb.
When Larry had an appointment with his psychiatrist, he told the psychiatrist that he found Jimmy easy to talk to, and seemed to have made a friend.