Doctor Strange in the Multiverse of Madness is a Marvel superhero film centered around the character, Dr Stephen Strange (Benedict Cumberbatch) and Wanda Maximoff/ Scarlet Witch (Elizabeth Olsen).  In this film, Dr. Strange is on a quest to protect America Chavez (Xochitl Gomez), a teenager travelling between universes, from a sorcerer who wants to get hold of Chavez's powers.
If you are wondering which movies are a must-watch going into this movie, you're in luck.
Must-watch
Doctor Strange (2016) – Disney Plus
Wanda Vision – Disney Plus
Would give some additional (but not necessary) context
What If…? – Disney Plus
Avengers: Endgame
Doctor Strange In The Multiverse of Madness Spoiler Review
Just when you think you might get bored with the typical superhero format, Marvel switches things up again- this time with a bit of horror. The film's director, Sam Raimi, who also directed the Evil Dead franchise made sure to inject his very own dose of darkness and horror into Doctor Strange, making it a fun and unique experience. 
Within the first 20 minutes of the film, Doctor Strange In The Multiverse of Madness had already revealed the villain of the film- another fellow Avenger, Wanda herself. This made for a very interesting story as we see two powerful Avengers come head to head with each other. Wanda, with the power of the Darkhold, is especially strong and she proved to be unstoppable when she alone was against the whole Kamar-Taj. Director Sam Raimi used all the cheesy horror effects on Wanda's character- having her body "twisted", getting up close shots of her chasing America, and even using her to give the audience some outright in-the-face jump scares. Not to mention, the glaring music during those moments add to the horror element, just like any horror film. This aspect is unlike any other of the previous Marvel movies, and definitely made it an enjoyable watch.
The plot twists are also great, especially the one in the end, where we were introduced to zombie Strange (another horror element!). The ending also leaves the audience anticipating for what's to come in the next installment, especially with three-eyed Doctor Strange. Plus, the run time of two hours is perfect for all the build-up and action.
When dabbling in the multiverse, Marvel did not miss this opportunity to feed us some new characters (or new versions of old characters) and some fan-service moments. For those who are waiting for the X-Men and Fantastic Four to join the Marvel Cinematic Universe (MCU), you will be pleased. Where I came from, some cinema audience even cheered when Professor X appeared on screen. However, as these are fan-service moments, they don't last long and so the writers have these characters laughably killed not long after they showed up.
In terms of cast performances, although this was a Doctor Strange film, the one who took the limelight was Elizabeth Olsen. Her character, Wanda had a wide scope especially when it comes to character development and character diversity. She had to play very different versions of Wanda, like calmer ones from other universes, a headstrong Wanda fighting for a life with her children and even Sam Raimi's blood-curdling, eerie Wanda- and she definitely delivered on her end.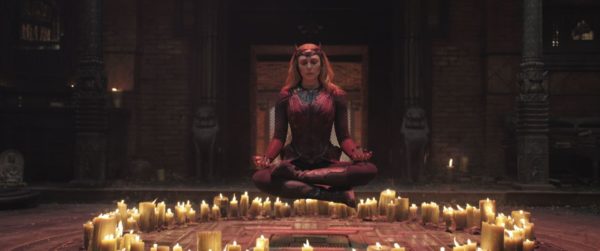 All in all, a very fun movie indeed that leaves you looking forward to the next one.
Other Superhero/ Action Movies You Might Like