Sarma Melngailis, is the main focus of the Netflix docuseries, Bad Vegan: Fame. Fraud. Fugitives. Sarma is a graduate from Wharton School and was the previous owner of two famous raw vegan restaurants, Pure Food and Wine and One Lucky Duck. The 4-part docuseries untangles her life after meeting a man named Shane Fox, and what led to their arrest in 2016.
The story starts with how Sarma set up Pure Food and Wine with her then boyfriend, Matthew Kenney. They had an investor, Jeffrey Chodorow, who helped them in the early stage of the business. However, after Sarma and Matthew broke up, Matthew was kicked out and Sarma bought over Pure Food and Wine from Jeffrey Chodorow, leaving Sarma with $2 million in debt. 
Sarma would soon met a man named Shane Fox online. Shane would often correspond with Alec Baldwin, an avid fan of the restaurant (and Sarma) at the time, and therefore, Sarma did not question his identity at the time. Both Sarma and Shane chatted online and bonded over Words With Friends for a few months before meeting in person. Shane had always been secretive about his occupation, but hints at being involved in the black ops.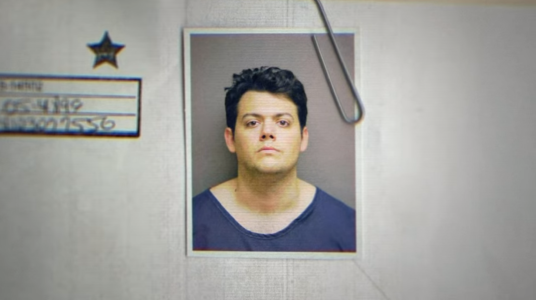 Employees at the restaurant eventually found out that Shane's actual name is Anthony Strangis and had been arrested. Anthony convinced Sarma that he needed to have multiple identities for his black ops work. As a result, Sarma had a lot of reservations about their relationship, but Anthony eventually convinced Sarma to give it another shot. Anthony flashed his wealth around Sarma, by bringing her to Tiffany's to try out $800,000 rings and almost purchasing a $15 million town house. When Sarma mentioned her $2 million debt for the restaurant, Anthony said he could take care of it, but to avoid a complicated tax situation, both Sarma and Anthony got married. At that time, Sarma had only known Anthony for about a year.
Passwords, money and an eternal life
After getting married, Anthony hired an IT guy by the name of Will Richards to help encrypt Sarma's data and passwords. In order to achieve this, Sarma had to give all her email passwords and bank accounts to Will. 
Anthony also started implying to Sarma that he is more than a human, that he has passed a "program" and is now part of an ethereal, magical world. He then told Sarma that he and "The Family" would start putting Sarma on the same program. If Sarma were to pass this program, Sarma and her dog will be immortal, will get all the power and wealth that they could never imagine. This program would involve Sarma wiring money to Anthony, Sarma being flown to far away destinations and Sarma not being able to be involved in certain "bad" people- all without questions. Within a period of 3 years, Sarma sent Anthony more than $1.7 million.
The restaurant gets involved
One time, Anthony sent Sarma to Rome for about 10 days and during that time, Anthony joined the restaurant employee meeting and told everyone that the company is transferring hands to him. When the operations manager, Jim Switzer found that the restaurant made a $90,000 transfer to New Hampshire where Anthony lived, he questioned Sarma about it and got fired. Employees then stopped receiving their payroll as money from the restaurant was channeled out.
When Anthony and Sarma went to Europe, the employees could not hold it any longer without receiving their pay, and shut the restaurant down. When Sarma got back, she tried getting money from investors to reopen Pure Food and Wine. During this crunch time, Sarma ran away.
There was no "Will Richards"
Sarma started realizing that Anthony had talked to one of her investors through her email account and hence, started changing all her passwords. She also started questioning Will, who refused to meet in person and continuously asked Sarma to trust Anthony. It turned out that Will was just Anthony getting access to all her emails and bank account info.
But Sarma still believed Anthony when Anthony wanted to buy over the restaurant. She lied to Jeffrey that she had vetted through a potential investor named Michael Caledonia, who was actually just Anthony. Then, when the employees of Pure Food and Wine did not receive their pay again, they went on strike in front of the restaurant, plummeting Sarma's reputation down the drain.
Sarma and Anthony ran away
As the restaurant employees and investors were angry about their money cheated by Sarma and Anthony, the couple ran away to Vegas for 10 months. During that time, Anthony would ask Sarma's mother to wire large amount of money and Sarma followed along and speak to her parents every now and then. The couple then drove to Tenessee where they stayed at the motel.
One of the investors eventually pressed charges and a warrant was issued for Anthony and Sarma. The police found a credit card purchase for a pizza and chicken wings from Domino's under Anthony Strangis. They located the motel and arrested Anthony and Sarma without much issues by getting the reception to co-operate with them.
Both Sarma and Anthony eventually pleaded guilty in court to scamming victims out of approximately $1 million. Sarma admitted committing criminal tax fraud, scamming more than $200,000 from investors, and "scheming to defraud." She was sentenced to four months in jail while Anthony spent more than a year in jail before receiving five years probation. 
More true crime Series and Documentaries