In the first episode, Belly arrived on Cousins' Beach and is caught in a fight at the beach bonfire. There, she met an old acquaintance, Cam.
The Summer I Turned Pretty is a series adaptation of the novel of the same name by Jenny Han. It follows the story of Isabel "Belly" Conklin (Lola Tung), a 15 year old girl who is going to spend her summer at her mother's friend's beach house as she frequently did as a child. There, she reunites with Conrad Fisher (Christopher Briney) and Jeremiah Fisher (Gavin Casalegno).
Streaming on Amazon Prime Video
The Summer I Turned Pretty- Episode 2 Summary & Recap
In the morning, Susannah is thrilled that Belly is joining the debutante. Both Steven, Conrad and Laurel don't think the debutante is very "Belly". Also, Conrad and Jeremiah could not bring Belly to the debutante, so Belly told everyone she would find her own date.  Both Susannah and Laurel then immediately took Belly shopping for dresses and a headdress. When looking for the final dress, Susannah chose a white gown with intricate details but Laurel prefer the plain white dress for Belly.
During the sumemr, Jeremiah and Steven work at the country club as a lifeguard and a waiter. Gigi, a young girl is interested in Jeremiah and flirts with him. Steven on the other hand, is interested in Shayla, a girl he met at the bonfire. Jeremiah warned Steven against girls like Shayla. Susannah asks Conrad to spare a few hours to paint his portrait. During the painting, Susannah asks about Nicole and tells Conrad to get a job.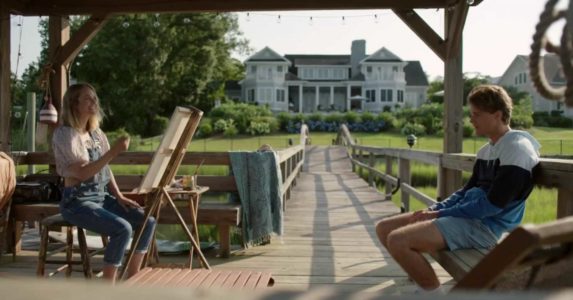 Laurel drops Belly at the country club and Belly bumps into Jeremiah. At first, Jeremiah could not recognize Belly because she was all dressed up, but offered to take her to the debutante tea party. At the door, he introduced Belly to Paige, who manages the debutante and cheekily called Belly his future wife. Belly notices that the other girls were judging her, looking at her from up to down. She is later seated at the same table as Nicole, Shayla and Gigi. There was also a lesbian girl seated on the table. This girl managed to persuade the organizers to allow her girlfriend to be her escort during the ball.
At the table, the girls try to socialize. Nicole have heard a bit about Belly from Conrad. Gigi also admits that she has a crush on Jeremiah, and is initially worried about Belly having an interest in him. However, Nicole shut that idea down saying Belly is practically family with Conrad and Jeremiah. The girls also talks about Steven, and this makes Belly uncomfortable. Soon after, the manager Paige, starts talking and the girls on Belly's table sneakily pours alcohol into their drink. Then, it was announced that each debutante is paired with a "sister" to help guide them through the process. Belly's "sister" is Nicole.
Out of a sudden, Belly notices Cam outside so she ran out to greet him. Cam then asked Belly for a drive-in movie date. 
On the evening of the date, Belly gets ready for it and greets the boys on the way out. Jeremiah seems stunned by Belly and complimented her. When Belly tells them she's going to the movies, Conrad seems distracted and watches her. Cam then arrives to pick Belly up for a classic movie, and during the movie, he and Belly held hands.
Meanwhile, at Laurel's book event, Cleveland, the author shows up and the two share a few things on writing. Cleveland tells Laurel that he's writing a book about sailing although he doesn't know much about it. Laurel then calls Conrad over to connect Conrad and Cleveland since Conrad sails. However, Conrad who has been drowning himself in chardonnay all night, gets angry, thinking his mother set Laurel up for this.
When Conrad gets back, he suggests that he, Jeremiah and Steven go to the drive-in to look at Belly during her date. When they reach the drive-in, Belly is about to kiss Cam. Belly gets distracted and asks Cam to get her a soda. She then gets out of the car and berates the boys for disturbing her. She even threatened Steven with an embarrassing fan fiction Steven wrote. The boys leave, but Belly overhears that it was Conrad's idea to come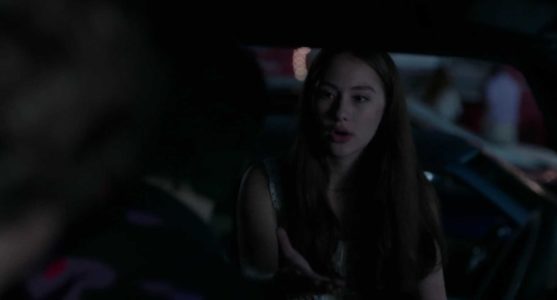 Belly continues with the movie and before the date ends, she and Cam kiss and make out in the car. When she got back, Conrad is still awake and Belly gets in an argument with Conrad about ruining her date. Belly also tells Conrad that she knows he wants to make his presence known to her, but Conrad retaliates. Belly feels her crush for Conrad disappearing.
Meanwhile, Steven is invited to the beach by Shayla and the two makes out. At one point, Shayla asks Steven to be her date to the debutante ball, and Steven immediately agreed.  
Additional Observations From Episode 2
Susannah offered to pay all the expenses for Belly's debutante because it was her idea.
Jeremiah is a flirt and brags in about kissing multiple girls to Steven.
During Susannah's conversation with Conrad, she mentioned that Conrad will leave for a year.
More recaps from The Summer I Turned Pretty