The Summer I Turned Pretty is a series adaptation of the novel of the same name by Jenny Han. It follows the story of Isabel "Belly" Conklin (Lola Tung), a 15 year old girl who is going to spend her summer at her mother's friend's beach house as she frequently did as a child. There, she reunites with Conrad Fisher (Christopher Briney) and Jeremiah Fisher (Gavin Casalegno).
Streaming on Amazon Prime Video
The Summer I Turned Pretty- Episode 1 Summary & Recap
Growing up, Belly has always looked like an average girl, but now she is 15 years old and have changed into a pretty girl. Her close friend, Taylor and others have remarked on how grown up she looks now. Belly has always spent her summer at the Fisher's house. Susannah Fisher is close friends with Belly's mom, Laurel. Therefore, Belly and her brother, Steven has always been close to Susannah's sons, Conrad and Jeremiah Fisher. Before Belly leaves for her summer vacation, she confesses to Taylor that she wishes to kiss Conrad, who happens to be her crush, this summer.
When Belly and her family got to Cousin's Beach, they stop at a convenience store. There, the young cashier tries flirting with Belly and invites her to the bonfire at the beach that night. Then, the family travels to the Fisher's beach house and the young teenagers reunite. Jeremiah comments on how Belly is different while Conrad claims that he prefers the Belly with glasses. The boys, Jeremiah, Conrad and Steven then cheekily threw Belly in the pool.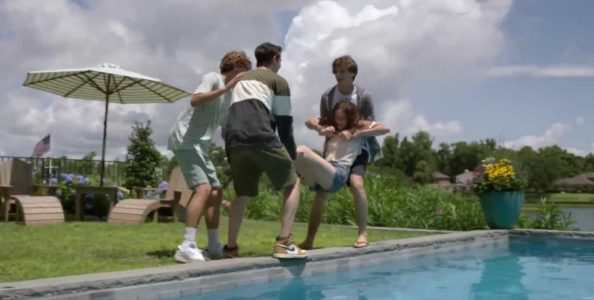 After a long swim, Belly joins her mother, Laurel and Susannah's chat. Susannah invites Belly to a debutante ball. Although Laurel dismisses it as something that doesn't suit Belly, Belly says she will consider it. During dinner, Belly, Steven and Laurel also finds out that Conrad has quit football. This seem to come as a surprise to Laurel. At night, Belly and Conrad have a one-on-one talk which is borderline flirtatious. But they stop went Jeremiah and Steven come over and the boys went to the bonfire, leaving Belly alone to accompany Laurel and Susannah for a movie. Normally, the three ladies would watch the same movie on their first night at the Fishers, but this time, Belly excuses herself to sleep. 
However, Belly ends up changing her mind and goes to the bonfire instead. Initially, Steven is angry that his sister showed up, but Jeremiah persuades him to let things go. At the bonfire, Conrad is drinking and Belly spots him kissing another girl named Nicole. Jealous and angry, she walks up to Conrad and calls him a hypocrite. She then sat by herself at the beach until a boy she knew long ago named Cam walks up to her to chat. Both Cam and Belly were having a great conversation when another commotion occurs, this time between Conrad and another guy, regarding a drink. Belly tries to stop the fight but gets punched in the face instead.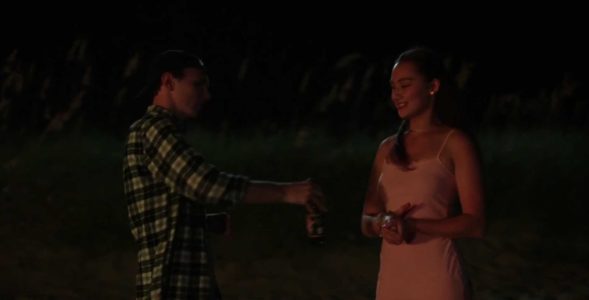 The police arrives and Jeremiah gets Belly and Conrad into the car. Before sending Belly off in the car, Cam continues to stay by Belly's side. Belly feels like this could be the summer love she was wishing for and kisses Cam in front of Conrad and Jeremiah. After driving off a while, Jeremiah notices that he forgot to get Steven and ran back. During that time, Conrad plays with Belly's hair.
Back home, Laurel berated the teens for underage drinking. She's also angry at Belly for sneaking away, but gentler with Conrad, asking what went wrong with him. It seems like Conrad has changed quite a bit since the last summer. The children then went to sleep.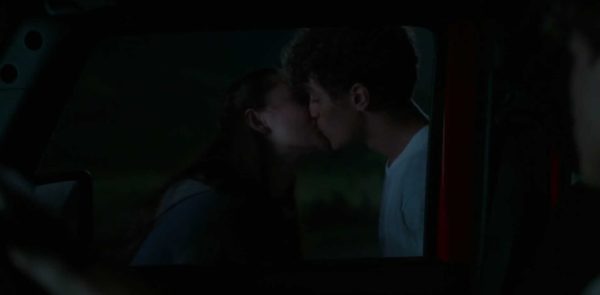 In the morning, Belly notices the debutante invite on her bedside and decides to attend it. She then sees Conrad hanging out by the beach and goes over to talk to him. Conrad finds the previous night "a shitshow", but Belly finds it an amazing night. Then, Conrad tries to light a smoke, but Belly stops him, telling him to share it with her. Conrad refuses, saying Belly is not allowed to, and so Belly makes a pact with him to stop smoking if she is can't. This made Conrad smile.
Additional Observations From Episode 1
Laurel is divorced for more than a year now. At the beach house, she informs Belly that her father will be joining them.
Laurel is an author, but her recent release did not get much attention or a book tour. Susannah is throwing a party for her to promote her book. In the country club, Laurel makes fun of another author's name, but later realizes the author, Cleveland is overhearing. Laurel also opens an Instagram account
Before this summer, it is indicated that Conrad does not smoke, and was actually against it. Somehow, Conrad has changed a lot in a year. Susannah theorizes that it was because of his breakup with his ex-girlfriend.
Jeremiah and Steven is working this summer.
More recaps from The Summer I Turned Pretty