The previous episode ended with Esvet cornered by Dimitri and his men. She tried to meet up with her adoptive father, Faruk, but Dimitri had overheard their phone call and tailed Faruk instead.
The Tailor (2023) - Episode 4 Summary & Recap
Although Esvet seems trapped, the backdoor of the building behind her opens. Without hesitation, she rushes into the building, leading Dimitri to chase her once again. But this time, Esvet manages to lose him.
She goes back to Peyami's house and accepts Lady Sülün's offer, and marries Mustafa as Firuze. Peyami only learns about it the next morning, but he wasn't told about the marriage bit.
Meanwhile, Dimitri goes back and lays all his anger on Faruk. Faruk, of course, came up with some excuses to explain that he wanted to persuade Esvet back. But this time, even Dimitri's father could no longer take Dimitri's constant yelling and chased his son out.
In the morning, Peyami drops by Dimitri's place to get him into the meeting. That is when Dimitri returns to his family. He spent the night outside and adopted a stray dog he found in the park.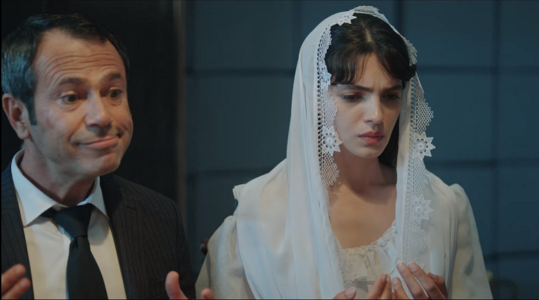 At Peyami's place, Mustafa again goes to Peyami's work room, and causes a ruckus there. Esvet tries multiple ways to persuade him out of there but Mustafa refuses unless Esvet tries on the wedding dress hanging in the dressing room. That of course, is actually Esvet's dress.
Left with no choice, Esvet puts the dress on and tries to get him out of the room. That is when Peyami enters the room seeing "Firuze" in Esvet's dress. When he taps her shoulder, he feels the same feeling as when he was measuring Esvet's shoulders.
What's even worse, Esvet dropped her bracelet on the floor and Dimitri is at the front door. On top of this, Suzi found out that Firuze is not a candidate from the agency.
Additional Observations From Episode 4
Dimitri's parents abandoned a baby in a Greek orphanage before. This baby could possibly be Esvet.

Peyami's hands have been shaking uncontrollably, indicating that he is probably ill in some way.
The Tailor (2023) or Terzi is a Turkish series about a renowed tailor named Peyami Dokumacı. After his grandfather's death, he brought his father to Instanbul and kept him a secret. Starring Çagatay Ulusoy, Sifanur Gül and Salih Bademci.
Streaming on Netflix