Dimitri's fiancée, Esvet is now staying in Peyami's place as Mustafa's caretaker. At the end of last episode, Peyami wants Esvet to put on the wedding dress.
The Tailor (2023) - Episode 3 Summary & Recap
Just as Esvet continues to mentally struggle putting the dress on, Mustafa appears and starts playing with a pair of scissors. Peyami is worried that Mustafa would hurt himself, but he couldn't seem to get Mustafa to stop. Then, Esvet changes back into her normal clothes and persuades Mustafa to stop. She escapes from having to try the dress on.
At work that day, Dimitri shows up for a meeting and later self invites himself to dinner at Peyami's place. Left with no choice, Peyami gives Esvet clear instructions to never leave Mustafa because the guests can never see him. But when Esvet eventually heard that Dimitri was the guest, that's when all hell broke loose.
Dimitri brought his parents and soon to be parents-in-law to the dinner, and as usual, he made an ass of himself. Esvet leaves Mustafa to eavesdrop on the conversation and overhears that her parents would be penniless if the engagement doesn't go through.
Even as a close friend, Peyami couldn't stand Dimitri and brought him out for fresh air. Little did he know, Mustafa has already gone outside and is close by. By the time Esvet realizes Mustafa is in the outside garden, Mustafa has already shown himself to Dimitri and Peyami.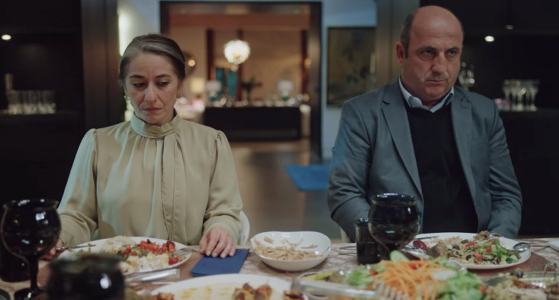 Esvet hides, so as not to show herself in front of Dimitri; and thankfully, the other helper, Aisye comes to the rescue. She pretends like Mustafa is her sick brother and so, Dimitri doesn't really question Mustafa's identity.
At the same time, Esvet's dad, Faruk notices Esvet there and tries to talk to her. However, she pleads that her dad keeps this secret and so Faruk goes home with Dimitri's family as usual.
That night, after the guests went home, Peyami shouted at Esvet for letting Mustafa out of sight and fired her.
The next morning, Esvet leaves Peyami's house and calls her father. She wants to meet him in person to explain what is going on. But Dimitri overheard the whole conversation. 
Therefore, when Esvet meets Faruk at the park, Dimitri shows up out of nowhere and starts chasing Esvet down. Esvet runs as fast as she can, but is eventually cornered by Dimitri and his men.
Additional Observations From Episode 3
Dimitri's mom is Esvet's maternal aunt, making Dimitri and Esvet cousins?
Esvet is supposed to marry Dimitri so that Dimitri's family can rebuild Faruk's career.
Dimitri thought Peyami's father passed away when Peyami was very young
The Tailor (2023) or Terzi is a Turkish series about a renowed tailor named Peyami Dokumacı. After his grandfather's death, he brought his father to Instanbul and kept him a secret. Starring Çagatay Ulusoy, Sifanur Gül and Salih Bademci.
Streaming on Netflix