1899- Episode 7 Summary & Recap
The episode starts off with Daniel remembering his good times with Maura. Maura left their bed to go outside and soon after Daniel heard sirens and the PA announcing "Initiating shutdown". Maura then went outside where Henry's mental hospital can be seen but Maura wasn't outside. Instead, Daniel found her nightgown and woke up in the Kerberos ship. He begged Maura to let him out of the room, but Maura decided to head back up the shaft instead to look for Eyk.
Now, there was a storm. Most of the passengers were gathered in the steering room where no one knew how to steer. Therefore, they decided to look to the others in the engineer room. Mrs Wilson was already feeling ill after touching the protrusion but tried to hid it from the others. So, she stayed put in the room. 
Maura failed to look for the captain around the ship and went to Eyk's "memory" but failed to find him either. She eventually went into Daniel's room and went down the shaft there. At the end of the tunnel was the room in Daniel's memory at the beginning of the episode. To Maura's surprise, she found photographs there, one particularly of herself, Daniel and the mysterious boy.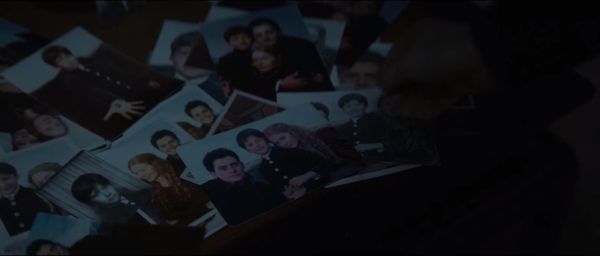 Daniel was not one to give up and stay put. He found a way through the ship's hull, through the wires. It led him into multiple "other memories", one of Anker's and one of Olek's. Each time, he would find another way to go to another "memory", and eventually, he reached Maura's memory. The mysterious boy was hidden in the graveyard there. His name was revelead to be Elliot and he is Daniel and Maura's son. Elliot passed Daniel a golden ring and Daniel promised him that he'll make Maura wake up this time.
Meanwhile, the first mate was also trying to get to Elliot. He opened up a drawer that has a tablet where he could looked at the scheme of the whole ship. Then, he detected Elliot.
When Daniel reached his own memory, he saw Maura there, confused about all these. He explained that this was all a simulation and they are all in a loop of simulations. If they did not manage to escape, they will have to undergo another simulation. To get out, they need to find a code, which apparently was hidden by Maura. Maura showed him a key that was inside her locket, which could be the code. The two of them then rushed to look for Elliot, but the first mate has gotten to him and the shaft was sealed.
As the storm gets worse, Ling Yi and Olek went back to the ship control room to try to steer the ship. It worked for a while until Ling Yi saw an apparition of her mother outside. Shocked, she rushed outside into the storm and Olek followed. When she realized that she was seeing things, the storm was already very strong. One blow of water hit Olek out of the ship into the sea.
Others suffer horrible fate as well. Ángel was knocked over and trapped by a pillar. He said some kind words to Ramiro before passing. Meanwhile, Franz sacrificed himself to close the doors so that the water would stop flowing to the ship. He did that so that Tove could live. Iben and Anker also voluntarily drown themselves after Iben told Anker that that was their fate. Lucien too died, but due to his illness.  Jérôme and Clémence could not get him his vial in time.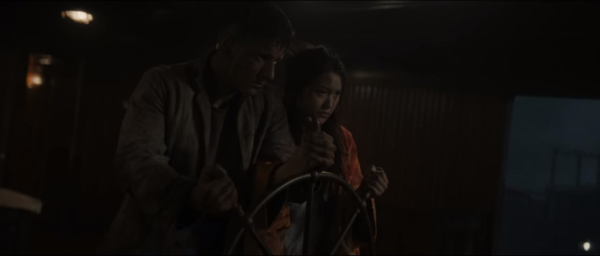 During the final few seconds of the simulation ending, Henry made an announcement through the PA. He had Elliot with him and asked Daniel for the key in return for Elliot's safety. Daniel requested that Maura trust him on this. On Henry's side, he opened Elliot's black pyramid and it revealed a key hole and "Wake Up" written on it.
Then, a whirlpool suddenly appeared in the sea and sucked the Kerberos inside. At the end of the whirlpool, the ship moved into the sea of ship graveyards where the Prometheus (and Eyk) was on. The group of remaining passengers were surprised to see Eyk on the Prometheus deck.
Additional Observations From Episode 7
Daniel mentioned that Maura doesn't remember having a child because false memory of her not able to have children was planted. It was because Maura did not want to remember.
The first mate and Maura took note of one book in Maura's room. The book is called The Awakening by Kate Chopin.