Alba and Bruno found out that Bruno did not take part in the sexual abuse that night. However, Hugo did not tell the truth in court in order to protect Rubén.
Alba is a Spanish TV drama adapted from  Fatmagül'ün Suçu Ne?, known as Fatmagül in Spain. The story centres around a young woman, Alba (Elena Rivera) who was raped by her boyfriend, Bruno's (Eric Masip) group of friends.
Streaming on Netflix
TRIGGER WARNING: This episode discuss the incidents of rape and sexual assault.
Alba- Episode 9 Summary & Recap
Tirso found out about Rubén's involvement with the prostitute Rubén almost strangled. He brought the information to Marta. In court the following day, Marta presented the videos Tirso found as last minute evidence to paint a picture of the kind of person Rubén is. When he took the stand, Rubén insisted his sexual intercourse with Alba was consensual because Alba did not say no at any point of time. Marta also could not prove that Alba was drugged.
Jacobo took an interesting stance. When questioned about whether he had group sex before, Jacobo claimed his first time was the time with Alba, but also mentioned that Rubén is familiar with it. The video of the rape was also played in court and it revealed how crass Rubén was. Mercedes was unhappy at Jacobo's attack towards her son and how Rubén looked in court.
The following day, Rubén testified in court that he and Alba were once in a relationship. He claimed Alba was obsessed with him and this was her method to take revenge. Marta was surprised at this revelation and blamed Alba for not telling her beforehand. However, Alba did not see it as an issue because they were together for a very short period of time and she was not even properly entertaining him. Even Bego claimed that it was Rubén who was obsessed with her, not the other way round.
When Bruno took the stand, he claimed that he did not remember anything that night except hanging out with his friends and waking up in his apartment the next morning. When questioned on why he continued to stay with Alba when he found out about his involvement in her rape, Bruno did not reveal about the threats he received.
The following day, César took the stand. Although he had promised Clara to help Bruno, he decided to protect his daughter. Therefore, he told the court that he found Alba's rape testimony odd as a police officer. He claimed that victims are usually trying to explain the situation using different words, but Alba was consistent in her description of her rape. it insinuated that Alba rehearsed her rape testimony. Clara who was in court that day was disappointed and left the court room.
To protect Rubén's image that Jacobo tried to tear down, Mercedes got Dr Salarich, Rubén's psychiatrist when he was six to testify that Rubén suffered a traumatic brain injury at a young age. The doctor claimed that because of this, Rubén usually lets important figures in his life make decisions for him and she named Jacobo as one of them. Jacobo and his father Ivan was furious at this. Ivan even said he would call for a board meeting so that Rubén could never inherit the company since Rubén had his so-called brain injury.
After seeing the video of the prostitute, Marta theorized that Alba was not Rubén and Jacobo's first victim. She believed they are repeat offenders who had the money to cover up their crimes. Alba then asked for Lt. Giner's help to identify sexual assaults filed against the Entrerríos that were retracted. The Civil guard lieutenant found several victims but majority of them refused to talk to Alba and Marta.
They later found a victim who was willing to talk to them and tell them what happened. She was a teacher for the Entrerríos family and she was forced to give a man a handjob against her will. Alba and Marta were later shocked to find out that the man who assaulted her was not Jacobo nor Rubén, but was Mariano. 
Meanwhile, Bego tried to help by asking Tirso to identify the drug dealer who sold drugs to Jacobo and Rubén that night. Tirso initially told Bego that doing so would put the dealer behind bars, and so the dealer would not agree to tell the truth. However, after a lot of thought, Tirso decided to tell the truth and surrendered himself to Lt. Giner.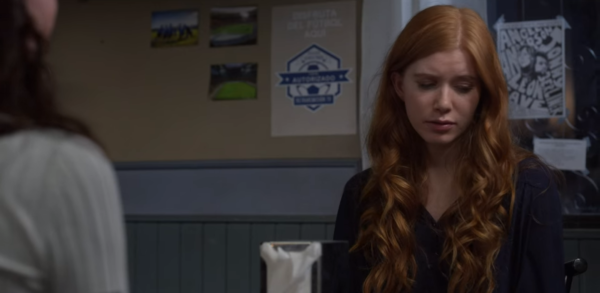 The next day, Alba takes the stand. She refused having a partition with her rapists.
Additional Observations From Episode 9
Mercedes watched the video of the rape and was herself troubled by it. When she later on bumped into Alba. she couldn't bring herself to say anything to Alba. Mercedes just walked away.
As Hugo felt guilty for incriminating Bruno, Rubén tried to calm him down. Rubén told Hugo that he is not interested in boys, but if he was, Hugo would be his first pick. Hugo did not find Rubén's comments flattering.