The trial for Alba's rape case begins. Rubén and Hugo's relationship is affected after Hugo is revealed to be queer.
Alba is a Spanish TV drama adapted from  Fatmagül'ün Suçu Ne?, known as Fatmagül in Spain. The story centres around a young woman, Alba (Elena Rivera) who was raped by her boyfriend, Bruno's (Eric Masip) group of friends.
Streaming on Netflix
Alba- Episode 8 Summary & Recap
The trial begins. The district attorney on Alba's side requested for a penalty of 20 years of prison, 10 years of parole and a restraining order for the four boys. However, he also requested an additional 10 year sentence for Bruno for domestic violence. This shook Bruno quite a bit. In addition to this, Mariano provoked Toño and caused Toño to misbehave in the public gallery. Toño had to leave the court while Miriam continued staying on Alba's behalf. At home, Alba overheard Toño and Miriam arguing about how Alba's case is hurting their business. She felt guilty but slept through it.
Alba woke up with Tirso by her side. Once again, Tirso brought up that he would like to resume their relationship. This time, Alba did not left him hanging. She apologized and told him that she can never love him as much as he love her. Tirso gracefully accepted the rejection and assured Alba that he would still be around whenever she needs him.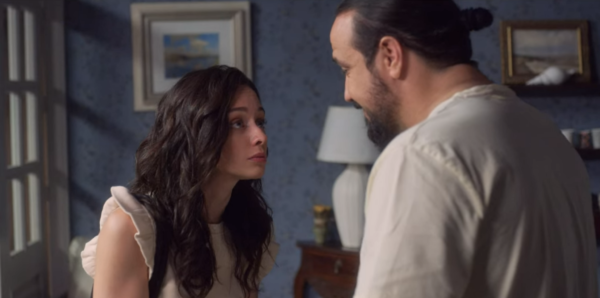 At night, when Bruno was helping Aunt Clara with the store, Clara revealed that she found out that César does some work for the Entrerríos family. Bruno then told her about his assault and the blackmail messages he received. They both theorized that it was César. Clara did not hesitate to confront César about the matter a few days later. But César denied any involvement. 
The cybercrimes division extracted some additional videos uploaded by Jacobo and Rubén to the cloud. The videos revealed that Bruno was passed out throughout the whole rape incident. Lt. Giner immediately contacted Marta regarding this and told her that they managed to trace the digital footprints and determined that Hugo was the one who sent the video to Alba.
Without much hesitation, Marta tried convincing Hugo to be truthful regarding Bruno's involvement. Feeling the weight of the guilt, Hugo went to look for Alba and told her the truth- that Bruno did not rape her that night. Alba felt relieved but similarly, asked Hugo to tell the truth in court, so that he could at least maintain his dignity. But Hugo retaliated and asked Alba to get her lawyer to stop harassing him. Alba blamed herself for not believing Bruno and re-strategize with Marta. The next day in court, Marta adjusted her conclusions and requested for minimum sentence for Bruno because his judgements were severely impaired that night. Bruno was shocked by this.
That night, Alba went over to Bruno's place to inform him that he did not rape her. Bruno was relieved and broke down crying with Alba. The next day, Bruno confronted Hugo about the matter and asked him to tell the truth in court for the sake of their friendship. However, Hugo asked Bruno to try to understand the predicament he is in. He thought Bruno should be understanding since Bruno knows how it feels like to love someone.
The following night, Rubén ignored Jacobo and Eloy's advice and sought sex with a prostitute. During sex, he almost choked her to death and the lady had to stop him. He later on fell in the bathroom and had to contact Hugo for help. When Hugo arrived, Rubén admitted that Hugo is the only one he could depend on. Seeing Rubén helpless made the decision on whether to tell the truth difficult. 
When in court the next day, Marta tried to get the truth of Bruno's involvement out of Hugo. Hugo was in a dilemma and hesitated throughout. Nevertheless, he eventually decided to stick by Rubén and claimed Bruno was also involved in the sexual encounter with Alba that night.
Additional Observations From Episode 8
Toño found a letter between Miriam and Eloy titled "assurance of confidentiality" which indicated Miriam chose to stay quiet for money. He told Alba about the letter.
Miriam seems to have history with Mariano, Mercedes's husband. 
Emilio Solanas broke off Sandra and Rubén's engagement.
Mercedes approached Manuel about bribing Judge Salgado, the judge in charge of the case.
Everyone in town including Tirso and Bruno were aware of Hugo's feelings for Rubén.