Episode 1 introduced us to how Albert and Solange accidentally killed two men after one tried to force himself on Solange.
Black Butterflies or Les Papillons Noirs is a French thriller series about a struggling author, Adrien Winckler who was hired to write a memoir of an old retired man named Albert Desiderio. The series stars Nicolas Duvauchelle, Niels Arestrup and Alyzée Costes.
Streaming on Netflix
Black Butterflies- Episode 2 Summary & Recap
The story from Albert continues. After a few years, Solange and Albert set up their own salon in town and had a decent life. Unfortunately, Solange was pregnant once and had to abort the baby using traditional methods. This was a painful process for Solange.
In the summer of 1972, the pair was vacationing in the French Riviera and met the American photographer, Steven Powell. At first, Powell took a liking of the couple, but his focus soon shifted to only Solange. He told them that Solange could have a career in modelling but they would have to "pay a small price". Solange was alright with Powell taking partially nude photographers of her but Powell soon started forcing himself on her. Albert, who was already jealous seeing Powell and Solange making out, now immediately attacked Powell with a sharp object. Albert stabbed Powell repeatedly and ended up killing Powell. After that, Albert and Solange have sex in the pool of blood next to Powell's corpse.
After hearing the story, Adrien believed that Albert was lying and spewing bullshit. However, he soon realized that there are news articles about Powell's murder and the setting fit Albert's story. Adrien also got angry at Nora after Nora revealed his draft on Albert's story to his publicist. The pair's relationship got strained a little.
Adrien soon returned to Albert and Albert continued his story. A year has passed since Powell's murder and now, both Albert and Solange were predators. Solange would seduce men into secluded areas but would refuse to have sex later, If the men still continued to force themselves on Solange, Albert who was watching, would appear and kill the men. He would then take a piece of their hair as a momento. Albert and Solange would also have sex after that. Occasionally, some men would back off when Solange refused to proceed. These men were spared. Even with all these plans going on, Solange was still visibly upset about aborting her baby.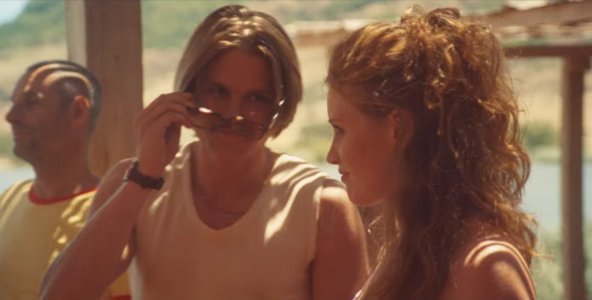 Meanwhile, Carrel got extremely close to finding out Albert's involvement in the Powell case. He even headed over to Albert's place and dug through Albert's dustbin.
Additional Observations From Episode 2
The little boy in the beginning of the series appeared to be a young Adrien. As a young boy, he could hear his parents quarrelling in another room.
Adrien had a hallucination where his car had to drive through a whole pack of black butterflies.
Albert told Adrien that the police did not have sophisticated software and investigative units back then. Even though Albert and Solange left fingerprints everywhere, they have yet to be arrested.
More recaps from Black Butterflies