Albert and Solange hunted for men who could not control themselves after Solange seduced them. In the present timeline, Carrel gets closer to finding out that Albert was behind some of the 1972 murders.
Black Butterflies or Les Papillons Noirs is a French thriller series about a struggling author, Adrien Winckler who was hired to write a memoir of an old retired man named Albert Desiderio. The series stars Nicolas Duvauchelle, Niels Arestrup and Alyzée Costes.
Streaming on Netflix
Black Butterflies- Episode 3 Summary & Recap
Things were different the next time Adrien visited Albert. This time Albert wanted to know Adrien's story. More than 5 years ago, Adrien saw a man disturbing a girl at the club despite the girl's reluctance. Unable to control himself, Adrien engaged in a fight with that man who was later hospitalized. As a result, Adrien was sentenced to 9 months of jail. There, he started writing and quitting alcohol. When he was released from prison, he met Nora and fell in love immediately as she was there for him. Nora even introduced him to his publisher.
After their session, Adrien returned home and drank. At night, he saw Nora returned with her colleague Alan and they shared what seemed to be an intimate hug. Jealous, Adrien went over and pushed Alan to the ground. He almost punched Alan but could control himself. A fight then ensued between Nora and Adrien as Nora reminded Adrien that he is not her saviour. The two were intimate right after, but Adrien decided to move out to focus on his writing. After that, Adrien decided to pick up Muay Thai again. But he was also haunted by nightmares of Solange seducing him and a young Albert waiting to kill him.
The next time Adrien headed over, Albert told him about the time when it was 1978. Solange went through her second abortion and both of them had just killed another man. But Solange found a baby in the house and was affectionate towards the little one. Albert seemed to hint of killing the baby, but Solange convinced him that they don't do that. 
They were interrupted by a visitor named Nastya and her boyfriend. Nastya and Albert go way back and seemed to share a deep bond. Oddly, Albert introduced Adrien as the "son of an old salon client". Nastya is an artist and got along well with Adrien over cigarettes. They shared some stories on their lives.
After Nastya left, Albert continued his story of how him and Solange took the baby. Solange wanted to keep the child but Albert left the baby in a church cemetery, leaving Solange devastated. A group of teens eventually found the baby.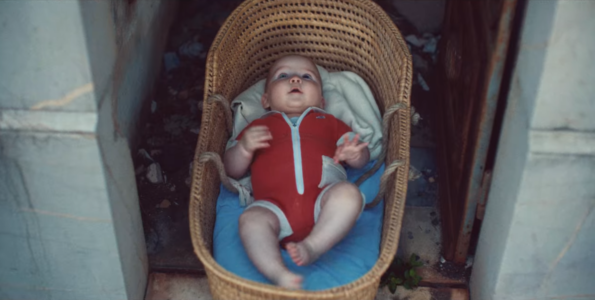 Meanwhile, the parallel story of Carrel continued. The garbage he found from Albert's place had fingerprints that matched the crime scene of Powell. However, the result of the DNA test was still pending. One night, Carrel headed over to Albert's place with a gun and knocked the old Albert on the head. Here, it was revealed that this parallel story happened a while back, at least 3 weeks ago from Adrien's visit to Albert's. This was before Albert shaved his beard off. It was also revealed that Carrel was the baby that Albert and Solange left at the cemetery.
After knocking Albert unconscious, Carrel was distraught and went to the living room. When he returned, Albert was no longer there and he could not do much when Albert attacked him from behind. This time, Carrel went unconscious and Albert locked him in his basement.
Additional Observations From Episode 3
Adrien helped his mother rescue domestically abused women.
Carrel had a conversation with his colleague, Mathilde before heading to Albert's place. However, he did not reveal the details of his investigation.
More recaps from Black Butterflies