Black Butterflies or Les Papillons Noirs is a French thriller series about a struggling author, Adrien Winckler who was hired to write a memoir of an old retired man named Albert Desiderio. The series stars Nicolas Duvauchelle, Niels Arestrup and Alyzée Costes.
Streaming on Netflix
Black Butterflies- Episode 1 Summary & Recap
The series starts with a young boy sitting on a table with cereal spilled all over. He watched as a butterfly on the wall turned black. Then, the series proceeded to our current timeline
Adrien Winckler (Nicolas Duvauchelle) was struggling to write his next novel, supposedly titled Astral Desastre. He goes by the pen name Mody. As he was stuck, he then went to visit his client Albert Desiderio. Albert hired Adrien to write the story of his life and gave an upfront payment of EUR 2,000. The remaining EUR 2,000 would be paid after the story is finished.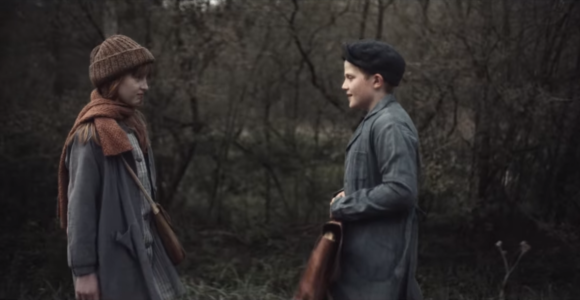 Albert recounted his childhood days where he met a small girl named Solange. Solange is a daughter of a prostitute and was therefore bullied by her peers. The young Albert saved Solange from her bullies and the two got close. This continued until their teenage years where they once went to a beach together. Two strangers approached them and all four of them played in the beach. However, things soon turned sour when one of the guys attempted to rape Solange (Alyzée Costes). In panic, Solange accidentally killed that guy with a bottle corkscrew she found nearby. When Albert noticed, he did not hesitate to kill the other guy so that no one would find out.
Outside of work, Adrien had to deal with other personal issues. Adrien and his girlfriend, Nora (Alice Belaïdi) had been trying to have a child for a while. Adrien's father, Wim Winckler had passed away. One day, Adrien decided to visit one of his father's family companies and chatted with his cousin. Although his cousin was welcoming, his cousin's father, also Adrien's uncle, was not as fond of Adrien. His uncle wanted nothing to do with Adrien and his mother.
Meanwhile, when Nora heard that Adrien might be writing something new, she snooped into Adrien's room and read the draft of his story on Albert and Solange. Nora loved it and told Adrien's mother in secret about it. But, Nora apologized to Adrien later for reading the story.
In parallel, there was another story going on with a police detective named Carell (Sami Bouajila). He openly flirts with his colleague, Mathilde (Marie Denarnaud) and is reckless at work. Carell was looking into an old case of Steven Powell, and was presented with old photographs. The photographs were that of the teen Albert and Solange.
Additional Observations From Episode 1
Albert had read one of Adrien's book and loved it. But he did not like the pen name "Mody".
In the present day, Solange had passed away.
Adrien was an ex-convict.
More recaps from Black Butterflies