The last episode ended with Frances and Bobbi rekindling their affair in Croatia. Bobbi realized Nick and Frances stealing glances at each other.
Conversations With Friends is an Irish miniseries based on Sally Rooney's novel of the same name. The story follows two best friends, Frances (Alison Oliver) and Bobbi (Sasha Lane), whose lives changed when they get romantically involved with a married couple, Melissa Baines (Jemima Kirke) and Nick Conway (Joe Alwyn). 
Streaming on Hulu
Conversations With Friends- Episode 5 Summary & Recap
It's now their last vacation day in Croatia. Frances went down for breakfast and learnt that Melissa's book agent, Valerie is coming over. Melissa was on edge preparing for Valerie's arrival. During all the buzz, Frances managed to have another quick, private chat with Nick. She asked Nick when did he stop loving Melissa, and Nick bluntly replied that he never stopped loving his wife. This shocked Frances quite a bit, but they could not continue speaking as Bobbi and the rest arrived for breakfast.
Later on, Nick took the opportunity to get supplies at the market and asked Frances to help him. When Frances was about to leave, Bobbi came over to apologize for making a joke about Nick and Frances last night. However, Bobbi also realized Nick's demeanor and told Frances that Nick was in to her. Nevertheless, Frances brushed her comments off and went off with Nick. Unfortunately, just when Nick and Frances was about to leave, Ev decided to join them as Melissa was too on edge. Therefore, both of them could not discuss what happened. They just managed to have a small chat where Frances asked Nick how Nick feels about her, but Nick could not respond.
When they returned from the market, Melissa was very stressed and snapped at Nick about lemons. Frances then took a nap and when she woke up, she saw Nick and Bobbi talking so she joined them. Melissa later came by to apologize to Nick. They both held hands and Nick left to help Melissa in the kitchen. Soon after, Valerie arrived and Melissa introduced Bobbi and Frances.
At night, the whole group celebrated Melissa's book publishing with Valerie and at one point, everyone left the table except for Frances, Valerie and Melissa. Valerie asked Melissa how Nick was doing, to which Melissa replied that Nick is now better. Turns out, Nick was in serious depression last year and Valerie revealed that the event had impacted Melissa's work. Disliking how Valerie was talking about Nick, Frances called the book agent out for making someone else's depression sound like a career impediment and she stormed off.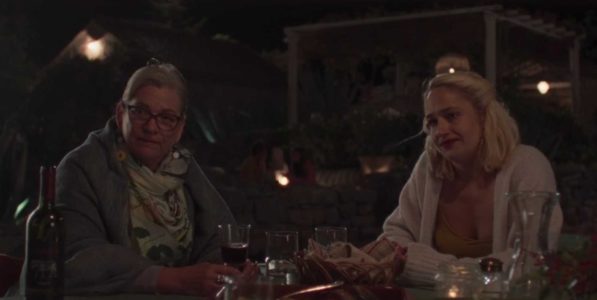 Frances found Bobbi and told her that she's frustrated at everyone there. The two friends eventually went back to the dining table, but Valerie had already gone to bed. Melissa and Frances then had a private chat in the kitchen where Frances apologized for her words. Melissa explained that Valerie is important to her professional career so she could not afford to offend her. Frances was understanding, but Melissa continued to explain that the previous year was rough for both her and Nick, and that she obviously love Nick. This took Frances a little bit by surprise, but when Melissa asked Frances if there's anything she should know about, Frances got even more taken aback as this means that Melissa suspected something. However, Frances retained her composure and said there was nothing.
At night, Nick came over to Frances' room. They had a chat where Frances admitted that both Melissa and Nick told her they both love each other on the same day. She did not understand what she is doing in between. 
The two had sex that night and fell asleep for a while. But Bobbi came over looking for Frances and saw Nick and Frances in bed together. Shocked, Bobbi apologized and left the room. After Nick left, Frances came clean to Bobbi over text that she was having an affair with Nick since Melissa's birthday.
Additional Observations From Episode 5
Melissa briefly touched Bobbi's wrist when Bobbi made a snide comment on Valerie's Croatian house.
More recaps from Conversations With Friends