In the first episode, Sheel found her daughter's accident odd when the truck driver who hit her daughter confessed that he did not want to do it. While searching for clues, Sheel accidentally killed the mafia boss, Jawahar Vyas.
Mai: A Mother's Rage is a Hindi crime thriller about Sheel Chaudhary (Sakshi Tanwar), a grieving mother who lost her daughter, Supriya (Wamiqa Gabbi) in a truck accident.
Mai: A Mother's Rage- Episode 2 Summary & Recap
After accidentally killing Jawahar, Sheel was stumped but eventually gathered her thoughts. She picked up the syringe and some of Jawahar's stuff and put it into a plastic bag to be disposed. Then, she hid Jawahar's body under hospital covers and reeled him out to an ambulance using a patient bed with wheels. She initially stumbled and dropped the body, but managed to reach the ambulance and drove off.
The next morning, Jawahar's subordinates, particularly a man named Prashant, could not find Jawahar. When searching the Geeta Bhawan home, he found Jawahar's spectacles on the floor with a CCTV nearby. He then found out that Sheel had murdered his boss from the CCTV footage where Sheel dropped Jawahar's body. Nevertheless, Prashant felt indebted to Sheel as she was the one who helped him get a job with Jawahar via Jawahar's mother, Kusum. He contacted Sheel and promised to keep her secret. Meanwhile, Sheel hid this incident from her husband, Yash.
Mafia gang goes on a search
Prashant deleted the CCTV footage, shot Jawahar with a Mozambique drill and placed Jawahar's body at a site belonging to a UP industrialist, Vishnu Goyal. Jawahar's mafia gang believed that the Special Police Force (SPF) killed their boss. The mafia lady wanted to get access to Jawahar's bank account, but unfortunately a crypto key belonging to Jawahar is the only way to access the funds. Therefore, the whole gang went on a rampage to look for the key in Geeta Bhawan, beating people up to find out who called Jawahar to the home the night before.
 When questioned, Sheel denied knowing who called Jawahar while Jawahar's mother, Kusum had Alzheimer's and therefore, could not remember who was there that night. Another one of Jawahar's man named Raghu gave Sheel his number in case Kusum could remember anything. When asked, Sheel also told Prashant that she found a pendrive-like item (the crypto key) and threw it out with the medical waste that morning.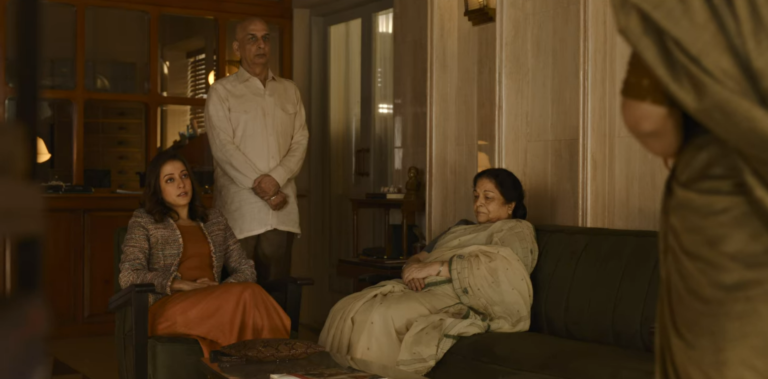 The SPF went to Sheel to question her about her presence at Jawahar's home two days ago. To Sheel's surprise, the SPF officer, Farooque Siddique is the man who offered his condolences to Sheel at the court. Farooque said he was personally looking into Supriya's case, but not the SPF. Sheel then requested a favour from the officer- asking to meet the truck driver, Madan Singh. Unfortunately, a police officer was present during Sheel's conversation with Madan and therefore, he wasn't willing to divulge anything.
In a meeting among the SPF members, they discuss the money laundering taking place in Surat. We learnt that Jawahal used to handle the black money of Vishnu Goyal, making an entire medical scam possible. The mafia lady's name is Neelam and she was Jawahar's mistress and associate. Farooque suggested that they go through a man named Jayesh Desai and capture them before Desai transfers all the money from Goyal's medical scam to "human couriers". On top of this, Farooque already had information that the mafias had lost Jawahar's crypto key to his bank account. Therefore, he suggested that this is the perfect time to discover their cash hideout. The chief inspector praised Farooque and sked him if he was ready to go up against his father, indicating that Farooque is related to someone in the organization.
At home, Sheel's brother in law removed Sheel from her responsibility to pick up Archit because she brought him home late. During a discussion with Yash, Sheel brought up that she met Farooque, the Muslim man who showed up in court. Yash revealed that Farooque was Supriya's boyfriend and that Supriya didn't tell her mother because Sheel can get quite worked up.
Meanwhile, at the mafia's lair, Suraj, Jawahar's driver on the night of his passing was tortured as they suspect him of concealing information. Keshav, another subordinate warns Neelam to be wary of Prashant. Then, in another mafia meeting, Sheel called Prashant to threaten him. Sheel will reveal Prashant's involvement to Raghu if Prashant did not let her know what Jawahar is protecting Supriya from.
Additional Observations From Episode 2
A flashback revealed Supriya accusing the members of the medical fraternity for siphoning funds during a stand up in college.
Sheel asked Yash not to tell anyone she was gone the whole night as it will not look good.
At the nursing home, Sheel realized that the mafia lady uses an asthma inhaler.
Farooque met Supriya in one of her stand up comedy shows.
More recaps from Mai: A Mother's Rage