At the end of the first episode, Lea woke up as her young mother, Karine.
Les 7 Vies De Léa or The 7 Lives of Lea is a series based on the novel of the same name by  Nataël Trapp. The story follows the main character, Léa (Raïka Hazanavicius) swapping bodies seven times with different people from the 1990s in 7 consecutive days to find out the reason behind the death of Ismaël (Khalil Ben Gharbia).
The 7 Lives Of Lea- Episode 2 Summary & Recap
One of the first few things Léa did after waking up as young Karine is to look through her stuff. Inside a box, she found some weed and a photo of Ismaël. She also saw a drawing of two guitarist, presumably of Karine and Ismaël with the words of a future apartment together in Paris. This left Léa extrememly confused about her mother's relationship with Ismaël.
Léa then went to school as Karine and Stéphane (or his nickname, Stoof) greeted her with a kiss, indicating that they were already in a relationship. Ismaël then arrived at school apologizing for the messed up audition the day before, indicating that Léa is now in Karine's body the day after of her being in Ismaël's body. Ismaël thought he smoked too much weed and wasn't himself the whole day before. He only remembered snippets of what had happened.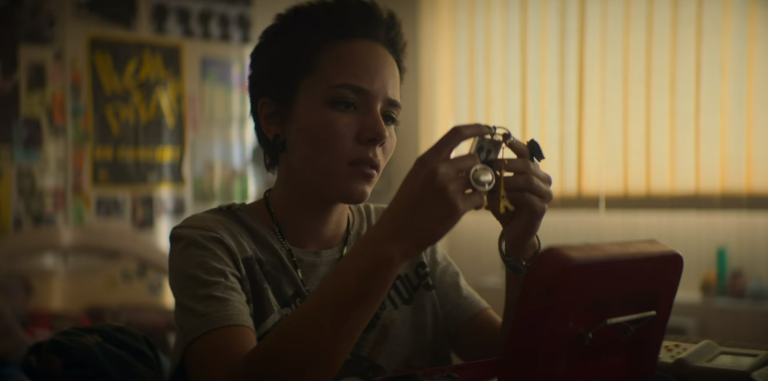 At school, Léa invited
Ismaël to ditch class so that they can "talk about their future together" to which Ismaël agreed. But Ismaël had different plans and led her to Patricia's vinyl store where he played the guitar and sand in front of Patricia as another audition. Ismaël sang a song named "Our Secret" and his lyrics indicated that Ismaël was not allowed to want someone, to which Lea guessed is about Karine. Patricia was impressed and agreed to let them perform on the main stage.
Excited about their success, Ismaël then brought Karine to Pye's family weed farm to steal some weed. Although Pye was initially busy practicing shooting coke cans, he eventually noticed them. Ismaël managed to get away with some stolen weed but Léa was shot. Thankfully, there were no actual bullets and just pellets. Before letting them get away, Pye challenged Ismaël to a man-on-man fight at the skate park the next day.
Both Léa and Ismaël then head to the river. There, Lea noticed that Karine's bag had an audition tape for the British Royal Institute of Music (BRIM) in London. She listened to it and proceeded to have a good time swimming with Ismaël. At one point, Léa already felt a strong attraction to Ismaël and therefore, kissed him. However, Ismaël pushed back and told her that they are friends.
When they went back to Karine's home, both Léa and Ismaël told Stéphane about the good news of them performing on the main stage. Lea invited Stephane to Paris with both her and Ismaël, but Stephane rejected it as he needs to take over the leisure centre in their town. After Ismaël left, Stéphane confronted "Karine" on whether she is cheating on him with Ismaël to which Léa denied immediately. Stephane got so angry and jealous, he punched the wall, and that was the first time Léa ever saw her father so jealous.
At home, Léa got in trouble with her grandmother (or Karine's mother) because she failed to submit the audition tape to BRIM. Léa knew that her mother ended up staying in that town, so it wouldn't have made a difference, but her grandmother was adamant that Karine try to at least succeed. That night, Léa Karine went to sleep and woke up as herself in the present day.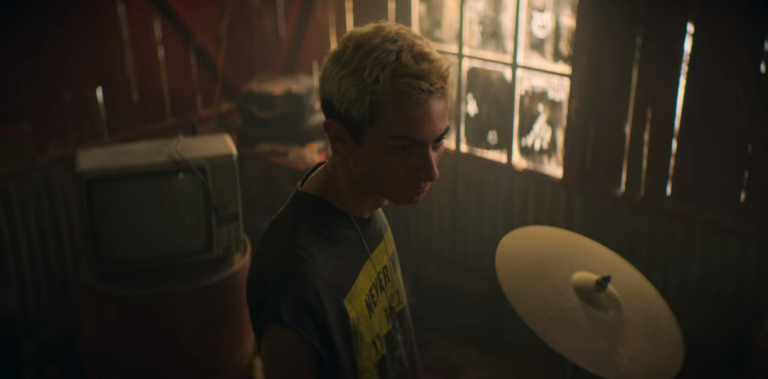 In the morning, Léa confronted her mother on why she did not leave for London or Paris. Karine was shocked that Léa knew this information but could not give her daughter an answer. When digging through their garage, Léa found her father's old VCR, photos and tapes. In the afternoon, Léa was looking through the photos at Dora's food truck as Dora and Romane flirted. Not long after, Léa noticed the police officer and the police officer notified Léa that the body was indeed Ismaël's. Léa then told her that she believes Pye is responsible as Ismaël used to steal weed from Pye. When asked how she knew, Léa just passed it off as small town talks where everyone knows everything.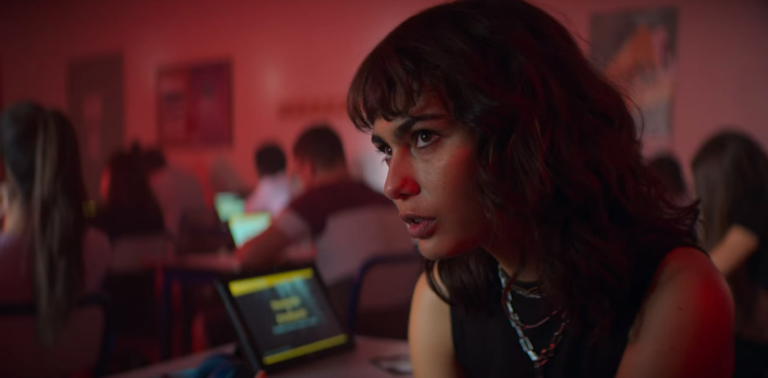 When she went home, Léa confronted her parents for lying to her since Ismaël was actually their best friend 30 years ago. Karine told her it was a painful memory to relive. Unsatisfied with her mother's answers, Léa stole Karine's iPad, snooped at her emails and found out that her mother is cheating on her father with another unknown man. At night, Léa overheard her parents having a small argument to which Stéphane wanted to go to the police about some information on Ismaël. However, Karine did not allow him to do so. Then, Stéphane headed to the shed and broke Ismael's old guitar. Léa started noticing that a lot of jealousy and anger stemmed from her father.
Additional Observations From Episode 2
At school, Karine was teased by the popular girl, Sandra.
Léa is failing class and believes she doesn't have talent in anything.
More recaps from The 7 Lives of Lea