The 7 Lives of Lea or Les 7 Vies De Léa is a series based on the novel of the same name by  Nataël Trapp. The story follows the main character, Léa (Raïka Hazanavicius) swapping bodies seven times with different people from the 1990s in 7 consecutive days to find out the reason behind the death of Ismaël (Khalil Ben Gharbia).
The 7 Lives Of Lea- Episode 1 Summary & Recap
The series started with Léa, a 17-year-old student in a small town, taking some substances in a party and was getting high. The dealer no longer wanted to supply her with substances considering her state and therefore, she stepped out to the river to vent her anger. She was about to swallow some pills before accidentally slipping and discovering a skeleton with a silver bracelet. Léa was shaken by that incident and confided in her best friend, Romane before going to bed for the day.
The next morning, Léa woke up as Ismaël, a teenage boy from an Arabic-speaking family. Noticing the silver bracelet on herself now, Léa realized that Ismaël was the body she found. She tried explaining in French that she is not actually Ismaël, but his family does not believe him except his little brother, Soufiane who believed Léa was an "invader". Ismaël was supposed to be working on the orchard with his father that day but Léa managed to get Soufiane to distract the people at the farm and she manged to escape. However, another young boy named Pye (Alexander Ferrario) saw "Ismael" leaving.
Léa wanted to go to the river, where everything started and tried to hitchhike. Two young ladies offered to take him there but it turned out that they were taking him to the city instead. Realizing she was cheated, Léa jumped out of the car only to notice the movie poster for an upcoming movie in 1991. After asking around, she realized that the day is 15 June 1991, the exact day she was in, only 30 years earlier.  She wanted to call Romane, but her friend would not have been born yet. Then, before she knew it, a lady by the name of Patricia who recognized Ismaël took her and drove her to her (Lea's) home, which was a lot more shabby than her home in 2021. 
Léa saw her younger grandparents and her younger parents, Karine and Stéphane , but of course, they only saw Ismaël and not their daughter. Lea tried to explain but her parents, who are dating high schoolers at that time, thought "Ismael" was just high. Instead, they tell him to focus on their audition with Patricia and handed him an electric guitar. Patricia entered the shed and both Karine and Stéphane started playing their parts on the guitar and drums respectively, while signaling for Ismaël to play his part on the electric guitar. Léa did not know how to play and Patricia left, thinking they have wasted her time. At the same time, Ismaël's father arrived to take him back to the orchard.
At home, Soufiane was angry because he thought Ismaël lied to him to get to the music audition for Patricia. Léa found it difficult to prove that she was indeed not Ismaël. While sitting on his bed, Léa discovered Ismaël's notebook where he wrote song lyrics for his band, Quantik Destiny. Seeing how much dreams Ismael have for the future, Léa found it hard to believe that he committed suicide. She then went to a secluded area at the orchard and buried the book there.
As she was about to leave, Pye arrived in his motorbike and the two got into a fight because Léa left the orchard job. The orchard belongs to Pye's family. Pye mocked Ismaël and his father and even threatened to run him over with his motorbike. Shaken, Léa went back to Ismaël's home for a shower. She decided to explore masturbating in Ismaël's body before waking up again as herself in the present day.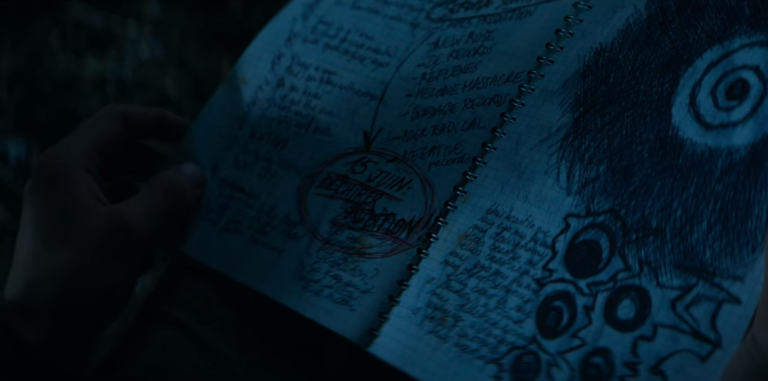 In the morning, Léa found out that there is a meeting about the body she found. She asked Romane to cover for her in philosophy class while she went to the orchard where Ismaël used to work. There, she managed to dig out Ismael's book that she buried, and realized her actions when she was in Ismaël's body in the past affected the future. She told the whole story to Romane, but Romane thought Léa was experiencing a delusional episode.
They both went to the meeting on the dead body. Turns out, Karine, Pye and Soufiane were there too. The police mentioned that there was no indication of murder and that they are still identifying the body, but Léa spoke up and said the body was that of Ismaël Messaoudne as he was wearing the same silver bracelet. Léa also mentioned it was not suicide. This got Soufiane riled up because the police had Ismael in the missing person's list for a while now and believed the police neglected their case because they are not white people. Nevertheless, she thanked Léa for speaking up, to which she replied that its because she was an "invader".
Karine was angry at her daughter's action at the meeting. On the way back home, Léa questioned her mother on Ismaël, and Karine said they knew who he was but weren't close to him. Karine also asked Léa to keep what she found a secret from her father.Léa found this extremely odd and wondered why her mom was lying. At night,Léa fell asleep thinking about Ismaël and woke up as her younger mom the next day.
Additional Observations From Episode 1
Ismaël's father worked in Pye's father's orchard. Pye was to inherit the whole orchard one day
Pye's actual name is Pierre-Yves.
In the present day, Léa saw her mother, Karine being friendly with the now much older Pye.
Romane met a girl named Dora at the party at the beginning of the episode and Romane likes her. Dora works at a food truck.
When convincing Soufiane, Léa told him her name.
More recaps from The 7 Lives of Lea