One Of Us Is Lying, a web series based on the novel Karen M. McManus, has dropped in Netflix for international audience. The mystery-filled teenage series explores a murder case of a student, Simon Kelleher when he was in detention with four other students. The four students are Bronwyn Rohas (the brains), Nate Macauley (the criminal), Addy Prentiss (the beauty) and Cooper Clay (the jock). These four became murder suspects and tried to look into the people who had a motive to kill Simon and put them in that situation.
Warning: Spoilers ahead!
The murderer is Jake Riordan
Yes, the person who killed Simon Kelleher is none other than Jake (Barrett Carnahan), Addy's boyfriend who happened to be Simon's old childhood friend. It all started when Simon was trying to get intel for his app, About That. He crashed Jake's party and told Addy Prentiss (Annalisa Cochrane) that he knew about his affair with TJ Forrester (George Ferrier). When Jake saw the both of them conversing, he threatened Simon to tell him the truth and Simon let the cat out of the bag.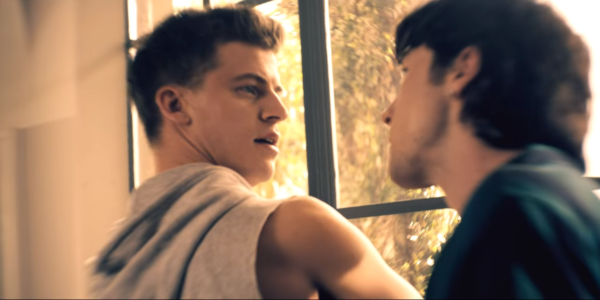 An angry Jake challenges Simon to a dare
Throughout the series, we get hints of Jake's controlling behaviour, especially when it comes to his girlfriend, Addy. Furious that Addy cheated on him with his best friend, Jake wants to take revenge. Jake and Simon used to be close friends, and so he requests that Simon post about the affair in About That. Simon recountshow their friendship ended and refuses to help Jake.
Then, the two old friends reminisce about how Jake used to dare Simon to play pranks on others. When they were 12, Simon was dared to take peanut oil, which he is allergic to, and blame it on one of the jocks. However, back then, Simon was too scared to do it. Jake thinks that the prank would work now because now, there are people who really wants Simon dead and they are now old enough to execute the plan. This time, Jake and Simon wants to prank the students with secrets, ie. Bronwyn, Nate, Addy and Cooper.
Jake takes all the necessary steps
"I dare you" was the magic words to make Simon do anything and Simon wasn't going to back down from this dare. When they were planning their dare over their gaming audio calls, Simon revealed that he was recording all the conversations with Jake on their X-box. This immediately alerted Jake as he now realized this information is in Simon's hands and hence, he planned to kill Simon to hide his involvement. Jake coerced Simon to remove the EpiPen from his bag and stole the EpiPens from the nurse's office while logging in as Addy Prentiss. Then, the rest is history.
Jake was shot in the last episode of the series and we saw him laying down bleeding. We weren't shown who fired the gun and what exactly happened after. In the end, Janae and the Bayview Four received an anonymous notification from "Simon Says" that reads, "DO AS I SAY.. OR EVERYONE WILL KNOW WHAT YOU DID". It was previously assumed that Jake, who was the murderer, is behind "Simon Says", but our main characters were shocked to receive the notification. This then raises a few questions to be answered by Season 2 of One Of Us Is Lying: 
Is Jake dead? If so, what happened to his body?
Why did they hide what happened to Jake from the police when they shot him due to self defense?
Who's behind "Simon Says" if not Jake?
We're excited to find out in the next season. One Of Us Is Lying has been renewed for Season 2 and can be streamed on Peacock (US only) and Netflix