In the previous episode, we found out that Diane Farr and VP Redfield were the moles in the White House. Peter and Rose hid in Peter's godfather's yatch.
The Night Agent - Episode 7 Summary & Recap
Episode 7 started with a flashback of when Maddie was young. She was arguing with her younger sister, Sophie for a doll when VP Redfield asked her to hand the doll over to Sophie. Young Maddie went into the house upset, and during that time, Sophie drowned in the pool.
Now that Maddie had been kidnapped by the man with the snake tattoo, she is pleading for her life. Her kidnapper took a photograph of her holding the newspaper and sent the photo to her father, VP Redfield. Maddie did not give up. When she was screaming for help and kicking the wall, she broke through the plastered wall and used her bed to hide the hole.
Maddie also tried to appeal to the man with the snake tattoo. She told him that she actually hated her father and was planning on destroying him. Apparently, she had secretly recorded a video on her nanny cam and gave it to her therapist. She gave her kidnapper the address of her therapist but the nanny cam was already stolen by Ellen and Dale in Episode 1.
Back in the basement of the White House, Diane was revealed to be the person who got hold of the nanny cam. She informed VP Redfield about Maddie's plan and handed him the video. The video revealed that Sophie actually dorwed in the pool that day because VP Redfield forgot to lock the entrance to the pool. He had blamed Maddie for Sophie's death for years. Then, when Maddie confronted his father, he got violent.
Erik and Chelsea teaming up
With VP Redfield's announcement, Erik and Chelsea were now asked to shift focus and pursue Peter Sutherland as the prime suspect for Maddie's kidnapping. The two Secret Service agents found this odd. They managed to get info about the man with the snake tattoo. He was Paulo's boyfriend of eight months and his name is Matteo. Erik and Chelsea also went through Peter's apartment and found birthday cards of someone named Jim. 
While waiting for information on Jim, Erik and Chelsea tried to persuade Ben Almora and Diane Farr to allow them to pursue Matteo as a suspect. However, as she needed to get Peter, Diane was insistent that the two of them go after Peter. After the meeting, Diane then alerted Ellen and Dale's boss about the findings on Matteo. The boss recognized Matteo's face.
Information about Jim eventually came, and Erik and Chelsea visited him at his place. Jim is Peter's godfather but they fell apart after Jim found some information that pointed towards Peter's father being a traitor. With the two agents, Jim tried to be helpful and gave them addresses to his properties, including the location of his yacht.
Rose and Peter getting close
Meanwhile, during the whole mess, Rose and Peter had been great support for one another and started developing a romantic relationship. They also used Peter's colleague's access to look through some FBI work. In the files, they found out that Hawkins was looking into a list of suspects for the metro bombing. One of them is Colin Worley. Colin's files raised suspicions as he was declared deceased just before any investigation could be carried out.
Rose managed to get Colin's records from the Department of Public Records. During the process, Peter and Rose engaged some public members who could recognize Peter as a wanted person. Rose tried to talk them out of it, but they became violent. Peter had no choice but to fire his gun and save Rose from the situation. This was caught on camera.
Back on the yacht, Colin Worley's files revealed an address to a subsidiary of Turn Lake Industries. His arrest photos also revealed that Colin is Matteo, the metro bomber with the snake tattoo. Peter recognized the tattoo immediately. Rose's theory is that Turn lake hired Colin to bomb the metro but the plan failed. So, when Turn Lake started looking for Colin but Colin escaped. to cover their tracks, Turn Lake faked Colin's death.
However, just as Peter and Rose were trying to find info about Colin, Chelsea and Erik arrived at the pier. The Secret Service agents pointed their guns at Peter and Rose and asked them to lay on the ground.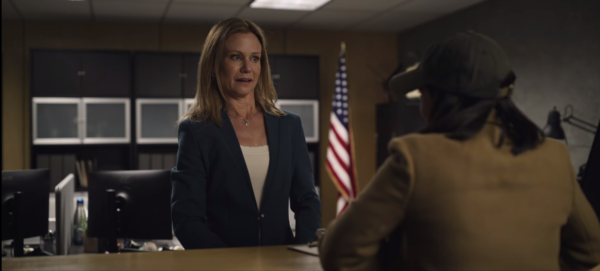 Additional Observations From Episode 7
President Michelle Travers seemed to have suspicions on Diane. She confronted Diane on Peter's issue and Diane admitted she demonstrated poor judgement in bringing in Peter who turned out to be a traitor. Diane also argued that she had the President's back her entire political career. The President then asked Diane to get off the case as there is far too much on her plate.
Ellen threatened her ex-boss with a knife on his throat. The man negotiated to feed her any information on Peter Sutherland if she could "take care" of Maddie Redfield's kidnapper.
The Night Agent is an action thriller series based on the novel of the same name by Matthew Quirk. It follows Peter Sutherland, a low level FBI agent who got involved in a conspiracy within the United States government. Starring Gabriel Basso, Luciane Buchanan, Fola Evans-Akingbola, and Hong Chau.