The episode started with a flashback from a year ago. After the metro bombing plan failed, VP Redfield and Wick called Diane and roped her into their mess. They claimed that if their involvement were to surface, it would admonish President Traver's whole administration. They used Diane's loyalty to the President to help themselves.
The Night Agent - Episode 9 Summary & Recap
At the container dock, Rose was quick to take Ellen's phone away. Peter also took Colin's phone. Although Maddie was shocked, she told them that Colin claimed that her father was behind the metro bombing and that they killed Colin's brother. Peter said it was true but couldn't explain further as the police had arrived. He and Rose ran and Chelsea asked Maddie not to tell the police about Peter and Rose's involvement. 
Chelsea had to surrender her gun, badge and phone until her after-action and Maddie was sent home. Initially, Chelsea had thought that the only two people they could trust is Ben Almora and President Travers. However, she was asked to do her debrief with Diane Farr and Director Willet. In the debrief, Chelsea revealed that Maddie's kidnapper claims that the VP was behind the metro bombing. Diane tried to dismiss the claim as absurd, but Director Willet wanted to look into it.
Meanwhile, Peter brought Rose to Jim's place. There, Rose cracked Ellen's phone and found photos of the night agent's information that was taken on January 9th. They then got to the White House secretary, Valerie and got the list of White House logs for that day. There, they had clear evidence against Diane- the only person who entered the room around that time was Diane Farr. Peter sent all the info to his Uncle Jim so that he could potentially publish them.
Meanwhile, Chelsea found out that Omar Zadar was supposed to arrive at the US the next day. Zadar was then supposed to go to Camp David with the President. After finding out this info, she went on to protect Maddie as usual.
Maddie played pretend and told her father that she didn't trust Colin's claims on his involvement with the bombing. But VP Redfield was quick to notice that Maddie was afraid of him. Her heartbeat rose when he hugged her. That night, he got on a call with Wick and claimed that he would have a lot of pardoning to do the next night. Maddie overheard the conversation but went back upstairs. She did not realized that she left a blood stain on the staircase, which alerted her father.
After hearing what Maddie said, Chelsea used Maddie's old burner phone to contact Peter. The group shared what they know and theorized that Ben Almora and the President already suspected Diane's betrayal. They also now believe that VP Redfield and Wick intended to kill both the President and Zadar at Camp David. 
Before they could discuss further, VP Redfield wanted to come into the room. When Chelsea and Maddie got ready, the VP claimed that the three of them are heading to Camp David. Apparently, the President wanted to meet Maddie and Chelsea,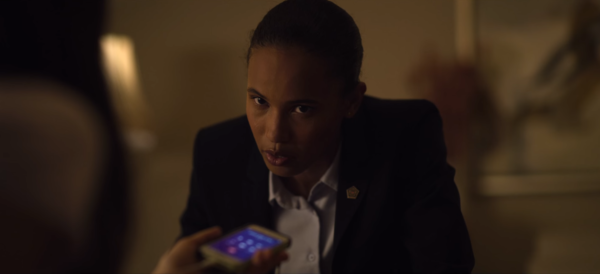 Rose and Peter getting close
At about 4.30am, Omar Zadar arrived in the US. Initially, the car failed to start but everything turned out ok. Diane on the other hand seemed to be waiting for something to take place. 
That morning, Peter and Rose arrived at Diane's house and threatened her to call off the attack. However, it turned out that VP Redfield and Wick had blindsided her. Diane thought the attack on Zadar was going to happen last night, but nothing happened. Then, when Peter told her about the plan to also kill the President, Diane freaked out. She tried to call President Travers to warn her, but the President was uncontactable. Peter then made the call that they all head to Camp David, and that Diane would get them in.
Additional Observations From Episode 9
Jim told Peter that he knew Pete Sutherland Senior for a long time, and he does indeed believe that the man is a traitor. This angered Peter and Peter claimed that he would find evidence to back his father's innocence.
The Night Agent is an action thriller series based on the novel of the same name by Matthew Quirk. It follows Peter Sutherland, a low level FBI agent who got involved in a conspiracy within the United States government. Starring Gabriel Basso, Luciane Buchanan, Fola Evans-Akingbola, and Hong Chau.