The Snow Girl or La Chica de Nieve is a series based on the novel of the same name by Javier Castillo.  The series centres around the disappearance of Amaya Martin that captured the attention of a young journalist, Miren Rojo. Starring Milena Smit, Jose Coronado, Aixa Villagrán and many more.
The Snow Girl - Episode 6 Summary & Recap
Miren was brought to the police for questioning as she was a suspect in the murder of David Luque and James Foster. However, as the police did not have hard evidence, they had to let her go. The same night, an anonymous person posted photos of David and James outside James's RV and claimed that they were plotting on continuing child pornography. Inspector Millán questioned Miren again in front of Eduardo, but Miren denied as she was in a rush to look for Iris.
During the time Eduardo brought Miren her car, the old journalist spotted Miren's camera with the anonymous photos of David and James in them. It is clear that Miren had been involved in their murder. However, Eduardo remained silent and let Miren go to find Amaya.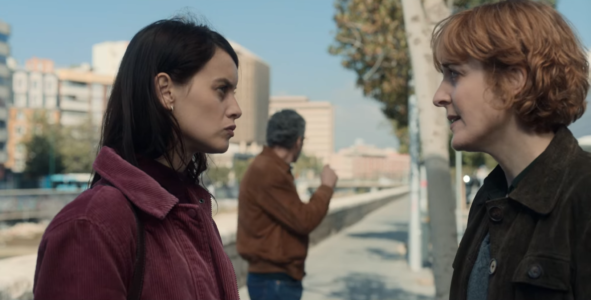 Miren soon arrived at Iris's house and posed as a journalist looking to write an article on another topic. Amaya knew to hide and Iris invited Miren in so as to not look suspicious. However, Miren spotted multiple clues in the house like the Sanyo VCR and a kid bicycle even though Iris claimed to not have children. The final straw was when Miren realized Iris's headband was similar to the one Amaya wore in the video.
Very quickly, Miren excused herself and drove far enough from the house to continue spying on Iris. She tried calling Inspector Millán but the line was not clear. By nighttime, Iris already realized that Miren knew something had forced Amaya to pack up. The two loaded their van and Iris took her shotgun with her. They left in a hurry.
Realizing this, Miren again alerted Inspector Millán who was already on the way. She did not want to let Iris go and so she tailed the van, but Iris soon noticed. She knew she would be caught soon and make a last plea by telling Amaya that she loved her despite what others might say in the future. Iris then let go of her seatbelt and drove the van off the cliff, committing suicide.
Thankfully, Amaya was unscathed. However, she had already been brainwashed by Iris that she immediately shot Miren on the shoulder when Miren came over to help. Miren then tackled the young girl and kept her from breaking free until the police came.
After the whole ordeal, Amaya still needed time to processed what had happened. Therefore, even though Ana and Alvaro was thankful to have her back, they could not particularly celebrate the reunion. The two parents took small steps in approaching Amaya by calling her Julia and watching cartoons with her.
Meanwhile, Chaparro also found Miren's camera, but the memory card had already been taken away. It turns out that Eduardo had removed it. Being a loyal friend and mentor, Eduardo passed the card over to Miren for Miren to destroy the evidence.
Few years later, Miren published a book on her story following Amaya's disappearance. The book was a huge hit and Eduardo stood by Miren's side during her book signing. At the end of the signing, Miren received an anonymous package, similar to the ones Iris and Santiago used to send out. This one contains photos of abused women and the note attached with the package seemed to challenge Miren to take on the case. It looks like Miren will be on to another case after this!