Treason (Netflix) - Episode 1 Summary & Recap
The head of the MI6, also referred to as Control, Sir Martin Angelis (Ciarán Hinds) met up with Lord Nigel Lambert,  President of the Supreme Court in an exclusive club. Lord Nigel had illegally obtained a visa for his 26-year-old lover and Sir Martin found out about it. The Control offered to get rid of everything in return for favors in the future, but Lord Nigel refused it.
As Sir Martin continued to order his whiskey, a Russian lady named Kara (Olga Kurylenko) sneaked into the restaurant, poisoned a glass of whisky with an unknown liquid and served it to the Control. She immediately got out and jumped into a car driven by her comrade. The car would later hit a delivery rider but Kara refused to attend to the injured man. Instead, she killed her driver because the MI6 eventually got hold of her driver's photo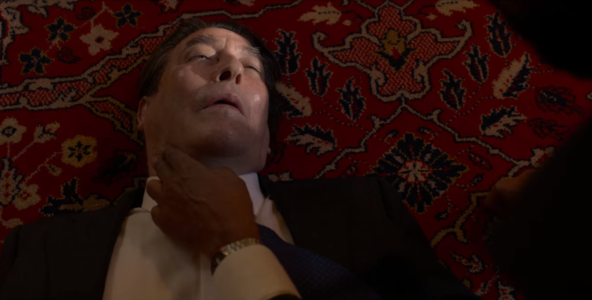 Sir Martin did not die from the poisoning but he was immediately sent to the hospital. That was when our main character, Adam Lawrence (Charlie Cox) who is Sir Martin's deputy, comes in. Adam had to step in for his boss and had to ensure this is not part of a larger attack that could threaten the security of their country.
Soon after, Adam found a clue left in Sir Martin's hospital that led him to meeting with Kara. Turns out Kara was an ex-Russian spy and Adam's former lover. Initially, Adam though Kara had intel on who poisoned Sir Martin Angelis, but instead, Kara admitted to being the one who poisoned Adam's boss. Apparently, Kara had been secretly helping Adam get to the top spot in MI6 by providing various tips and being a secret mole. 
Now, Kara wants Adam to return the favor and provide an information she wants. However, Adam did not entertain her and left instead.
In order to get Adam indebted to her, Kara then tipped Adam off about a potential bombing on a ferry. She got him to go through roundabout methods to get the intel. In exchange, Kara demanded MI6 information about the "Baku" case. 
Adam followed her tip after a movie night with his family, but following Kara's steps aroused suspicions in his wife, Maddy (Oona Chaplin). Just by sheer coincidence, another group of spies led by Dede Alexander (Tracy Ifeachor) is also "targeting" Adam. Dede happened to be Maddy's friend and so she approached Maddy again as a friend on vacation. Maddy who was troubled by Adam's actions confided in Dede, and Dede recommended that she record his conversations using an old school pen recorder.
After that, Adam tried to keep to his word by looking through the Baku case but no MI6 agents were reportedly on that case in the MI6 files.
After Adam's promotion, Adam's children, Callum and Ella were given protection by bodyguards. However, the next afternoon, Ella who did not like having a bodyguard around, decided to get out from school from another exit. Before she knew it, there was a woman tailing her. Ella managed to call her dad briefly before her phone battery died and was kidnapped.
Thinking Kara was behind this, Adam left Kara a threatening voice note.
Additional Observations From Episode 1
Dede and Maddy served the military together years ago.
Maddy is a stepmom to Adam's kids, Callum and Ella.
Kara's men died in the Baku case.