At the end of episode 6, Julia introduced Rebecca to an old woman named Beatriz who was in charge of Rebecca's adoption. 
Triptych, also known as Triada, is a Mexican series inspired by true events. We follow a detective named Rebecca as she finds out the truth about her past once she found out that she was one of three identical triplets. Starring Maite Perroni, David Chocarro, Flavio Medina, and Angel Zermen.
Triptych - Episode 6 Summary & Recap
Beatriz explained that years ago, she and her friend, Rebecca were nurses at Humanis Vitas hospital. One day, they had to assist with the birth of triplets in the basement of the hospital. The birth mother's name was Paquito. Even though it was a triplet delivery, there was only one doctor, Dr. Bernardo Sáenz, Eugenio's father.
After the birth, Beatriz, Rebecca and Paquito was locked up in the basement. About a week later, Beatriz overheard Dr. Sáenz's plan to send the triplets out of Mexico via private plane. The three of them then made plans to escape. However, one of the guards caught Rebecca and killed her on the spot. At that time, Rebecca was carrying one of the babies. Beatriz gave the baby she was carrying to Dolores, who is now Rebecca, our main character's mom. Paquito, their birth mother raised the other baby, Tamara by herself.
The next day, Rebecca realized that a lot of things are still unknown, like Aleida's adoption, the weird dreams and the coincidences of their parents death. Therefore, she gathered her mother, Tamara and Pilar to try to understand things. Pilar told them that Bernardo took care of all the adoption, and Aleida was supposed to be a daughter of a Mexican migrant in New York who had died.
The group also noticed a few odd things. All three sisters had to undergo monthly testing since they were babies. Plus, Bernardo and Aleida's father, Federico's teacher is a German man.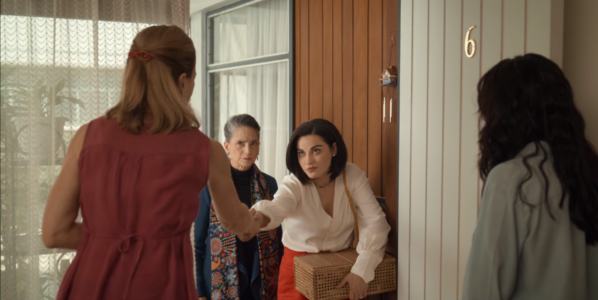 With Pilar's help, Rebecca and Humberto got access to the Humanis Vitas hospital basement. When Rebecca walked down the corridor, she began to have visions of Aleida being pushed through the corridor in a hospital bed. The person pushing Aleida was saying that they could do the "swap" outside. Weak from the visions, Rebecca confirmed again with Humberto that he saw Aleida's dead body, and dropped the topic.
In the basement room, Humberto discovered a suitcase that had "B.S." initials on them, indicating that they belong to Bernardo Saenz. The suitcase had multiple documents and photos of the triplets as babies. It was the revealed that the triplets are clones of a Nazi soldier.
At night, Rebecca told everything to Dr. Julia Batiz, and Dr. Batiz offered her some wine to calm her down. Fighting the urge to drink these few days, Rebecca finally cave in and drank. Even as she left the building, she opened up the liquor in her car and began drinking. By the time she reached Olympia Mens' Club, she was already drunk. She then went to a pole dancer, mistook the dancer for Tamara, and told her that they were clones. She was then captured by the police.
Meanwhile, Rebecca's drinking affected Tamara who suddenly got drunk as well. Unfortunately, Aleida's company shareholder, Regelio brought his wife to have dinner with "Aleida" and Eugenio that night. Drunk, Tamara kissed Regelio's wife, and this raised more alarm bells for Regelio.
The next morning, Humberto brought Rebecca out of jail and they headed to Beatriz's place. However, when they arrived, she was already killed by the unknown motorcyclist. It was then revealed that the mystery motorcyclist is actually Dr. Batiz's assistant. She told Dr. Batiz that the job is done.
Additional Observations From Episode 6
Aleida's father, Federico had a sudden heart attack when he was golfing with Bernardo. They were alone.