Episode 1 of Who Were We Running From? introduced us to Mother and her daughter whom she called Bambi. Mother and Bambi stays in expensive hotels but seems to be on the run. A murder also happened at the hotel they reside in.
Who Were We Running From? or Biz Kimden Kaçiyorduk Anne? is a Turkish mystery seried cetred around a mother-daughter duo on the run. It is based on the novel of the same name by Perihan Mağden. Starring Melisa Sözen, Eylül Tumbar, and Musa Uzunlar.
Streaming on Netflix
Who Were We Running From? - Episode 2 Summary & Recap
Mother and Bambi headed off to another hotel. This time, the hotel needs to be accessed by a boat. The hotel also has a doctor that could treat Bambi, though Bambi's illness is unknown.
Now that they have ran away so many times, Bambi started asking Mother some tough questions- like who were they running from. However, Mother would not answer. When they saw a crow by the beach, Mother told Bambi about the time she saved a crow hatchling, but was injured by the crow mother when she was a child. She felt envious as her mother would not protect her that way, Instead, her mother would be busy entertaining other guest.
Even with this story, Bambi still pressed Mother about who they were running from. Then, Mother claimed that she would fall apart if she told Bambi, and they wouldn't be able to run away again.
When Bambi asked about her father, we were also shown a flashback of Mother's adolescent days. She was in love with her father's car serviceman. The young lad was also her father's driver's son. The two slept together before, but it was not explained why the boy wasn't there when Mother gave birth alone in a hospital.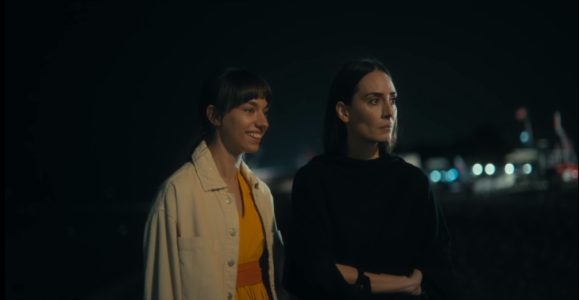 During their stay in Paradise hotel, Mother also noticed that the hotel doctor seemed to approach Bambi a lot. Therefore, when Bambi wanted to go to the aquarium cove one day with the hotel staff, Mother ensured that the doctor was not following the group before allowing Bambi to join.
On that day, Mother had to go to town to withdraw money from the bank. Initially, Bambi was excited to go to the aquarium cove, but the doctor stopped her plans. He came into the room and came on to her. Bambi managed to break free and hid in a large tree trunk near the beach until nighttime. 
By the time Bambi went back to the room, Mother had already returned to the hotel room. Mother was observant and noticed that Bambi's aquarium gear was left in the room. She was also quick to enquire the staff that Bambi did not leave with the group to the cove that day. Hence, when Bambi lied that she went to the aquarium cove, Mother knew she was lying.
Mother did not push the agenda that Bambi was lying. Rather, she arranged for both her and Bambi to stay in a hotel in town that night. She claimed that her bank issues hasn't been settled, and she needed to go to the bank again next morning.
The next morning, Mother went back to Paradise hotel and pretended to call the hotel doctor. She claimed that Bambi was sick and she had to rush to town; and so, the doctor took the bait. Turns out, Mother found the doctor's tag in their hotel room after she returned from town the day before.
She attacked the doctor with a knife but missed. The two fought for a while, with the doctor almost chocking Mother to death. However, Mother eventually stabbed him with a bottle corkscrew in the neck, killing him instantly. His body was found by the hospital staff. Meanwhile, Mother went back to Bambi and told Bambi that they would never stay in Paradise Hotel again. Bambi was relieved.
The whole episode was partially narrated by a waiter named Blondie who often served Mother and Bambi at the hotel. The waiter was explaining the events to a man and even helped identify Mother and Bambi's face. The man is a police who seemed to have figured out their involvement in several murders.
Additional Observations From Episode 2
Bambi was born after her grandmother died.
Bambi kept referring to her and Mother as the "Moon unit".
More recaps from Who Were We Running From