Alba is a Spanish TV drama adapted from  Fatmagül'ün Suçu Ne?, known as Fatmagül in Spain. The story centres around a young woman, Alba (Elena Rivera) who was raped by her boyfriend, Bruno's (Eric Masip) group of friends.
Streaming on Netflix
Alba- Episode 1 Summary & Recap
Alba is a university student in Madrid and was back in her hometown. She recently got together with her childhood friend, Bruno, but they kept it a secret from their friends. Alba was slightly disapproving of Bruno's rich friends as she believed that they were a bad influence on him. Meanwhile, Alba told the news about her new relationship to Tirso. She and Tirso had been in an open relationship, but Alba now had to end it. Tirso reacted rather negatively to the news.
On the night Bruno was supposed to introduce Alba to his friends, Bruno got stuck helping his aunt Clara in her shop. Alba was left in the bar with her friend, Bego. During that time, Tirso sold some drugs to Bruno's friends and headed to the bar to try to apologize to Alba for the way he reacted. Alba accepted his apology. After Tirso left, Bruno's friends went to the same bar and started hitting on Alba and Bego. The two ladies ignored them but one of Bruno's friends drugged Alba's drink. 
Bruno eventually finished helping in the store and came over. However, his friends persuaded him to follow them instead of going to the bar to look for Alba. He eventually gave in and followed the boys. Once the bar closed, Alba seemed to have separated with Bego and the effect of the drug started kicking in. She could not walk straight and eventually passed out. Bruno's friends who were targeting her found her on the street and gang raped her.
The next morning, Alba woke up with torn clothes and no recollection of what had happened.
Alba went to the hospital and did a few tests. She even reported the case. Her brother, Toño and her sister in law Miriam, came by to support her. Bruno was passed out in his place but immediately rushed to the hospital once he found out. Affected by the news, Bruno wept and called his friends to tell them he could not joing their trip that day When he told them his girlfriend was raped, his friends realized what had happened. 
When Alba was questioned by the police, she could not remember much but eventually could remember the place she was raped when she and her family passed by the area. Miriam found a ring there belonging to Rubén Entrerríos, one of Bruno's friends, but kept it a secret. She then went to the Entrerríos household to blackmail Mercedes Entrerrío for money.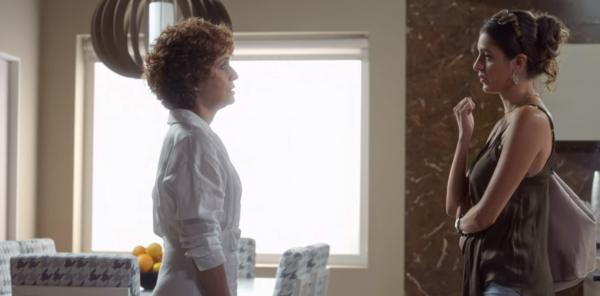 Soon after, Alba started having recollections of a man that raped her and recalled that the man had a particular tattoo on his arm. When she described the tattoo, Bruno realized it was the same tattoo his friend, Hugo had. While Alba reported her memory to the police, Bruno rushed over to confront his friend and punched him, but his other friends, Jacobo and Rubén stepped in. They then told Bruno that they all did it, including Bruno. Bruno was shocked and had a hard time dealing with the idea that he also raped Alba.
Two of Bruno's friends involved in the rape were a pair of cousins, Jacobo and Rubén. When their grandfather, Víctor Entrerríos who was a real estate mogul found out about the blackmail, he questioned the two brothers and ordered his right hand man, Eloy to ensure Miriam gets the money but the news could not go out. Jacobo revealed that the victim was Bruno's girlfriend and Bruno could potentially report them. At night, when Victor was in bed, he told Mercedes that he had arranged everything so that Mercedes will have as much power as his sons when he pass. He wanted Mercedes to continue his legacy and to prevent his sons from destroying what he had built. After learning of this information, Mercedes denied Victor his inhaler and Victor passed away.
Meanwhile, someone sprayed in bold capital letters, the word "Puta" (whore) on Toño's store's door. Toño was so upset and had a heart attack. Fortunately, Miriam was there and Toño was brought to the hospital. Bruno came to visit Alba in the hospital after hearing about Toño's news. However, he could not bring himslef to tell Alba about his friends' involvement in the rape. When Bruno got back, he wanted to call the detective behind Alba's case but was assaulted by an unknown figure before he could do so.
It was also revealed that Bruno arrived at the scene of the rape that night but passed out in the alley before he got close.
Additional Observations From Episode 1
Eloy found out that the police were suspecting 4 other boys from the neighboring town. These boys were caught on CCTV trying to harass Alba that night.
When Bego heard of the news, she blamed herself and said she could not face Alba.
Tirso was also brought in for questioning by the police because he was at the bar that night. He saw the tattoo drawing that Alba described to the police.