Lies and Deceit, also known as Mentiras, is a Spanish thriller series, readapted from the British TV series, Liar. The series tells the story of Laura Munar (Ángela Cremonte) as she reported a rape incident after a date with Xavier Vera (Javier Rey).
Lies and Deceit is now available on Netflix.
Lies and Deceit: Episode 1 Recap
The series starts with Laura Munar, a literature teacher kayaking in a lake surrounded by mountains. When she returned home, her ex, Iván, was packing to leave the house. Both Laura and Iván still have an amicable relationship. When she was entering school for work, she bumped into Xavier Vera, a father of one of her students, Lucas Vera. Xavier asked Laura for a date, to which Laura replied, "sometime". After a bit of nudge from Ricard (Laura's colleague), Laura said yes to the date. Excited, Xavier asked Laura's sister, Catalina, who happened to work with him, for advice on where to take Laura to.
Date eventually went wrong
Laura went on a date with Xavier at an Italian restaurant where they had wine. The next morning, Laura woke up with a bad feeling, but visibly shaken by what had happened. She did not remember all the details but she remembered Xavier on top of her and she did not want to have sex with Xavier that night. She confided in her sister, Catalina (Cata) as she believed she was raped. When Cata asked whether she pushed him away or said "no", Laura could not remember, but believed she might have told him to stop. Cata brought Laura to a clinic for an examination and they reported the incident to the police.
Xavier is not aware of Laura's hesitation
Clueless about Laura's account of the incident, Xavier thought the date went well and texted Laura about the great night and wanting to see her again. When the police, Detective Daniela Bauzá and Víctor Silva talked to Xavier about the alleged rape, Xavier was surprised, saying Laura kissed him first, did not tell him him to stop, and helped take his clothes off after he took hers off.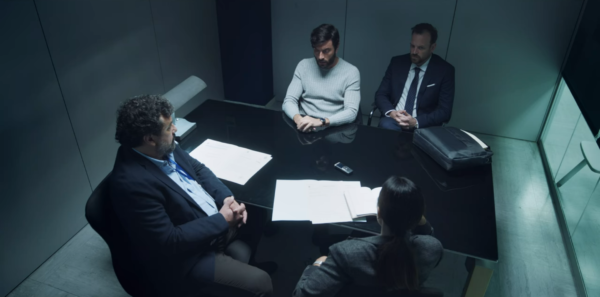 Laura, who was trying to handle the trauma, kicked Lucas out of class for making a joke. Not wanting Lucas to be affected by what happened, Xavier tried to talk to Laura in school, telling her that she initiated the kiss first and that the whole thing was a misunderstanding. Upset, Laura shouted at Xavier and told him to get out.
As she is anxious, Laura stayed over at Cata and her family's house for the time being. She tried talking to her ex, Iván who is a police officer. Although Iván suggested that Laura remain calm until the police finds evidence, Laura was worried that the police will not find any and that it will be Xavier's words against hers. 
The next morning, Detective Daniela and Víctor told Laura they could not arrest Xavier due to lack of evidence. Laura tried to find evidence of being drugged but Xavier had already cleaned their wine glasses the morning after. She told her sister about a theory that Xavier had drugged her, but she took the glass without the drug. That was the reason why Xavier only started drinking when he seemingly mistakenly took her glass. Furious that the police was unable to do anything, Laura released a Facebook post telling the public that she had been raped by Xavier.
Additional Observations From Episode 1
On the night of the incident, Laura invited Xavier in after seeing him wait for a taxi outside her place.

Laura was confident she was drugged because it was unlike feeling drunk, she felt an out of body experience and could not push Xavier away that night.

Laura's ex, Iván, used to have an affair with Cata. Although not keen on rekindling the affair, Cata asked Iván to do all he can to help Laura.

Laura showed compassion towards a student Amal who happened to be Lucas' girlfriend as Amal was unusually quiet during class.
Other Thriller Movies and TV Shows