While arguing with César, Aunt Clara hit her head and fainted. Meanwhile, Lt. Giner began to suspect César's involvement in the case. Alba is a Spanish TV drama adapted from  
Fatmagül'ün Suçu Ne?
, known as 
Fatmagül
in Spain. The story centres around a young woman, Alba (
Elena Rivera
) who was raped by her boyfriend, Bruno's (Eric Masip) group of friends.
Streaming on Netflix
Alba- Episode 5 Summary & Recap
Aunt Clara turned out okay but refused to say anything about what happened to Bruno. She was also feeling the weight of knowing that Bruno was potentially involved in Alba's rape. In the meantime, she stayed in Bruno and Alba's place. Bruno suspected that the Entrerríos family was behind his aunt's accident. He told the truth to César, putting César in a difficult situation.
Meanwhile, at the civil guard station, Lt. Giner found out that César was the first police officer to have found the car that fell from the cliff. She suspected that something was off and so, she questioned César about it. As he had no choice, César had to feign ignorance. Nevertheless, Lt. Giner refused to close the case. Feeling the pressure, César informed Eloy about what had happened. But, Eloy asked him to remain strong and that all these will pass.
An angry Bruno also stormed into a Entrerríos family lunch with the Solanas and caused a scene. Again, he accused the family of hurting his aunt. But Mercedes tried to calm him down by telling Bruno that he is one of them.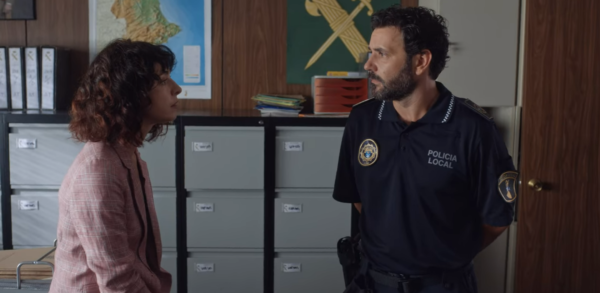 One afternoon, Bego came by to Toño's bar to look for Alba in an attempt to repair their friendship. The two friends quickly patched up and Alba decided to show Bego the video of the rape. Bego implored her friend to pass the video to Lt. Giner but Alba told her that she was worried as they are being threatened.
At the same time, video from a cell phone found on the night of the rape revealed that Jacobo, Rubén and Hugo were at Kevin's bar that night. When Lt. Giner questioned César, César had no choice but to reveal their identities. As a result, the three boys were brought into questioning. Eloy made sure to prepare the boys for the questions where they were supposed to claim that they did not remember much after 11.30pm that night. Jacobo and Rubén got out fine, but Hugo was burdened with guilt.
Lt. Giner reached a dead end and tried asking Alba about whether she recognized the three boys from that night. Despite Bego's advice, Alba said she did not remember seeing them.
César also visited Aunt Clara in her store after a while. He admitted that he was working for the Entrerríos family and that they were the ones paying for his daughter's treatment in the US. He also told her that he is in love with her but realized how low he had stooped recently.
Alba still feel a strong connection with Bruno and stopped by Aunt Clara's store one afternoon just to see him. Bruno, too still have feelings for her. He told her that he still felt deep inside that he did not touch her that night, but him being there is enough to make him guilty. Finally, Bruno asked Alba to give the video to the Civil Guards. When Alba expressed concerns about the threats and that Bruno might be arrested, Bruno told her that it was the right thing to do.
After thinking for a while, Alba eventually came clean to Lt. Giner. She told the lieutenant about the threats. Soon after, the police was over to arrest the four boys, Jacobo, Rubén, Hugo and Bruno. When the arrest happened, Clara told Bruno that she already knew what happened because she overheard his conversation with Jacobo. Meanwhile, Mercedes who was having an affair with a judge at the time, received a call regarding the arrest of his son.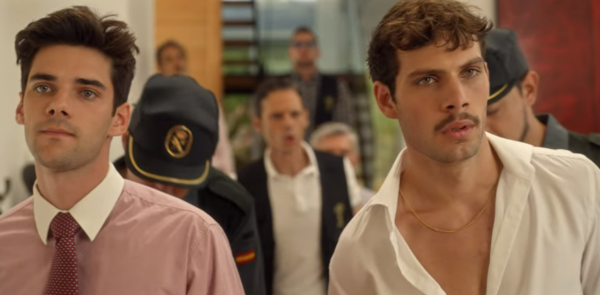 Additional Observations From Episode 5
In the beginning of the episode, Mercedes questioned Rubén about whether he raped any other girls. Rubén was furious and reiterated once again that he did not rape Alba and that Alba enjoyed it.
Bruno got into a spat with Tirso when Tirso said Alba would have been better off with him. Angry, Bruno told him that he knew Tirso sold the drugs to the

Entrerríos cousins that night.

Tirso put the pieces together and confronted Jacobo on Alba's rape, but Jacobo reminded him that he was also an accomplice.
Cesar thought that the 4 scapegoat boys were already dead before he suggested to dump their car off the cliff.