Triptych, also known as Triada, is a Mexican series inspired by true events. We follow a detective named Rebecca as she finds out the truth about her past once she found out that she was one of three identical triplets. Starring Maite Perroni, David Chocarro, Flavio Medina, and Angel Zermen.
Triptych - Episode 1 Summary & Recap
The series starts with a woman named Aleida Trujano (Maite Perroni) who walked into the clinic of her psychiatrist with a gun. She shot several people before kidnapping her psychiatrist, Dr Julia Bátiz to the rooftop. Dr Bátiz tried to calm her down by letting her talk to the police who have arrived at the building. Aleida demanded to go on TV within 5 minutes. This was unreasonable and Dr Bátiz's life was in danger. Therefore, Commander Solana who was leading the operation allowed the sniper to shoot Aleida once he had a clear view.
Unfortunately, the sniper accidentally shot Dr. Bátiz on the shoulder. This sent everyone in panic and Aleida pointed her gun towards an officer. Fearing Aleida would shoot, the officer shot Aleida in the neck. When the forensic team arrived, Rebecca who is part of the team arrived. She was shocked to see that Aleida looks identical to her, and when she came to Aleida, Aleida knew her name.
Rebecca was confused. Conversations between Aleida's husband, Eugenio and Commander Solana revealed that both Rebecca and Aleida shared the same birthday. Rebecca did not know she had a twin sister. To know more, she wanted to question Aleida after Aleida's surgery in the hospital, but Commander Solana wouldn't allow it.
When she reached home, Rebecca immediately questioned her mother on whether she was adopted or if her mother gave her twin sister away. In actual fact, Rebecca was adopted, but her mother couldn't bring herself to reveal that information. Instead, Rebecca's mother accuse Rebecca of being drunk. It was then revealed that Rebecca was an alcoholic, but she had been sober for 3 months.
Frustrated that her mother is not answering her questions, Rebecca got some sample of Aleida's hair and sent it to the DNA lab with her own sample. Rebecca also visited Aleida in the hospital and bumped into Aleida's husband, Eugenio. Eugenio seemed shocked to see Rebecca sharing the same face as his wife, but they did not get the opportunity to chat.
It was also revealed that a year ago, Rebecca was having an affair with Commander Solana. At one point, Solana told Rebecca that he would divorce his wife, Marifer. However, he decided against it once he found out that Marifer was pregnant. Angry, Rebecca bought some vodka that night, destroyed Solana's car, and burnt his car using the vodka and a lighter.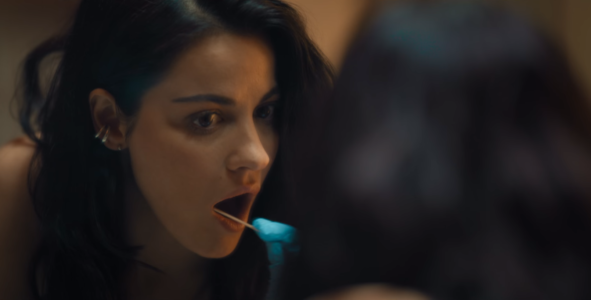 The next morning, Rebecca tried to visit the hospital again but Aleida had passed. Aleida's family also asked to close the case and remove her patient records. Nevertheless, Rebecca is determined to find out about her potential twin sister. The results of the DNA soon returned and indicated that Aleida and Rebecca are identical twins.
Rebecca then went through Commander Solana's office drawer without permission to get hold of Eugenio's address. Then, she visited Aleida's graveyard and saw Aleida's parents grieving. Knowing that her sister had passed, Rebecca cried before leaving. Little did she know, there was another identical woman also watching Aleida's grave.
Additional Observations From Episode 1
Aleida was a director a big advertising company. She was admitted to Dr. Bátiz's clinic after a psychotic breakdown. She was suspected to be schizoid with three personalities. The day before her death, her husband, Eugenio asked that Aleida be discharged to celebrate her birthday.
When Rebecca went to the top of Dr Bátiz's clinic, she seemed to be able to feel what Aleida felt on the day of Aleida's death.
Aleida and Eugenio had a son named Alex. He had passed.