Welcome to Eden or Bienvenidos a Edén is a thriller series created by Joaquín Górriz and Guillermo López Sánchez. The story follows the main character, Zoa (Amaia Aberasturi) and four others, Aldo (Albert Baró), África (Belinda Peregrín), Charly (Tomás Aguilera) and Ibón, who are invited to an exclusive party in a hidden island called Eden.
Welcome to Eden- Episode 1 Summary & Recap
Zoa is 19-year-old student in Barcelona and she lives with her little sister, Gabi. One day, she came back home to Gabi having a phone call with their mother, but Zoa refused to speak to her mom. Instead, she reminded Gabi not to answer her calls. Then, she received an invitation to an exclusive party in a secret island held by a company who wanted to use them to promote their beverage, Blue Eden. Although she signed a compulsory contract that says she couldn't bring a friend, Zoa did so anyway. She brought along her best friend, Judith.
Both Zoa and Judith headed to the meeting place that night where they met another person, Aldo who was also invited to the party. A drone led them up a staircase to a secret room, where a lot more people attending the party were waiting. There, Aldo met Ibón, and as Ibón knew the music playing was Chopin, Aldo referred to him as "Chopin". Soon after, a party bus playing loud party music arrived and took the 101 partygoers to a secluded beach with boats waiting. A boy named Charly was late, but managed to get on the party bus anyway. Everyone drank alcohol and partied in the party bus until they arrived.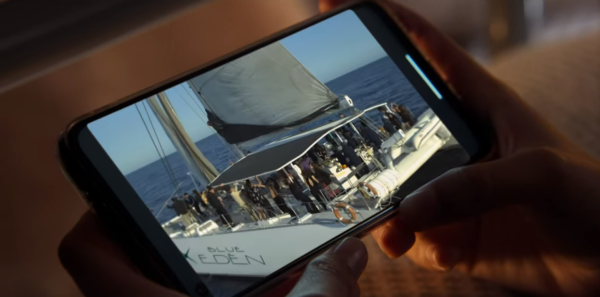 At the secluded beach, all the participants had to hand over their electronic devices as it was not allowed. África, a singer and influencer also known as Afrilux, questioned why they did not want her to take photos and videos to promote their drink. However, she did not get a proper reply. When she was passing through the detectors, the detectors beeped indicating she had a device, but she convinced the officers that it was her boots that has metallic spikes. Zoa too, initially got into trouble for bringing Judith, but the officers eventually let her bring her friend.
The group then got onto the part yachts and partied even more until they arrive. They were greeted by a few people on the remote island who put blue color wrist bands on them. The party then got started. África, who hid a phone in her boots earlier took her phone out to take some pictures. Zoa and Judith split to hang out with two separate guys who were eyeing them.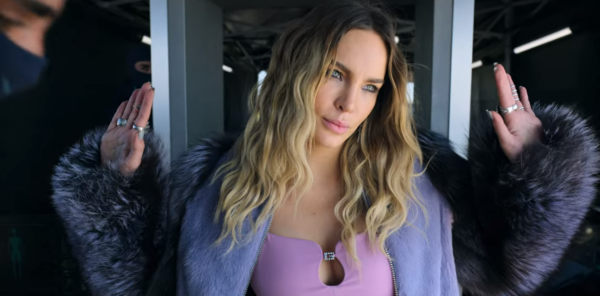 During the party at night, after África's performance, a hologram of the leader of Eden, Astrid showed up as Astrid made an announcement. Five people have been selected at random to test their new energy drink, Blue Eden. The five people are Zoa, Aldo, África, Charly and Ibón. However, Ibón did not take his drink and went to a quiet corner of the beach instead. An orange-haired bartender approached him and they shared a short conversation on being free before she handed him the bottle of Blue Eden again. This time Ibón drank it.
The orange-haired bartender named Alma soon had to leave because they was an argument between one of the partygoers and another bartender named Fran. Fran refused to give the man a bottle of Blue Eden, and so the Alma took over and gave the man a bottle. She then ran after Fran who went back to the staff tent along with another officer. The officer bashed Fran up and almost drowned him but had to stop when Judith accidentally saw what happened. Fran ran away and so did Judith. A shocked Judith then went over to her date of the night and told him what happened. However, her date clamed her down by telling her no one drowned and the two started making out. Meanwhile, Zoa got very hazy from the drink and climbed up a cliff. She almost fell but was saved by a man.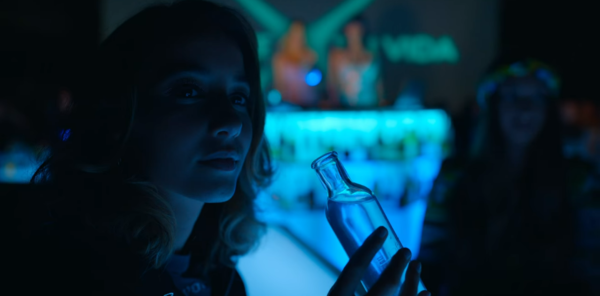 Eden seemed to be under the leadership of Astrid. Behind the scenes, a blue-haired lady is in a controller room behind the participants social media. Astrid was the one who selected the 5 people who were going to stay after the party (ie. the five people the Blue Eden drink were given to). It was told that these five are people who are "alone" in the world and Eden could be a better place for them. Astrid also discussed the 5 people with her lover, who told her that the newcomers nowadays are not that easy, but he placed his bets on Zoa.
The next morning, the five chosen people (Zoa, Aldo, Ibón, África and Charly) woke up in an empty beach- everyone had left. Zoa was surprised that Judith left without her. Then, a drone came to guide them and the five followed the drone through a very long walk until they reach another area with all the party staff and Astrid waiting for them. Astrid greeted them with "Welcome to Eden". Meanwhile, Judith was seen still running around in the island the next morning before screaming and being grabbed from behind by her date last night.
Additional Observations From Episode 1
Zoa's mother was a drug addict. Before Zoa left for the party, she got into a small argument with Gabi over their mother.
África was previously involved in getting some form of illegal "under the table" money.
Before attending the party, Ibón had an argument with his father over an embarrassing event at work. His father claimed that Ibón only has music in his mind. His father even hit him out of anger.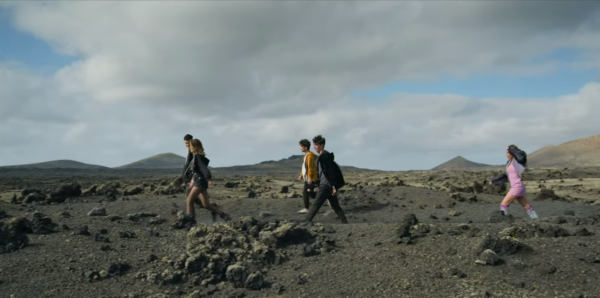 More recaps from Welcome to Eden